Tucker Carlson Thinks the Problem With America Is Market Capitalism
The populist pundit couldn't be more wrong.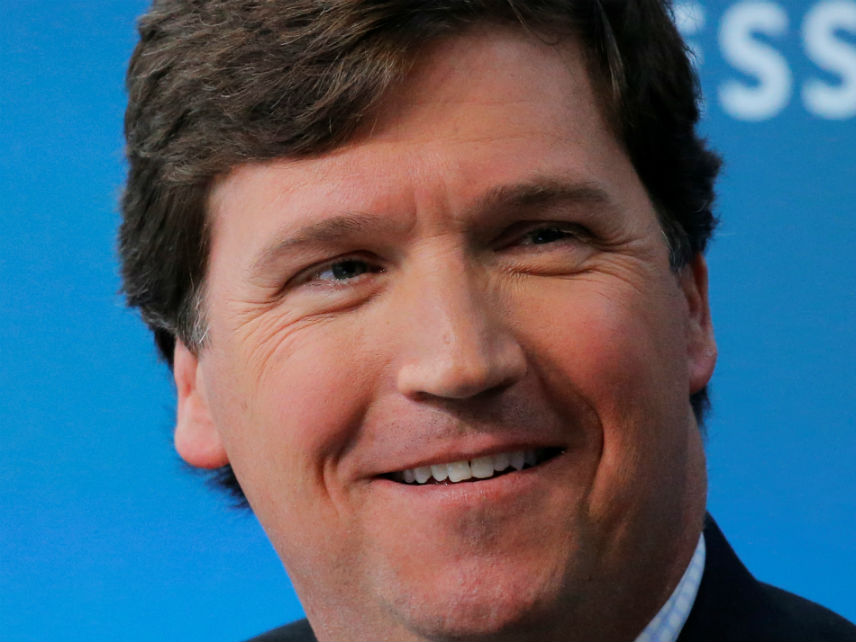 If there were any doubt of the direction the Trump-dominated GOP is taking, Tucker Carlson's monologue on Fox News Wednesday should remove it. Carlson's not a political leader, but he's a bellwether, and his words are already being cheered by prominent conservatives. Meant as a rebuttal to Mitt Romney's New Year's Day op-ed, the speech wasn't original, but it reveals the degree to which Republicans have embraced the populist authoritarianism they once condemned.
Carlson began with several swipes against "bankers" who exploit the working class to line the pockets of spooky elites. If that anti-capitalist lingo sounds familiar, so does his contemptuous shrug at the ways free markets improve lives. "Does anyone still believe that cheaper iPhones or more Amazon deliveries of plastic garbage from China are going to make us happy? They haven't so far." This is a time-worn rhetorical technique of freedom's enemies, who sneer at material standards of living in order to elevate abstract social goals over the needs of actual people. In fact, cheaper consumer goods have benefited Americans immeasurably. Some 85 million now own iPhones, for instance, and use them not as trinkets, but as work tools or devices to keep in touch with loved ones. And while Amazon may deliver "plastic garbage," it also delivers syringes to diabetics, toys for special-needs kids, and even prosthetic limbs for the disabled—all, of course, made of plastic. Freer markets and abundant, affordable imports, have made the average American wealthier than Rockefeller, and 90 times richer than the average human being.
Does that translate into happiness? It depends. More wealth means better access to innovative medical technology, cheaper and safer transportation, cultural riches of art and music. But by making possible a wider spectrum of experiences and opportunities, it also means more chances for disappointment and fear—the real source of the "alienation" capitalism's accused of generating. Money can't buy happiness, but material prosperity is a necessary ingredient for the good life, and the practical elimination of poverty today is giving more people than ever before the opportunity to lead lives in ways that accomplish their own goals.
Government policies that curtail their choices are, by definition, obstacles to the pursuit of happiness and impose harms that politicians literally cannot imagine. Consider "cheap iPhones": nobody can calculate the hours saved thanks to driving-directions features, the lives saved through quick access to 911, or the millions of simple, happy conversations that screentime or text messaging makes possible for families separated by long distances. To deride this as materialism is to scoff at simple, even beautiful human joys. Imagine the consequences of eliminating smartphones (you can't) and you get a sense of the inhumane sentiments that anti-materialistic slogans conceal.
Yet to Carlson, economic freedom is disposable—"a tool…created by human beings" "like a staple gun or a toaster," which politicians can eliminate if they decide it's "weaken[ing]…families." Since "the goal for America is…happiness"—which includes things like "dignity, purpose, self-control, independence, above all, deep relationships with other people"—the failure of international bankers to make people happy and give them rewarding family lives is grounds for bureaucratic control. Although pitched as anti-government populism, Carlson's prescription is clear: government management of the economy in order to force citizens into what politicians consider "happiness."
But America's "goal" isn't "happiness"—it's freedom to pursue happiness. That phrase was written by people who rejected the idea that government gives us liberty to serve collective ends. Their commitment to self-determination has often been attacked by strongmen who think government should manage our choices in order to stabilize society. "Man is man only by virtue of the spiritual process in which he contributes as a member of familial, social groups, the nation," wrote Benito Mussolini. "Fascism is therefore opposed to all individualistic abstractions based on eighteenth century materialism…[and] does not believe in the possibility of 'happiness' on earth as conceived by the economic literature of the 18th century."
Yet free economic exchange is inseparable from genuine dignity and valuable relationships. That should be clear at least to women, who for generations were denied independence by laws that restricted their freedom, often in the name of preserving "the family" and protecting their virtue. The first stirrings of feminism did destabilize long-standing traditions about the family, as freedom usually does—witness the controversy over the climax of Ibsen's A Doll's House, in which Nora is so emboldened by her experiment with economic freedom that she finds strength to leave her unhappy marriage. Few women today would choose to return to an era when their fates were shaped by government to serve what officials considered the social good. Yet for Carlson, women's economic freedom is among the most fundamental ills in our society. Thus he condemns hard-working female executives such as Sheryl Sandberg who think it's "more virtuous to devote your life to some soulless corporation than it is to raise your own kids."
Obviously family is important. But like everything, it's a blessing when freely chosen, and a burden when conscripted as a political device by which the hopes and dreams of actual people are subordinated to the demands of political authorities. Restricting freedom in order to encourage "deep relationships with other people" doesn't promote, but obliterates, dignity, self control, and independence. It's a recipe for squalor and resentment, not happiness. Yet it's the go-to recipe for authoritarians who see individual pursuits as trivial compared to the perpetuation of the state.
Freedom—economic or personal—is not "created by human beings." It's the rightful, natural state of all persons. It can unjustly be destroyed, but never transcended. Nor were the infinitely diverse institutions we call "the market" ever "created"—they're a spontaneous order generated by the free choices of countless individuals pursuing happiness as they decide. Some of their choices may be foolish, or seem so to outsiders who lack full information. But the freedom to make choices, for all its disruptiveness, is the only thing "independence" or "happiness" can ever truly mean.