D.C. Police Bragged About Busting an 'Illegal Narcotics Pop-Up Operation.' Or As You Might Call It, Some People Selling Weed.
"Must've taken some real investigative prowess to pull this off."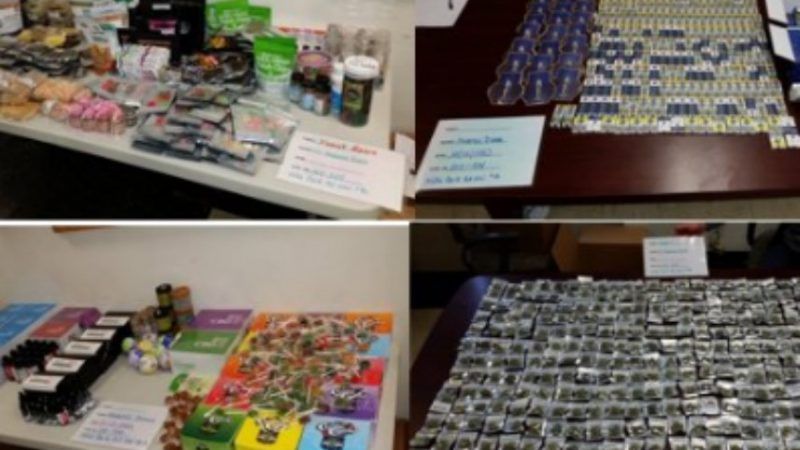 (Twitter via @DCPoliceDept)
The D.C. Metropolitan Police Department is "#HeretoHelp" by busting an "illegal narcotics pop-up operation." Sounds ominous, until you realize it just means they kept some weed off the streets of D.C., where pot is legal for recreational use anyway.
The story starts with a December 18 post from the department's Twitter page. I missed it at the time, or else I would have included it in my roundup of the worst overreactions to weed in 2018. As you can see from their photos of what they confiscated, their big haul consisted of various marijuana-related items, including bags of weed, edibles (like cupcakes and lollipops), and paraphernalia:
ICYMI…Officers with our Third District interrupted an illegal narcotics pop-up operation in the 1400 block of Park Rd, NW. #Itsawinforthecommunity #MPD #DCPolice #HeretoHelp pic.twitter.com/1HJJQXKNFW

— DC Police Department (@DCPoliceDept) December 18, 2018
I could write at length about how pointless it is spending time and resources to bust some weed dealers and then boast about it on social media. But plenty of Twitter users picked up on the problem without my help:
There are 90 unsolved murders in DC and this is what you're doing with your time?

Pathetic.

— a girl with 15 followers (@atheistlaydee) December 20, 2018
If it's an illegal business, is that the responsibility of the police or the BBB? Narcotics? Marijuana is legal in the district. Can't the officers find something better to focus on?

— DaCrafty1 (@shecrafty1) December 18, 2018
Who thinks this was worth our taxpayer money?

— Jarrod Duron (@Jarrod_Duron) December 19, 2018
Hey I used to live up there, did you ever figure out who got shot in front of my old house? I'm guessing no. Keep harassing people for legal weed though!

— Cooper Lund (@cooperlund) December 19, 2018
Honey, that just looks like some weed

— Brandon (@BrandonDuh) December 18, 2018
Wow good job you busted the neighborhood weed store. You must be very proud

— Stefan BC (@Stefan_BC) December 19, 2018

Ya'll are some straight up Bozo's pic.twitter.com/lUinjleb45

— Andres Alvarez (@A_Alvarez_pride) December 20, 2018
Thank you for keeping the streets safe!

— Melissa Fagonde (@MelissaFagonde) December 21, 2018
Must've taken some real investigative prowess to pull this off

— Brad Underwood but Communist (@crappyoats) December 19, 2018
Some users claimed the people running the "narcotics operation" actually give back to the community by providing food and Christmas trees to homeless veterans and needy families, respectively:
While you guys were raiding a LICENSED business the staff from there was a 1/2 mile away giving free Xmas trees to needy families. One of MANY ways that they ACTUALLY HELP the community! pic.twitter.com/8KOMWqhdUQ

— MainmanDC (@mainman2017) December 21, 2018
Reason was unable to independently identify who runs the operation and what sort of charitable activities they engage in. Either way, the police's actions are ridiculous.
Thanks to Initiative 71, passed in 2014, people over the age of 21 in D.C. can legally possess, consume, share, and grow limited amounts of marijuana. They just can't sell it, as the district has no retail recreational pot system. Weed entrepeneurs get around this by selling everyday items for much more than they're worth and adding the weed as a "gift." There are other loopholes as well: Sellers can offer pot for free while highlighting the suggested donation, or consumers can pay for admission to pop-up events featuring (you guessed it) weed.
This is all legal in theory. But the law is significantly vague to the point where different parties interpret it the way they want. As a result, people running marijuana operations can never really know when law enforcement is going to crack down.
At the heart of the issue is the fact that D.C. voters decided a long time ago they have no problem with legal weed. The authorities should respect that. If they don't want there to be a grey market for marijuana, then they should let the legal alternatives flow.