Movie Review: Aquaman
Jason Momoa drowning in a sea of cheesy CGI.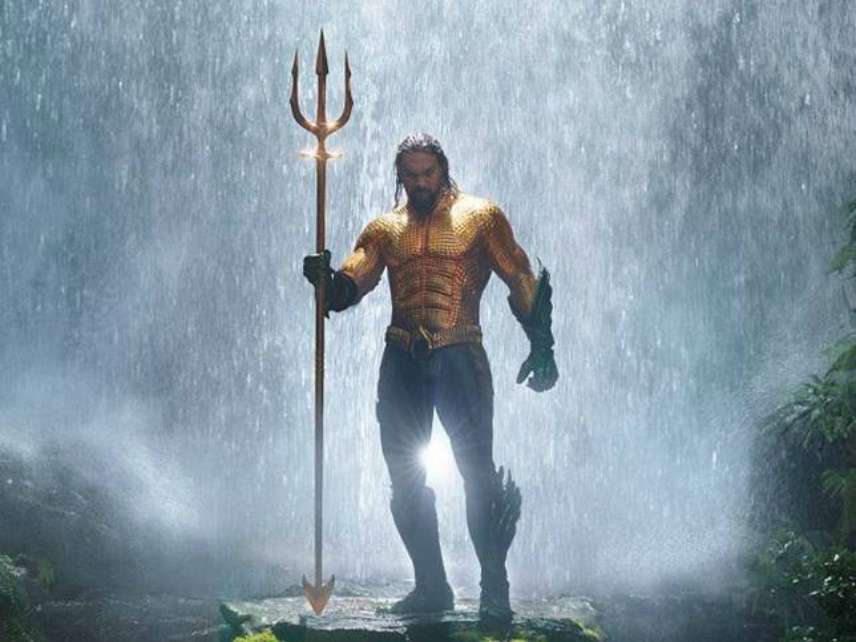 Aquaman is fun for a while. It starts out in 1985, in Maine, where a lonely lighthouse keeper named Tom Curry (Temuera Morrison) comes upon an unconscious woman (Nicole Kidman) who has washed up on the rocky shore. He takes her home, love blossoms, a baby arrives, and eventually a squad of head-busting commandos shows up to take the woman back to her native realm. (Her name is Atlanna, she's from Atlantis—as Tom might have suspected from her soggy silver supersuit—and she's being forced to return there to consummate an arranged marriage to the king.) Tom is left to raise their son, Arthur, alone, although Atlanna does set up regular trans-world visits from a royal vizier named Vulko (Willem Dafoe in a man bun) to train the boy in the deadly underwater arts. Aquaman begins.
Thirty years later, we see the now-grown Arthur (Jason Momoa)—who has evidently spent a lot of his youth accumulating tattoos—singlehandedly liberating a submarine from a gang of frogmen pirates. Here, I think, is where the picture starts tipping over into the sort of superhero junk with which DC movies (Batman v Superman: Dawn of Justice, Suicide Squad, Justice League) are so closely associated. Director James Wan, pulp auteur of the efficiently compact Insidious and Conjuring franchises, seems a bit overwhelmed by his first foray into the land of comic-book blockbusters. Since he's not enrolled in the Deadpool school of meta-snark, he goes along a little too agreeably with the genre's stylistic clichés (Aquaman's appearances are heralded by a cliché metal guitar riff) and sub-funny dialogue requirements (dropping down through a submarine hatch, Aquaman aims an over-the-shoulder smirk at a couple of startled pirates and asks, "Permission to come aboard?"). He also allows the action scenes to wander on and on, inflating the picture's runtime to a flabby two and a half hours.
The movie's most debilitating problem, however, arises when the story relocates to the underwater world. This is a vast, teeming hellscape of computer-generated whatnot, some of it surprisingly cheesy. There are squads of jauntily cruising sharks and sea turtles, drum-playing octopods, fishy monsters of one unremarkable sort or another, and more fireballs than you might expect to see so deep beneath the waves. This is CGI at its most smothering—your eyes cry out for air, for tangibility. Everything is weightless and yet oppressive, like a sheet tangled around a drowning human body.
The characters aren't much more substantial. There's Princess Mera (Amber Heard, under a mop of neon-red hair), who emerges from the sea to tell Arthur that he has a younger half brother down below named Orm (Patrick Wilson), who is stirring up a war against the surface world in retaliation for all the centuries' worth of dreck that humans have dumped into the oceans. Orm aspires to the title of "Ocean Master" (really), but as Queen Atlanna's second-born son, his claim to the Atlantean throne is weak—first-born Arthur is the rightful royal heir. Unfortunately, he'll have to stake that claim in person—a plunge that Arthur takes only reluctantly.
The story becomes exhaustingly peripatetic. Vulko tells Arthur he must find a legendary trident. Mera figures it could be in the Sahara Desert, of all places (cue the Pitbull version of Toto's "Africa"), and soon she and Arthur are in a plane cruising above the sands. (When Mera jumps off with no parachute, Arthur turns to the camera and says, "Redheads—you gotta love 'em." Really.) They eventually move on to a sound-stage Sicily for an interminable, rooftop-running battle against a swarm of pirates led by bad guy Manta (Yahya Abdul-Mateen II), who hates Aquaman and has joined Orm in pursuit of the beefy half-breed.
We also take a tour of various oceanic districts, among them the Kingdom of the Fish Men, the Kingdom of the Trench, and the Kingdom of the Brine (where you might expect to find poultry bobbing in the waves, soaking up deliciousness, but you would be disappointed). None of these fantasy locales are especially memorable—they exist mostly to provide more overtime for the movie's army of digital animators (among whose sins is the creepy technique that wipes away years from the faces of Kidman and Dafoe in the story's early stages).
The movie is a muddle in most ways, but Jason Momoa is having a great time in it – his brawny high spirits are almost contagious. When Arthur challenges Orm to a dual—a fight to the death—Orm decrees that it be carried out in an arena called the Ring of Fire. Arriving at this shadowy venue, encircled by rivulets of fiery lava, Arthur looks around like a puppy in search of a stick and says, "This is the Ring of Fire? How's it work?"