Andrew Cuomo's Sudden Cannabis Conversion Highlights the Cowardice of Leading Democrats
On marijuana, New York's governor has lagged far behind his party's rank-and-file and the general public.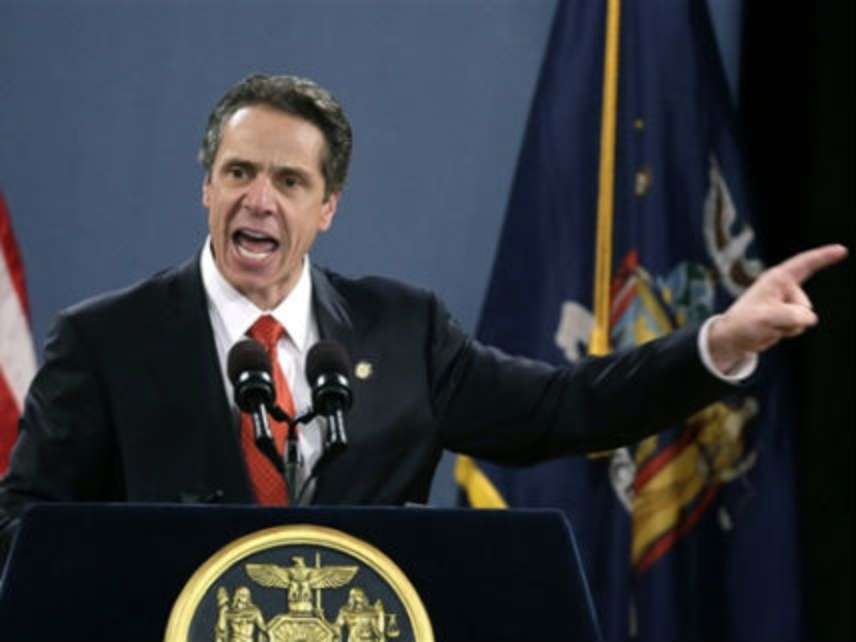 Today New York Gov. Andrew Cuomo unambiguously endorsed marijuana legalization, culminating a rapid evolution of his views on the subject. "We must…end the needless and unjust criminal convictions and the debilitating criminal stigma and…legalize the adult use of recreational marijuana once and for all," Cuomo said in a speech outlining his goals for next year.
As recently as last year, Cuomo was describing marijuana as a "gateway drug" and worrying about what might happen if the state repealed its prohibition. "There's two sides to the argument, but I, as of this date, I am unconvinced on recreational marijuana," he said in February 2017. "If you choose to use marijuana recreationally, you know the law." He added that opponents of legalization say "it's a gateway drug and marijuana leads to other drugs, and there is a lot of proof that is true." This year the National Organization for the Reform of Marijuana Laws gave Cuomo a C–, indicating a "hard on drugs" stance.
As secretary of housing and urban development in 1996, Cuomo oversaw regulations that established a "one strike and you're out" policy for public housing tenants caught with marijuana or other illegal drugs. The policy, which evicts even innocent tenants when a family member violates the rule, was upheld by the U.S. Supreme Court in 2002, the same year that Cuomo, while running unsuccessfully for governor, admitted that he "tried marijuana in my youth."
Shortly before he was elected governor in 2010, Cuomo said he opposed legalizing medical use of marijuana. "The dangers of medical marijuana outweigh the benefits," he said. In response to the argument that taxing medical marijuana could raise revenue for the state, he said, "A lot of things could raise revenues. Legalizing prostitution could raise revenues. I'm against that, too."
Cuomo seemed to soften his stance in July 2011, saying, "We're talking to both sides of the issue, if you will, and we're reviewing it, but we don't have a final position." But in April 2012 he reiterated his opposition, saying, "I understand the benefits, but there are also risks, and I think the risks outweigh the benefits at this point." He struck the same note in April 2013: "We're looking at it, but at this point I don't support medical marijuana."
Cuomo reversed his position in January 2014, endorsing a strictly regulated system for making nonsmoked cannabis available to patients with certain conditions. That July he signed a bill that established one of the country's most restrictive medical marijuana programs. At that point 20 other states had legalized medical marijuana, starting with California in 1996. New York did beat Arkansas, Florida, Louisiana, and North Dakota by two years.
In 2012 Cuomo recommended decriminalizing "public display" of less than 25 grams of marijuana, which had long been a pretext for arrests by the New York Police Department even though possessing that amount had been a citable offense in the state since 1977. "If you possess marijuana privately, it's a violation," he said. "If you show it in public, it's a crime. It's incongruous." But Cuomo continued to view legalization of recreational marijuana as "a non-starter."
Last January, Cuomo commissioned a study of marijuana legalization by the New York Department of Health. The report—which was published in July, two months before Cuomo faced off against legalization advocate Cynthia Nixon in the Democratic gubernatorial primary—concluded that "the positive effects of a regulated marijuana market in NYS outweigh the potential negative impacts." In August, Cuomo created a task force to advise him on legalization.
Cuomo's cannabis conversion, like that of another New Yorker, Senate Minority Leader Chuck Schumer, illustrates how far leading Democrats have lagged behind their party's rank-and-file and the general public on this issue. Cuomo was still opposed to medical marijuana at a time when more than four-fifths of Americans supported it, and he did not endorse broader legalization until it was favored by two-thirds of Americans, including three-quarters of Democrats. Although Republicans are substantially less likely to support legalization, former House Speaker John Boehner became a lobbyist for the cannabis industry while Cuomo was still dithering.
Even in the context of the mid-1990s, when most Americans still opposed legalization, Cuomo's support for HUD's "one strike and you're out" rule was notably cruel and irrational, especially in view of his own youthful marijuana use. Given that history, his recent recognition of "the debilitating criminal stigma" resulting from "needless and unjust" marijuana arrests rings pretty hollow.