Taxypayers Off the Hook for Sex Harassment Settlements in Congress: Reason Roundup
Plus: A congressman would "love" to regulate speech, and there's good news for hemp but not for much else in the new Farm Bill.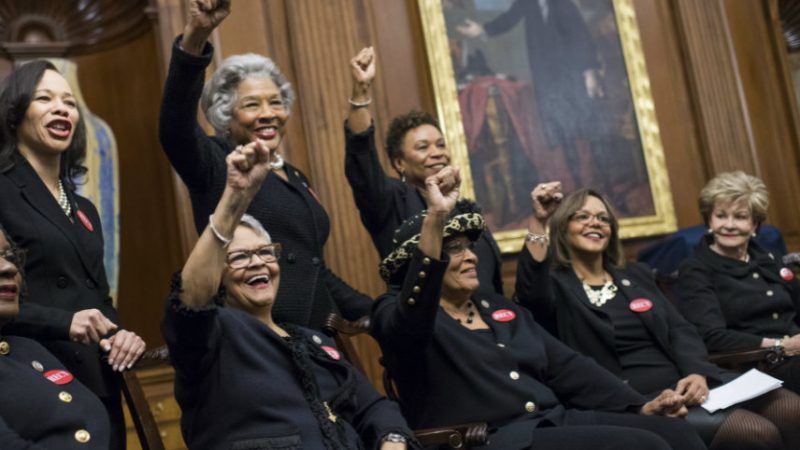 (Tom Williams/CQ Roll Call/Newscom)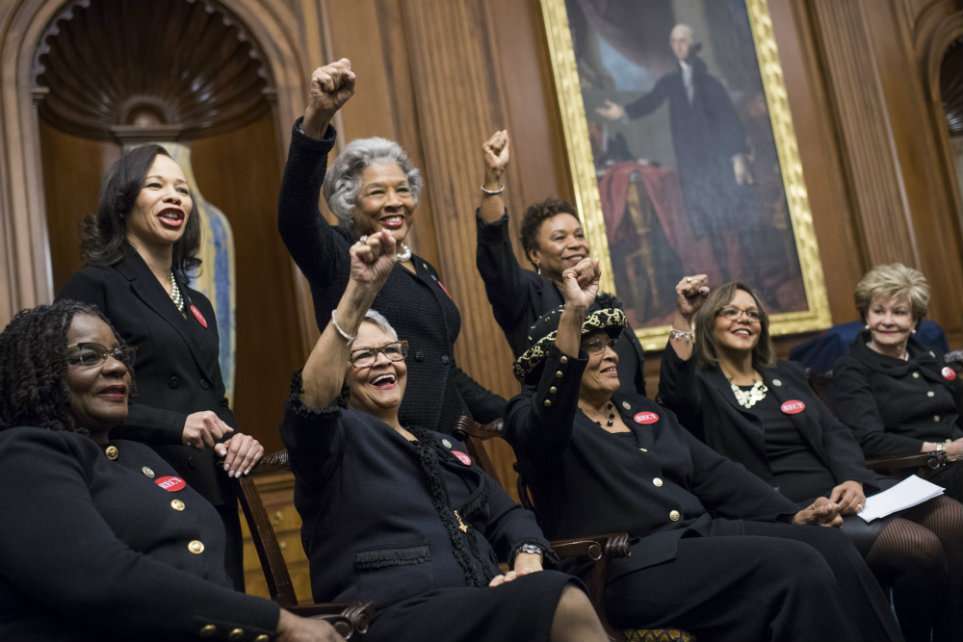 Time's up for lawmakers who count on taxpayers to pay for their bad behavior. Members of Congress will have to start covering the costs of sexual harassment and retaliation settlements themselves. An agreement yesterday paved the way for this new policy—the first major change to congressional sexual harassment rules for more than two decades.
Right now, harassment and retaliation settlements "are paid through taxpayer-funded accounts members use to pay for office salaries and expenses," explains NPR.
Yesterday's agreement worked out differences between House and Senate versions of the update. The Senate version would have capped how much lawmakers themselves had to pay, while the House version would have set no limits. The compromise version does not set limits in sexual harassment lawsuits but does in cases of court-ordered damages (at $300,000).
"The deal comes after nearly a yearlong standoff between the House and the Senate over member liability and other issues in the bill," reports NPR. But now "Senate rules committee Chairman Roy Blunt, R-Mo., the chief GOP negotiator in the Senate, says he expects the bill will pass the Senate this week."
The legislation also edits other aspects of how harassment and retaliation claims against lawmakers will be handled, with an aim to make the process less complicated and more transparent:
The deal provides legal counsel for House staff who file complaints and legal assistance to Senate staff. It would also eliminate a mandatory 30-day "cooling-off period" before someone can file a complaint.

All settlements and awards involving members would be made public at the time of the settlement, and an annual review would be released to the public.
House Minority Leader Nancy Pelosi (D–Calif.) is vowing to pass additional reforms next year.
FREE MINDS
Congressman would "love" to regulate speech. Talk about saying the quiet parts loud: In a TV interview yesterday, Rep. Ted Lieu (D–Calif.) said he "would love to regulate the content of speech," but is prevented from doing so by the First Amendment.
Rep. Ted Lieu (D-CA): "I would love to be able to regulate the content of speech. The First Amendment prevents me from doing so…" pic.twitter.com/2LYevmIqrT

— Ryan Saavedra (@RealSaavedra) December 12, 2018
Lieu was being questioned about and criticizing complaints from House Republicans about alleged anti-conservative bias in Google search results.
Facing post-interview criticism, Lieu insisted that his intent had been to defend free speech by explaining that the First Amendment didn't allow for things House Republicans wanted to do. Maybe, but in the process he positioned himself as someone whose censorious impulses are curbed only by the Constitution.
FREE MARKETS
Good news for hemp, not for much else in new Farm Bill. The legislation cleared Congress yesterday and is on its way to President Donald Trump for approval. "Many of the headlines about the farm bill have focused on the inclusion of a provision that will legalize industrial hemp—a form of cannabis that contains very low levels of tetrahydrocannabinol (THC) found in marijuana. Industrial hemp has a wide range of uses that includes making clothing, as a substitute for plastics, and as a additive to food and drinks," writes Reason's Eric Boehm.
But aside from that, Boehm says, this iteration of the perennial farm bill "somehow manages to suck even more than most." Why?
Among other things, it widens "an agricultural subsidy program that's already been widely criticized for sending benefits to people who, by most measures, would not count as farmers." More on that from the R Street Institute's Caroline Kitchens here.
It also came, in the House, with a resolution that ends debate on invoking the War Powers Act to stop U.S. funding of Saudi monstrosities in Yemen. That resolution was tucked into a procedural vote, which passed 206–203, with 18 Republicans voting against it and five Democrats for. The procedural vote cleared the way for the House to approve the final farm bill later in the day.
FOLLOWUPS
• Former Donald Trump lawyer Michael Cohen was sentenced yesterday to three years in prison for tax evasion and facilitating illegal campaign contributions. In related news, National Enquirer publisher American Media Inc. admitted to its part in brokering a $150,000 hush payment from Trump and Cohen to model Karen McDougal. The company entered into a non-prosecution agreement with federal prosecutors.
• Yesterday's vote of no confidence in the U.K. Parliament wound up OK for Prime Minister Teresa May, who has been under fire from many sides for bungling Brexit.
QUICK HITS
• Trump's latest immigrant targets are Vietnamese people who came to America as refugees from the Vietnam War and its aftermath:
Exclusive: The Trump administration has decided that Vietnamese migrants who arrived before the establishment of diplomatic ties between the U.S. and Vietnam are subject to standard immigration law—meaning they are all eligible for deportation. https://t.co/njUnvAjm8x

— The Atlantic (@TheAtlantic) December 12, 2018
• Senate Majority Leader Mitch McConnell (R–Ky.) will stop blocking the sentencing reform bill known as the FIRST STEP Act from a Senate floor vote. "Under pressure from the White House and a number of his fellow Republicans," McConnell said he'll bring the bill "for a vote as early as the end of the week," reports Reason's C.J. Ciaramella.
• As in so many areas, people's support for mandatory paid-leave policies drops the more they have to pay for it:
74% of Americans Support Federal Paid Leave Program When Costs Not Mentioned—60% Oppose if They Got Smaller Pay Raises in the Future https://t.co/Hf0kfdi2Ya via @CatoInstitute

— Christina Sandefur (@cmsandefur) December 12, 2018
• Las Vegas is one of a number of cities where opioid-related harm reduction methods are growing:
The first time you come in for needles we give you this card- show this to the police if they question you about carrying clean needles. This will let them know that it's legal for you to have them! #KnowYourRights #Vegas pic.twitter.com/JhXhsTLSrW

— Trac-B Exchange- Las Vegas (@tracbexchange) December 12, 2018