Top 10 Worst Helicopter Parenting Moments of 2018
Aborted snowball fights, unused playground equipment, baseless child trafficking panics, and more.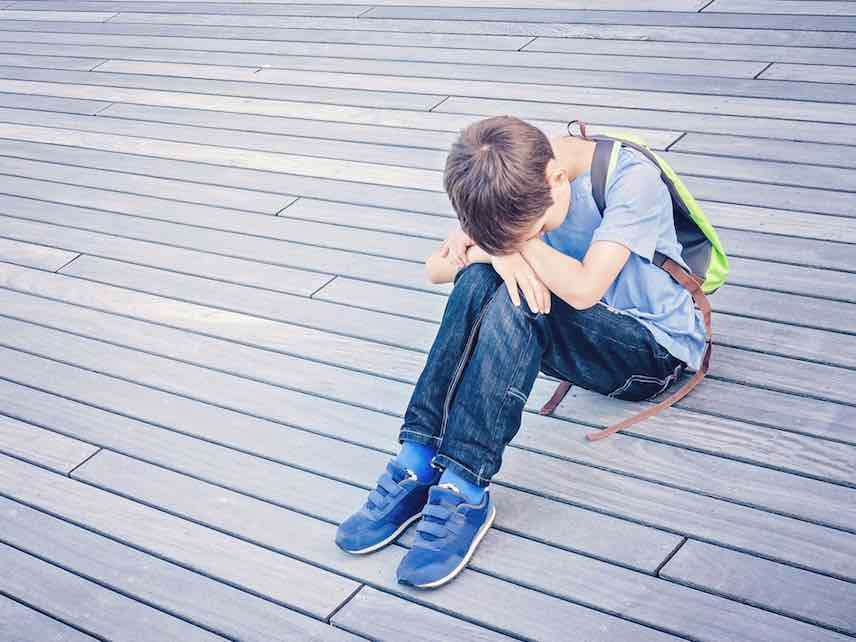 Kidnapping, Halloween, and snowballs—in 2018, we freaked out about each of these things and many others. Here are the year's ten most vexing moments for the free-range parenting movement:
1). After a passerby witnessed a man seemingly abducting a little girl in a shopping mall parking lot in Brighton, England, all hell broke loose. Helicopters were scrambled. Cops went door to door. The mall aired the closed-circuit footage over and over again until the man was finally found. No, he wasn't an abductor: He was the girl's father. Cops confirmed this. Sorry for the fuss.
2). When Ohio 5-year-old Braylen Carwell started having seizures after trick or treating and tested positive for meth, parents were warned to check for poisoned candy. A few days later, Braylen's dad, a former drug user, was charged with meth possession and evidence tampering. Said the local police chief, "We are extremely confident that [Braylen] did not ingest any candy from Trick or Treat that was tainted."
3). Child Protective Services showed up at the home of Corey Widen, a mom in Wilmette, Illinois, after someone reported seeing her daughter, age 8, walking the dog alone. Investigators interrogated Widen, her daughter, other family members, and the girl's pediatrician before coming to their senses and admitting that mom had not committed neglect.
4). Preschoolers in Nova Scotia were not allowed to play on their playground's equipment because it was labeled for children ages 5-12. The fact that kids have always played on equipment without an age label (see, for instance, trees) matters not.
5). "A woman is giving a stark warning after she says two women and three men attempted to abduct her daughter at a rest stop on Interstate 74 in Indiana," announced a TV station in Ohio. This info came from the woman's Facebook page. In a post, she explained she had been at a rest stop when two ladies looked at her daughter as three men stood in front of a minivan with its door open. The fact that none of them actually attempted an abduction did not get in the way of this juicy non-story.
6). Penn State's Outing Club can no longer go outside, since hikers typically venture beyond the limits of cell phone coverage. "Student safety in any activity is our primary focus," said a university spokeswoman. The 98-year-old club is still allowed to hold film festivals host speakers, and explore the great indoors.
7). A school in East London, England, forbid its 1,500 students from touching snow because this could tempt them to make snowballs. To skeptics, headmaster Ges Smith said: "It only takes one student, one piece of grit, one stone in a snowball in an eye, with an injury and we change our view."
8). Texas writer May Cobb was returning to the car with her autistic 5-year-old after a day in the park when they were stopped by the cops. Someone had reported a boy with messy hair and too-short pants. Even the cops were embarrassed to be following up on this. But follow up they did.
9). A documentary about Patriots' quarterback Tom Brady showed him kissing his 11-year-old son on the lips. The media went wild. New York's CBS TV station asked people what they thought. But as one local pointed out, " Who doesn't hate Tom Brady here?"
10). Busybodies waved down the police when they saw a boy, age 8 or thereabouts, walking by himself. He told the cops he was going to his grandma's. He likes walking there. Grandma confirmed this. Police then spoke to his parents about the dangers of letting children walk alone to grandma's. It is unclear whether they added anything about big bad wolves.
Thankfully, not all the news was bad. This spring, Utah passed America's first Free-Range Parenting Law, which decreed that parents cannot be considered negligent simply for letting their kids run errands, play outside, wait briefly in the car (under some circumstances), or come home with a latchkey. It's a start, at least. See you in 2019!