Teenage Sisters Legally Recorded Police, Who Tackled Them to the Ground
According to the officer who took them down, the phone was "evidence."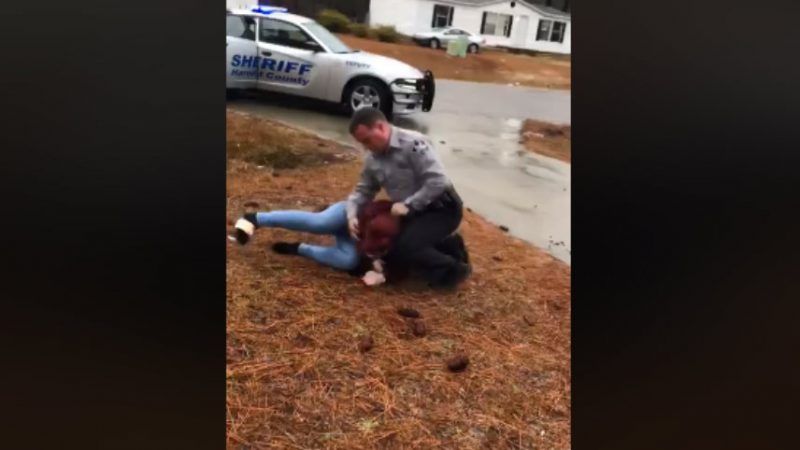 (Screenshot/Facebook via Yfn Stack)
A North Carolina police officer is on administrative leave after a video surfaced of him tackling two teenage girls, apparently because they were recording him.
Video of the incident, which occurred Monday in Harnett County, shows 17-year-old Aumbria Urban and her 14-year-old sister, Jewelianna, being taken to the ground. What had they done wrong? The Harnett County Sheriff's Office said in a statement that two officers were responding to a report of illegal drug activity. Eventually, they found their suspect—17-year-old Tyrese Namirr Gary—sitting in the driver's seat of a car. "When the deputy approached the vehicle, the smell of marijuana was detected coming from the passenger compartment," the police statement said, according to WNCN.
The deputies arrested Gary, who had other active warrants as well. Police claim to have found a handgun under his seat, which they also charged him for. The Urban sisters, meanwhile, were with Gary at the time (Aumbria is his girlfriend). The deputies searched them, too, but things quickly went south. "After each of us were patted down, we both started recording and asking why (my boyfriend) was being detained," Aumbria told WTVD.
That's appears to be when the now-viral video, taken on Aumbria's phone and later posted to Facebook, starts:
"You cannot take my phone," Jewelianna can be heard telling one of the deputies about 15 seconds into the 61-second clip. The officer responds by grabbing her around the neck and struggling with her for several seconds before taking her to the ground and informing her that she's "under arrest." After Jewelianna is incapacitated, another deputy holds her down while the first officer places her in handcuffs.
"Yo, what are you doing right now? She didn't do anything!" says Aumbria as her sister is arrested. "You snatched her phone from her. That is her personal property. It's all on video and you guys have absolutely no right to tell me I can't record this. I did nothing wrong. You searched me, I had nothing."
By that point, Jewelianna's phone is on the ground, but she kicks it toward Aumbria. Then, when Aumbria goes to retrieve it, the first deputy tackles her as well, explaining that her sister's phone is "evidence."
The sisters were ultimately released without being charged and given their phones back. But Aumbria says she was warned not to publicize the footage. "The officer told me not to post it anywhere, not to let it get out," she told WRAL, adding that she feels she was "harassed" and assaulted.
In addition to the first deputy being placed on leave, the incident is now being investigated by the North Carolina State Bureau of Investigation. "We will have additional details/information at conclusion," the sheriff's office said, according to WNCN.
The sisters were well within their rights to film the encounter. According to the American Civil Liberties Union of North Carolina:
You can take pictures of anything in plain view in a public space including federal buildings, transportation facilities, and the police, as long as you are not interfering with law enforcement.

Police officers may not confiscate or demand to view your digital photographs or video without a warrant, and they cannot delete your photographs or video under any circumstances.
Police frequently violate this right. In Texas, for instance, private citizens are generally allowed to record police officers in public places, as long as they're not interfering with police work. But as Reason's Zuri Davis reported in July, an El Paso officer still arrested a young man who had filmed him pointing a gun at children.
Bonus link: Being able to record on-duty cops is important for police accountability. But as Radley Balko explained in a 2011 cover story for Reason, recording the police can be dangerous.