Media Attacks Heisman Trophy Winner Kyler Murray for Homophobic Tweets He Sent as a 14-Year-Old
The reporters who made this nontroversy a story should be ashamed of themselves.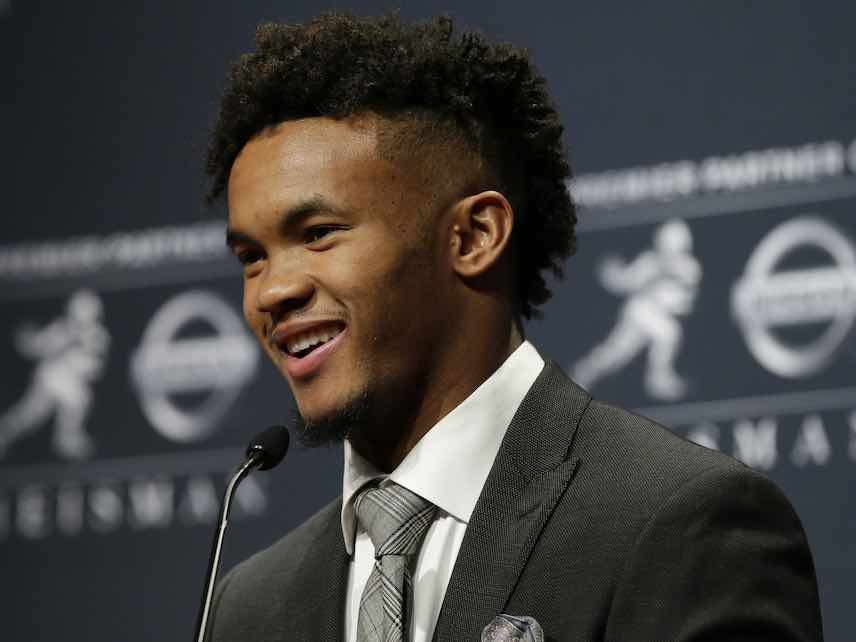 University of Oklahoma quarterback Kyler Murray won the Heisman Trophy on Saturday. The internet being what it is, some folks on social media apparently took this as an opportunity to go looking for reasons to be outraged, and discovered some homophobic tweets Murray sent when he was in high school.
Murray apologized right away, tweeting, "I used a poor choice of word that doesn't reflect who I am or what I believe. I did not intend to single out any individual or group."
For some reason, many media outlets decided this little nontroversy demanded a write-up.
"As of early Sunday morning, four offensive tweets using an anti-gay slur remained active on the Heisman winner's account," USA TODAY tweeted, with a link to its article, titled, "Kyler Murray: Heisman winner's old, homophobic tweets resurfaced."
MSN, Yahoo News, The Daily Mail, and The New York Post all wrote similar articles, because a 14-year-old boy having unwisely used the word "queer" as a slur is somehow shocking and newsworthy. The Daily Mail even claimed that Murray's post-Heisman glory was "short-lived" because of the stupid tweets.
These news articles used phrases like "resurfaced" and "revealed" to describe how the old tweets came to light, though it isn't clear who actually did the excavating. In fact, had the media simply declined to signal boost this story, it wouldn't have become a big deal in the first place.
I said it after Roseanne, I said it after Sarah Jeong, I said it after James Gunn, and I said it after Kevin Hart: It's time to declare an end to the practice of mining people's past social media comments for fire-able offenses. This holds especially true for comments made by minors. Murray was 14 and 15-years-old at the time he made these ill-advised remarks. People my age and older are very lucky that Twitter didn't exist when we were adolescents. I guarantee that the various authors of these Kyler Murray stories all said something crude or offensive—or at the very least, something they would not want "resurfaced"—when they were in high school.
Unfortunately, modern America is increasingly a place that does not allow children to make mistakes. A schoolyard scuffle is a reason to call the cops and taser the teens involved. A messy romance merits sexual exploitation charges and sex offender status. A bad tweet is front page news.
Murray is going to be fine—he apologized swiftly, and it appears that a backlash of sorts is already forming. Next time, maybe the media could simply skip the step of trying to make everybody angry about such a stupid thing.