Republican Senators Urge McConnell to Act on Criminal Justice Reform Bill
Supporters are concerned about the bill's future if it doesn't pass this year.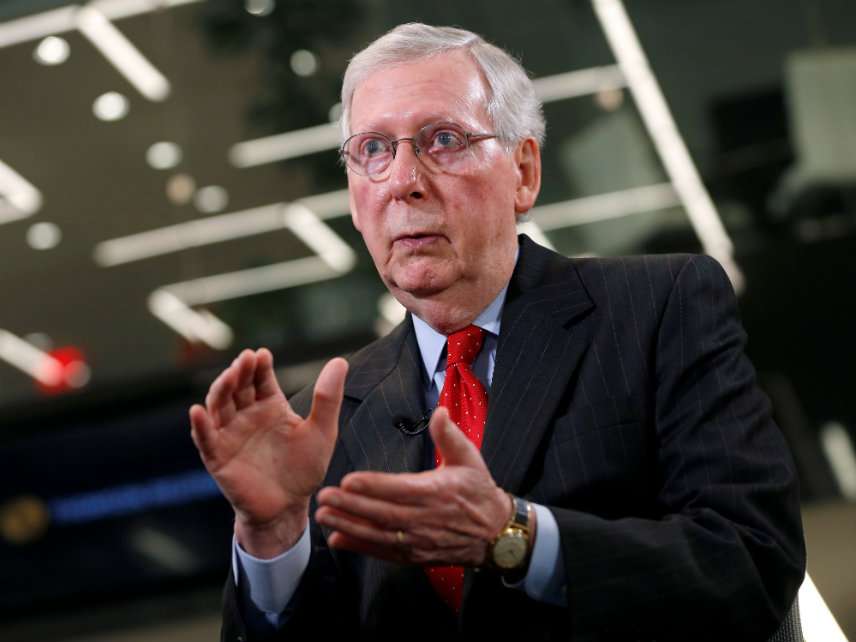 A group of Republican senators wants Senate Majority Leader Mitch McConnell (R–Ky.) to bring a bipartisan criminal justice reform package up for a vote in 2018.
Reason's C.J. Ciaramella has explained that passage of the FIRST STEP Act, which President Donald Trump endorsed last week, could harken the biggest rewrite of federal prison and sentencing laws in more than 10 years. But despite bipartisan support, it's far from a given that the bill will become law, at least in the near future.
Both the House and Senate are scheduled to adjourn for the year on December 14. When Congress is back in session, Democrats will control the House. According to The New York Times, the bill's supporters are concerned that House Democrats might push for more comprehensive reforms. That would make it much more difficult for the bill to pass in the Senate, where Republicans will maintain their majority come January.
The existing bill still needs to be approved in both the Senate and House before it reaches Trump's desk. While the House's previous version of the legislation passed overwhelmingly (360-59) in May, things are more complicated in the Senate. McConnell has said he wants to ensure the bill is supported by at least 60 senators before he moves it forward. But on Thursday, McConnell told Trump there probably isn't enough time to bring the bill up for a vote before the end of the legislative session, no matter its level of support, according to the Times.
Some of the majority leader's Republican colleagues don't think that's good enough. Axios reported that Sens. Chuck Grassley (R–Iowa), Lindsey Graham (R–S.C.), Mike Lee (R–Utah), and Tim Scott (R–S.C.) called McConnell yesterday "and pressured him to move forward with a vote" on the bill this year. Axios cited a Hill source with knowledge of the situation, as well as a statement from Scott's office. "We had a good call and are hopeful that Leader McConnell will create floor time for a bill that we believe has 65 to 70 senators on board," Scott told the outlet.
The Times also reported on the phone call, adding that Grassley, who co-sponsored the bill with Senate Minority Whip Dick Durbin (D–Ill.), cited his record of supporting McConnell in the past:
I have been there for you, Mr. Grassley told Mr. McConnell, the man standing in the way of a quick vote on the measure. And I would hope this is something that you would help me make happen, he said, according to three people familiar with the call who were not authorized to publicly discuss the conversation.
"I've been working on this issue for nearly eight years, and we have never been closer than we are right now," Lee told the Times, which also reported that various right-wing advocacy groups are pressuring McConnell as well.
Republican senators have also called on McConnell to move the bill forward in public. "Let's start 2019 on a positive note," Graham said Sunday on NBC's Meet the Press. "I'm urging Sen. McConnell to bring the bill to the floor of the Senate. It would get 80 votes. Mr. President, pick up the phone and push the Republican leadership."
Sen. Rand Paul (R–Ky.) expressed similar sentiments. "With President Trump being in favor of this criminal justice reform, he came out publicly for it, really it only depends on one senator now," the Kentucky Republican said Sunday on CBS's Face the Nation. "If Sen. Mitch McConnell, from my home state, will allow a vote, it gets 65 to 70 votes in the Senate. It'll be one of the most popular things to ever pass."
Grassley, meanwhile, has indicated that if the bill doesn't pass this year, then its future is uncertain. "GOP colleagues: NOW is time to pass crim justice reform unless your argument is that you prefer to work w Speaker Nancy Pelosi to pass a bill?" Grassley tweeted Friday, referring to current House Minority Leader Nancy Pelosi, who is looking to become speaker of the House.
The FIRST STEP Act's most vocal GOP opponent appears to be Sen. Tom Cotton (R–Ark.). As Ciaramella pointed out, Cotton is worried the legislation will let dangerous criminals back on the streets and make it harder for prosecutors to gain cooperation from defendants.
Cotton, who said in 2016 that America has an "under-incarceration" problem, published an op-ed in USA Today last week laying out his case. He also claimed on Twitter—perhaps questionably so—that "there have been no hearings on this bill," in addition to going back-and-forth with Lee over what the legislation does and does not do.
So what does the bill do? As Reason's Eric Boehm explained, the legislation introduces reforms aimed at lowering the federal prison population. In terms of sentencing, Ciaramella noted that the bill has four main provisions:
Those provisions would eliminate mandatory life sentences for drug offenses under a federal "three strikes" law, reduce the "stacking" of firearm penalties for certain crimes (like the kind that led to a 55-year sentence for Weldon Angelos), expand the so-called "safety valve" to give judges more discretion in sentencing, and retroactively apply the Fair Sentencing Act of 2010's penalty reductions to crack-cocaine offenders sentenced before the law was passed.
Could the bill do more? Absolutely. But that doesn't mean its reforms aren't a good thing. This legislation represents just the first step, and a much-needed one at that. Instead of stalling until Congress is out of session, McConnell might want to consider listening to his colleagues.