A Lawsuit Could Decide the Fate of PBR and Other Working Class Beer Brands
America's beer market is changing, and giant beer companies are the hardest hit.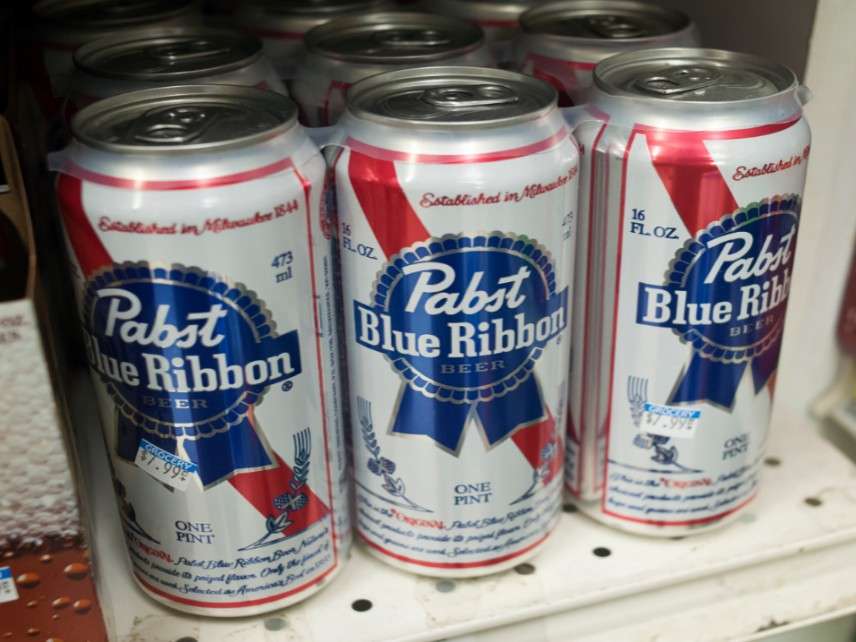 A Wisconsin courtroom was the setting this week for a lawsuit pitting some of the biggest names in watery American beer against each other. The case pits "hipster favorite" Pabst, parent of PBR, against the much larger MillerCoors, which Pabst claims wants "to put it out of business."
Earlier this year, Pabst sued MillerCoors, alleging MillerCoors has engaged in "breach of contract, breach of anti-competition laws, fraud, and misrepresentation." The companies' currently have an agreement in which MillerCoors brews Pabst's beer brands. That agreement is about to end, and MillerCoors seems ambivalent about renewing the contract. Pabst has asked the Wisconsin court to award it $400 million in damages and to force MillerCoors to renew the contract.
The case, which is being heard in state court in Milwaukee, could decide the future of Pabst's entire portfolio of beers, from PBR to Old Milwaukee, Lone Star, Old Style, Colt 45, Natty Bo, Rainier, Schlitz, Olympia, Stroh's, Schaefer, Schmidt's, Pearl, and Blatz.
MillerCoors brews Pabst's beers under a 1999 contract—a type of agreement known in the industry as contract brewing—that is set to expire in 2020. That contract contemplated two potential five-year renewals. MillerCoors argues the company should be free to determine whether to renew the contract, while Pabst alleges "that the two need to find a solution together if Pabst wants to continue the agreement." Pabst also insists MillerCoors has a good-faith obligation to negotiate a renewal.
MillerCoors hasn't foreclosed on continuing its partnership with Pabst. For example, it's considered selling its Irwindale, California, facility to Pabst, or continuing to brew Pabst's beers there at a much higher cost.
Pabst insists the only way the company can continue to exist is if MillerCoors, which is owned by Molson Coors, continues to produce its beers under contract at a cost Pabst finds fair. That may be true. Pabst doesn't brew beer, and AB InBev, which owns industry leader Budweiser and which is likely the only other brewer large enough to produce the full Pabst line, forswears the contract-brewing model.
This case presents an interesting dilemma, given that Pabst pays MillerCoors to brew its beers, which then compete against MillerCoors beers in the marketplace.
If MillerCoors indeed plans to close its Irwindale brewing facility, and the resulting decrease in capacity would make it difficult or impossible for the company to continue brewing Pabst's beers, then it makes sense at first glance for the company to sell off the facilities rather than to discard or mothball them. Pabst would seem to be the perfect buyer.
But the asking price may be too high for Pabst. Or MillerCoors may have decided it simply doesn't want Pabst beers to compete with its own low-end beers on store shelves and in bars. Indeed, Pabst alleges documents it obtained show MillerCoors is trying to kill off its client-competitor. In an April interim ruling, the judge in the case cast a wary eye at MillerCoors, suggesting its alleged interest in eliminating competition from Pabst may have guided its actions.
Continuing the current relationship between Pabst and MillerCoors may prove untenable. But, as the portmanteau MillerCoors suggests, consolidation among large brewers is the name of the game these days. Pabst itself markets many beers it's picked up in fire sales over the years. Hence, MillerCoors (or its parent) could offer to buy Pabst. The wrinkle, of course, is that should MillerCoors decide to do so, then holding the threat not to renew its contract with Pabst like an axe over Pabst's head would likely drive down the purchase price dramatically. But that approach would also be a gamble. Under that scenario, MillerCoors also risks another buyer—including its larger competitor, AB InBev—swooping in and buying Pabst, or at least starting a bidding war that would drive the Pabst purchase price back up. Alternately, Pabst could choose to sell some or all of its many brands piecemeal to the highest bidder, which might include MillerCoors, AB InBev, and others.
Even if Pabst is ultimately victorious in this suit, the writing may be on the wall for it—and maybe MillerCoors, too. Notably, America's changing beer-drinking habits have hit large beer companies hard. Both Pabst and MillerCoors have been laying off employees left and right. Furthermore, the fact that Pabst's existing contract with MillerCoors only contemplated two five-year renewals may mean if Pabst isn't toast now, it could be by 2030.
Where do I stand in all of this? I drink Miller Lite at baseball games from time to time, and PBR, Olympia, and Rainier at happy hours when they're offered for less than $3. I also believe courts shouldn't force parties to renew a contract—whether or not that contract contemplates a potential renewal(s)—even if failure to do so could imperil one party to the contract. The fact this could mean the death of Pabst and PBR doesn't change that equation for me.
The trial that began this week in Milwaukee is set to wrap up by the end of the month. Considering the lag time before a ruling in this case and the inevitable appeals, we likely won't know for a while just what the market for cheap beer will look like going forward, or whether that market will include PBR.