Movie Review: Fantastic Beasts: The Crimes of Grindelwald
Odd wizarding couple of the year: Eddie Redmayne and Johnny Depp.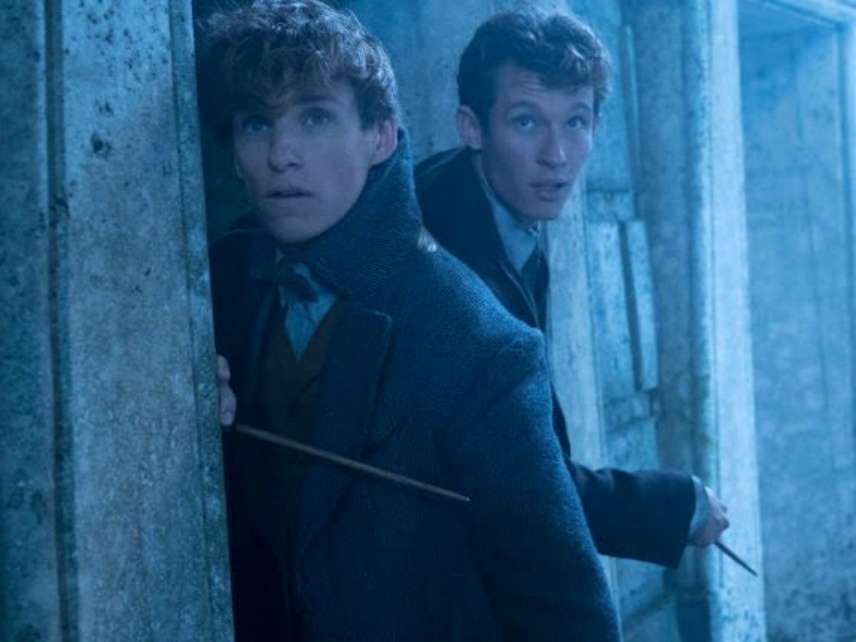 It was already apparent with the first Fantastic Beasts movie, two years ago, that while "J.K. Rowling's Wizarding World"—as we're invited to call it—is still open for business, the specific magical realm of Harry Potter remains closed. The Beasts movies so far have little of the charm of the best Potter films. Newt Scamander—the "magizoologist" played by Eddie Redmayne—is an appealingly quirky protagonist, and the duck-billed Niffler nestled inside his otherworldly creature suitcase can only be called adorable. But long gone are the days of cute kid wizards in their Hogwarts robes scurrying up and down the school's shifting staircases to attend classes taught by some of Britain's finest character actors. (RIP Professor Snape.)
The central plot issue in the new Fantastic Beasts: The Crimes of Grindelwald is the same as the one that animated the Potter saga: the eternal struggle between good and evil. It's a subject that was treated with a crystal clarity in the Potter films—fresh-faced Harry versus snake-faced Voldemort. In Fantastic Beasts, however, the story is so crammed with new characters and twisty developments and wads of exposition that it's not always easy to keep in mind the reason why everybody is so agitated. Which turns out to be Johnny Depp.
Well, not really. Fans of the Potter films weren't happy to learn that Depp had been hired to play the big bad here, but really, he's fine. Decked out in eccentrically tailored evil-guy gear, with a thatch of peroxide hair and an accent that's at least within hailing distance of German, he's an entirely serviceable Gellert Grindelwald—the dark wizard who's scheming to install a pure-blood dictatorship to oppress the mud-bloods of his world and maybe the Muggles of ours, as well. One can easily imagine other actors filling this role, and might perhaps wish that it could have been someone able to bring a little more psycho to the table—a Caleb Landry Jones, maybe, or a young Brad Dourif. But that's not the hand we've been dealt. And Depp isn't the problem with the movie.
The problem with the movie—apart from being dark by design, and grim and miserable-looking from end to end—is that there's so much of it, and that there's so little really going on in it. Since Fantastic Beasts is hard-wired to be a five-picture franchise, it's possible the filmmakers—chief among them Potter creator J.K. Rowling, who wrote the script and is also a producer—have assumed they can waste as much of our time as they please. (How sad is it that they're probably right?) The movie begins with Grindelwald breaking out of a New York wizard prison by magical means (a CGI scene that's either very clever or awfully confusing, depending on your IQ, I guess). Then we hook up with Newt Scamander in London, where he's gone to meet up with his brother, Theseus (Callum Turner). Soon he's huddling with the young Albus Dumbledore (Jude Law), who at this early point in his life is a Defense Against the Dark Arts instructor at Hogwarts. Albus gives Newt the lowdown on Grindelwald, who's a very old acquaintance, and then dispatches Newt to Paris to find him—and also to look in on the woebegone Credence Barebone (Ezra Miller), a magically gifted orphan who longs to know his true provenance.
I hope Miller was able to take the many naps he had time for while shooting this movie, in which his character gets minimal story space. (One-line summation: "I'm tired of living with no name and no history.") And Miller's not the only one wasted in this film. Katherine Waterston and Alison Sudol are back as the Goldstein sisters, Tina and Queenie, and so is Dan Fogler, as the adventurous baker Jacob Kowalski, and while all of them get substantial screen time (in a film that runs two hours and 14 minutes), none of their characters evolve in any interesting ways. It also would have been nice to know a little more about the romantically mysterious Leta Lestrange (Zoë Kravitz), or such minor characters as Nagini (Claudia Kim)—a circus girl with a very persuasive snake act—and the legendary alchemist Nicolas Flamel (played by Brontis Jodorowsky, child star of his father Alejandro's 1970 cult film El Topo).
Over the course of the next three Fantastic Beasts movies, we'll surely be learning more about all of these people (and about the many varieties of cliff-hanger endings, too, no doubt). If there's any compensation for the jumble of the story and the thinness of the characterizations here, it's in the very high level of digital artistry that veteran Potter-world director David Yates has brought to bear. From shape-shifting madmen to rampant street dragons, magic has rarely seemed more almost-real.