Trump Endorses Criminal Justice Bill, Giving Momentum to Long-Delayed Reforms
"We're all better off when former inmates can reenter society as law-abiding, productive citizens."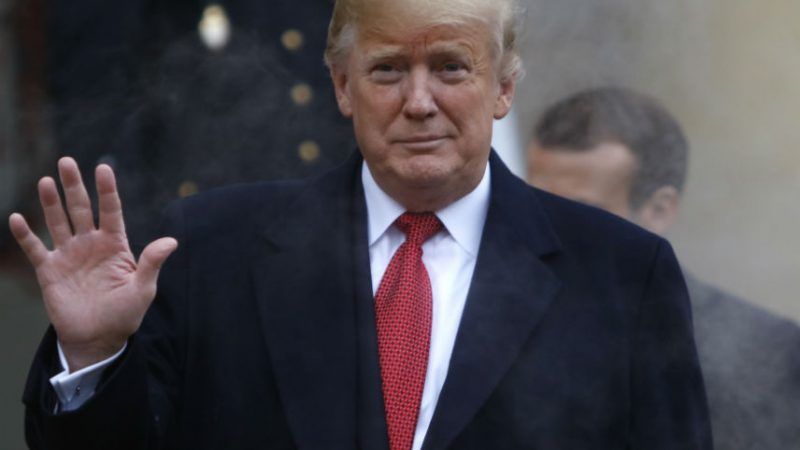 (Mehdi Taamallah/NurPhoto/Sipa US/Newscom)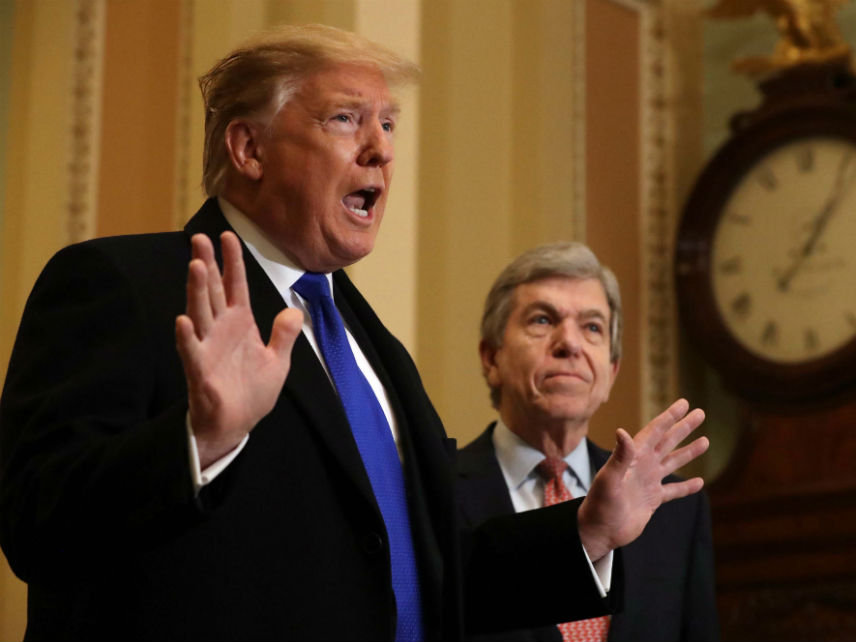 Flanked by a bipartisan group of lawmakers, President Donald Trump on Wednesday endorsed what could be the most significant rewrite of federal prison and sentencing laws in more than a decade.
At a White House event, Trump threw his weight behind the FIRST STEP Act, a bill that includes major reforms to the federal prison system, as well as four relatively modest provisions that would reduce some of the harshest mandatory minimum sentencing laws in the U.S. Code.
"I'm thrilled to announce my support for this bipartisan bill that will make our communities safer and give second chances," Trump said. "We're all better off when former inmates can reenter society as law-abiding, productive citizens."
The House passed the FIRST STEP Act in May by a wide, bipartisan margin. The House version of the bill mainly addresses prison reforms and improves reentry programs and job training for federal inmates. Among other things, it would also ban the shackling of pregnant inmates, increase the amount of "good time" inmates can earn toward shortening their sentences, and expand the Bureau of Prisons' compassionate release program for terminally ill inmates.
On Monday, the draft text of the long-awaited Senate version of the FIRST STEP Act leaked. The Senate version will include several provisions that were originally part of a bipartisan sentencing reform bill hammered out between Senate Judiciary Committee Chairman Sen. Chuck Grassley (R–Iowa) and Sen. Dick Durbin (D–Ill.). Those provisions would eliminate mandatory life sentences for drug offenses under a federal "three strikes" law, reduce the "stacking" of firearm penalties for certain crimes (like the kind that led to a 55-year sentence for Weldon Angelos), expand the so-called "safety valve" to give judges more discretion in sentencing, and retroactively apply the Fair Sentencing Act of 2010's penalty reductions to crack-cocaine offenders sentenced before the law was passed.
The last provision could affect thousands of federal drug offenders who received long mandatory minimum sentences under the now-reduced 100:1 sentencing disparity between powder and crack cocaine offenses.
"Trump is on his way to becoming the uniter-in-chief on an issue that has long divided the nation," Van Jones, a former Obama administration official and co-founder of #cut50, a criminal justice advocacy group, said in a statement. "We applaud President Trump for supporting the FIRST STEP Act. I am so glad to see him join a growing bipartisan movement that spans racial lines, geographic divides, class, and political party in support of policies that promote public safety, rehabilitation, and fairness."
Senate Majority Leader Mitch McConnell (R–Ky.) previously pledged to bring the bill to the Senate floor if it became apparent it had at least 60 votes. A whip count is expected this week to gauge support for the bill.
However, in comments to reporters today, McConnell also said the bill will have to compete with other pressing legislative priorities in the short time left in the lame-duck session of Congress.
"What I've said to the proponents is that we will first need a final agreement," McConnell said, according to The Hill. "There's been a lot of discussion but we need an actual proposal. Then we would take a whip count, see where we stand, and then weigh it at that point against the other things that absolutely have to be accomplished."
Trump's statements today were the culmination of months of battle between criminal justice reform supporters and law-and-order conservatives to sway the president's opinion on the issue.
Trump announced his support for better reentry programs for inmates in his 2017 State of the Union speech, but it was never clear if he would stomach the sentencing reforms that Senate leaders demanded.
On one side, supporting the bill, was Trump son-in-law and senior White House adviser Jared Kushner, celebrities like Kim Kardashian, and conservative criminal justice advocates, such as Mark Holden, the general counsel of Koch Industries and the chairman of Freedom Partners.
On the other side were recently resigned Attorney General Jeff Sessions and Sen. Tom Cotton (R–Ark.), who once complained that America has "an under-incarceration problem."
Cotton and Sessions relied on law enforcement opposition to bolster their claims that the FIRST STEP Act would release dangerous criminals and reduce prosecutors' ability to gain cooperation from defendants. But now Sessions is gone, and law enforcement opposition evaporated last week as it became clear Trump would support the bill.
As Reason's Scott Shackford reported Monday, the Fraternal Order of Police endorsed the bill last week, reversing its position from just a month ago. Other law enforcement organizations, such as the National District Attorney's Association and the International Association of Chiefs of Police, also came out in support of the FIRST STEP Act.
In a statement to Reason, Holden said FIRST STEP "will reduce crime and recidivism, save money, and help people get a much-needed second chance in life."
"We applaud the president, these senators, and members of the law enforcement community for rejecting baseless scare tactics from some opponents of criminal justice reform," Holden continued. "As conservatives in states like Texas, South Carolina, and Georgia have shown, the way to increase public safety is by being smart on crime and soft on taxpayers through evidence-based practices."
Grassley is expected to introduce the Senate version of the FIRST STEP in the next couple of days, and then all eyes will turn to McConnell.
However, Democrats' retaking of the House in the midterm elections also complicates the matter. Many progressive Democrats and advocacy groups opposed the FIRST STEP Act in the House and insisted that it include stronger sentencing reforms. Many of those same lawmakers would like to see the sentencing reforms in the Senate version be made retroactive, something that would almost surely reignite conservative opposition to the bill.
But for groups that have watched criminal justice reform sputter and die in Congress year after year, getting this far, especially with Trump in office, still seems like a notable accomplishment. Ames Grawert, senior counsel at the Brennan Center's Justice Program, said in a statement that the legislation is a "sign that even in a bitterly-divided political climate, lawmakers agree on the need to confront and solve our mass incarceration crisis,"
"The legislation is just a start towards a smarter and fairer approach," Stewart continued. "But it's an important one, and it's long past time to make these changes a reality."