California Wildfires Destroy Homes and Lives. Why Do Regulators Encourage Building in Fire Zones?
A toxic mix of bad insurance regulations and bad housing regulations ensure Golden State residents will continue to return to fire ravaged areas.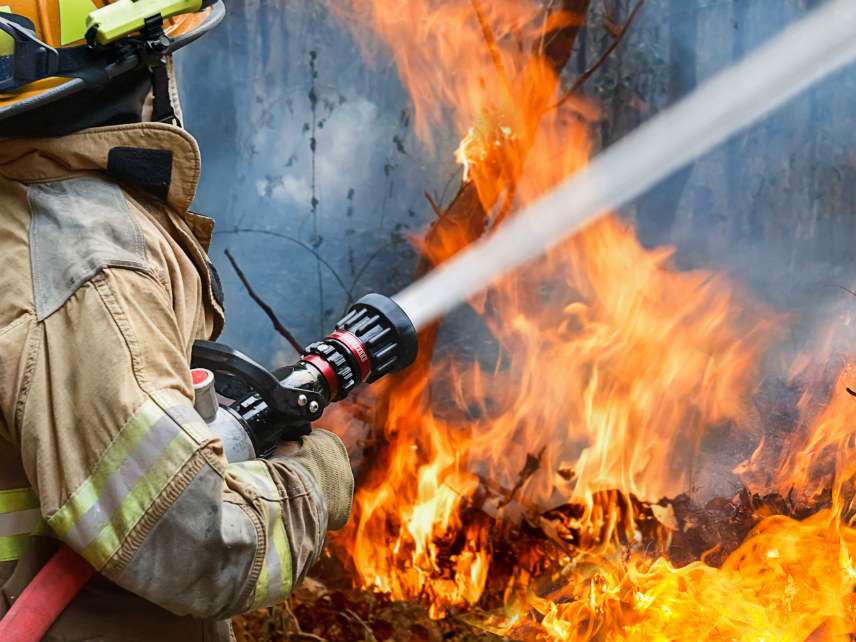 Some 50 people have died in the fires currently raging in the Golden State, with 48 perishing as a result of the Camp Fire in the northern, mostly rural Butte County, which has also destroyed 7,600 homes. This makes it the deadliest and the most destructive wildfire in California history.
In response to devastation on this scale, one would expect insurance premiums to shoot up, and for many of the affected residents to move away from fire-prone areas into larger, safer cities. But thanks to California's funky way of regulating insurance, this is likely not going to happen, says Ray Lehmann, an insurance policy expert at the R Street Institute.
"California makes it really difficult for the market to do what it would normally do in these cases, which is when assessments of risk go up, insurance rates go up, and a place becomes less attractive to build there," Lehmann says.
As with most of California's problems, its dysfunctional insurance market can be traced back to a decades-old ballot initiative—in this case Proposition 103.
Passed in 1988, Prop. 103 created an elected Insurance Commissioner, who is responsible for approving rate increases. The law also allows for extensive public input on any proposed rate hike. This makes trying to increase rates in response to increased risks a laborious, political process. As a result, insurers are slower to respond to risk, and less able to write policies that discount fire-safe practices on an individual basis, say, by charging less for having a stone porch instead of a flammable wood one.
In addition, California regulators are forbidden from setting policyholder rates based on future risks (like increasing incidences of wildfire due to climate change, for instance), or the increasing cost of reinsurance (which is insurance on insurance). Insurers are being squeezed as reinsurers raise their prices to reflect growing wildfire risks, but they can't raise policyholder insurance rates to reflect the risk that all parties have identified. In essence, insurers—not the insured—have to pay for that risk, which defeats the entire purpose.
The consequences of this system are two-fold. The first is that, as the state's Department of Insurance noted in a lengthy report from January, some people are having trouble finding any insurance at all for properties in very fire-prone areas. Because insurers can't sell them policies that reflect the likelihood of their houses burning down, they won't sell them insurance at all.
The second consequence is that those homeowners who are getting insurance are not paying what they should considering the likelihood they'll lose their home to fire, which means they have no incentive to rebuild their properties in a way that would reduce their risk.
"There is not an incentive when they rebuild to rebuild to a better standard and use better practices. That's the bigger concern," says Lehmann.
The issue is compounded further by the polar opposite ways in which California state law and localities treat development.
In those cities and counties affected by wildfires, regulators are quick to waive zoning laws and permitting requirements post-disaster. These redevelopments are also exempt from the California Environmental Quality Act (CEQA)—which mandates expensive pre-construction environmental reviews, and which can stall projects for years.
In other parts of the state, CEQA is in full effect and restrictive zoning codes and permitting requirements make it incredibly difficult to build more residential housing. This is particularly true in large (and largely wildfire-free) urban centers. Indeed, the number of structures destroyed by the Camp Fire alone is a little less than twice the number of residential units San Francisco managed to add last year.
In short, California is encouraging people to build where they should not, and discouraging them from building where they should.
Incentives are aligned in such a way that it makes more sense for property owners who've lost a home to fire to rebuild in the same spot rather than move to a location where their homes would most certainly never be at risk of burning down.
And this is why so many Californians live in fire-prone areas, and are likely to face ever deadlier and more destructive fires.
Of the 20 largest California fires—measured by acres burned—recorded in the last 100 years by the California Department of Forestry and Fire Protection, three occurred in the last two years. However, in the ranking of the top 20 most destructive fires—measured by number of structures burned—seven are from the last two years, as are five of the 20 deadliest fires.
The monies the state has had to expend on fire suppression has also skyrocketed. In Fiscal Year 2010, Cal Fire spent some $90 million on fire suppression. In Fiscal Year 2017, spending was up to $773 million—a state record.
Far from looking for fixes to this problem, California politicians are doubling down on their current approaches to both housing and insurance.
A crop of insurance bills landed on outgoing Democratic Gov. Jerry Brown's desk this year, and almost all of them make it even easier for folks to cover themselves in the event of wildfire, and harder for insurance companies to avoid renewing their policies or limiting payouts.
As for housing, the state has punted on a number of promising reforms that would have made urban development easier.
Even if there were political reform, the fact that California's insurance regulations were set by ballot initiative—and thus would have to be undone by ballot initiative—makes that a daunting task.
Sadly, this means Californians can look forward to more unnecessary property destruction and fire-related deaths.