Trump Still Determined to Slap New Tariffs on Auto Imports
White House advisors are worried that "he could get impatient one day and force their hand like he did with the steel and aluminum tariffs."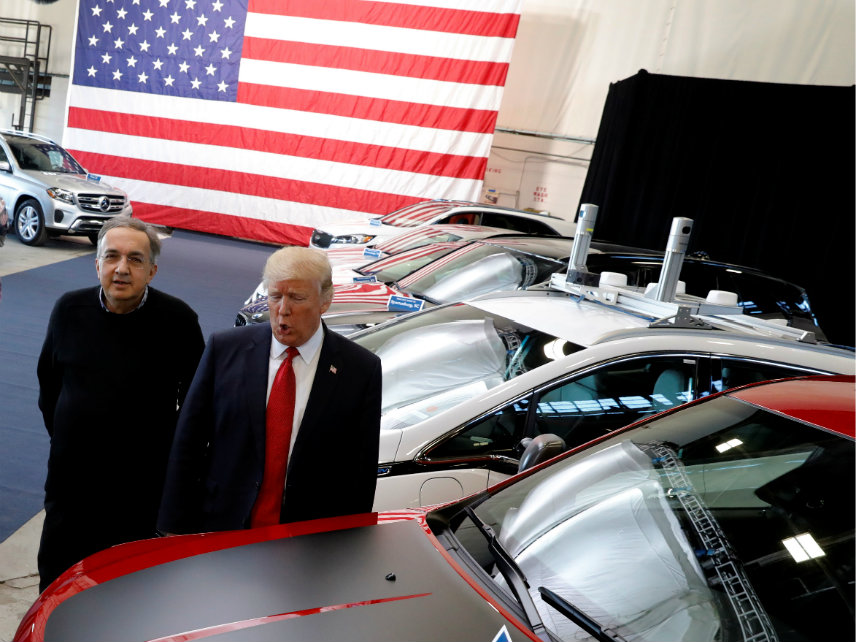 President Donald Trump is reportedly chomping at the bit to impose tariffs on foreign-made cars despite warnings from the auto industry, from economists, and from his own advisers that the move could cost American jobs, hike car prices, and increase friction between the U.S. and Europe.
There is no sense that the tariffs are imminent, but Trump remains "jazzed" about the idea of import taxes on foreign cars; White House advisers are worried that "he could get impatient one day and force their hand like he did with the steel and aluminum tariffs," reports Axios' Jonathan Swan.
Trump has been talking about putting tariffs on cars since well before he became president, but the threat of auto tariffs ramped up during the spring and summer. The Commerce Department held hearings on the proposed tariffs in July, around the same time that the White House instructed Commerce Secretary Wilbur Ross to find a "national security" justification for tariffs on imported cars—something that is necessary for the president to impose tariffs unilaterally, under the terms of the Trade Expansion Act of 1962. That's the same process used to impose the tariffs on steel and aluminum, which Trump ordered in March after months of investigations and hearings. The deadline for Ross to complete his report is early next year.
In a speech given in Berlin on Monday, European Commission President Jean-Claude Juncker sounded a pessimistic note about trade relations with the U.S., according to Bloomberg. Juncker and Trump had reached a temporary truce in July that prevented further escalations of the trade war between the U.S. and the E.U., but Juncker now says he expects that truce to expire shortly after the new year.
Trump's justification for auto tariffs seems to rest—much the justification for the steel and aluminum tariffs—on two very different arguments. Politically, he seems to believe the auto tariffs are powerful leverage that can be used to squeeze other concessions out of Europe and other trading partners. At a political rally in West Virginia during August, Trump bragged about telling Juncker how America would soon "put a 25 percent tax on every car that comes into the United States from the European Union."
That tax, of course, will be paid by Americans buying those cars. Still, the threat of tariffs has worried European officials, because they could disrupt international supply chains and harm American sales of European-made cars. If sales drop, American automakers could have to cut jobs too.
An analysis from the Center for Automotive Research, an industry-backed group, says a 25 percent tariff on automotive parts imports will result in up to 2 million fewer vehicle sales in the U.S., triggering more than 714,000 job losses in the industry and reducing U.S. economic output by $59 billion.
Trump's second argument for the tariffs is even more nonsensical. Under the terms of Section 232, there has to be a national security justification for the auto tariffs. There is no way that imported cars are a national security threat. At the July hearing hosted by the Commerce Department—a hearing held with the goal of finding such a justification—more than 40 people representing automakers, dealerships, and specialty equipment manufacturers repeatedly told the department that tariffs will increase costs for raw materials, which will hike prices for consumers, which will reduce car sales, which will cost manufacturing jobs, all without any benefit to national security.
Even if Trump listens to his advisers and holds off on the tariffs, the auto industry and consumers are likely to start feeling the pain from other aspects of Trump's trade policy. Tariffs on Chinese imports will hit many of the roughly 30,000 parts used to assemble vehicles at American automaking facilities, and higher component prices will increase the final sticker price on American-made cars.
With direct tariffs on cars and car parts, the effect will be more pronounced. A July analysis from the European Commission estimates that a 25 percent import tax on foreign cars would increase sale prices to American consumers by between $1,400 and $6,900, depending on the value of the vehicle. Similarly, the Center for Automotive Research says the average car sold in the U.S. would cost $4,400 more after tariffs, while the tariffs would also increase the price for American-made cars by about $1,200.
For much of the year, it was at least possible to give Trump the benefit of the doubt about the threatened auto tariffs. It was conceivable, after all, that he was just using them as a NAFTA renegotiating ploy. But if Swan is correct that Trump's "zest for car tariffs" has kept swelling even after the NAFTA negotiations are done…well, you might want to buy that new car sooner rather than later.