Democrats Did Better Than Early Election Results Revealed: Reason Roundup
Plus: The FDA will ban flavored e-cigarette sales at most places, and Chris Christie is being floated as Jeff Sessions' replacement.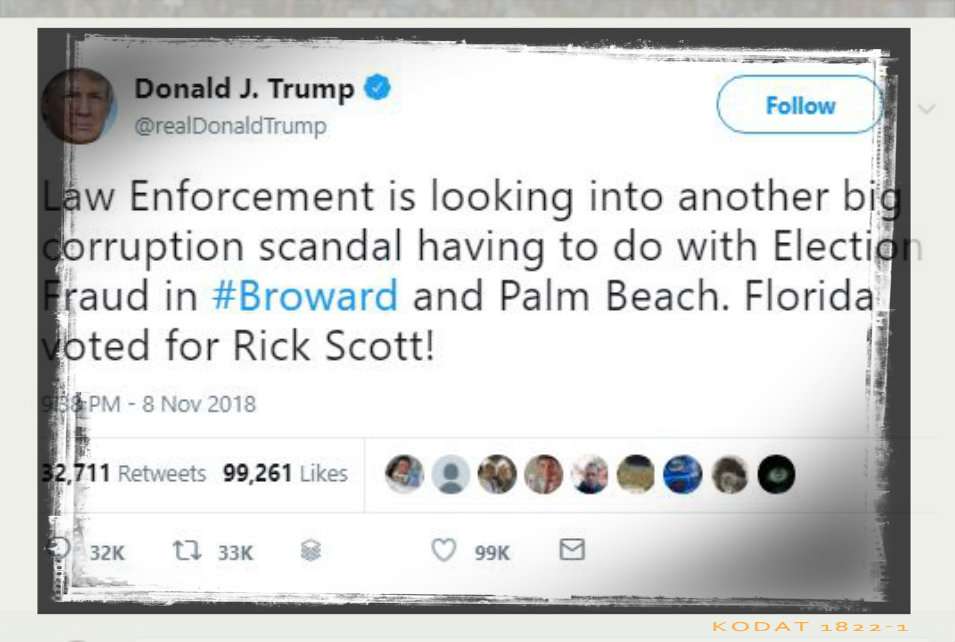 The Republican seats that might not be. Much-watched midterm races in Arizona, Florida, and Georgia have still not produced definitive winners. And things could get ugly.
Authorities in these states are still tallying up absentee, overseas, and provisional ballots. A few positions that seemed sure to go to Republicans on election night are now swinging toward the Democratic candidates. And potential losers on both sides are suggesting some funny business among ballot counters.
FLORIDA
"Florida has retained the championship belt for election shenanigans," writes Matthew Zeitlin. There are no more chads to hang (the state uses pen and paper voting now), but Floridians are still awaiting results on who will be the state's governor, Republican Ron DeSantis or Democrat Andrew Gillum, as well as who will be elected to the U.S. Senate and several state offices.
"DeSantis seemed on Tuesday night to have won," notes The New York Times:
Mr. Gillum, the mayor of Tallahassee, conceded shortly before The Associated Press called the race for Mr. DeSantis on Tuesday night, when he was ahead by more than a percentage point. But the margin of victory has since shrunk to 0.44 points—small enough to require a machine recount under Florida law—and there were still ballots to count.
As far as the Senate seat goes,
just 15,175 votes were separating the front-runner, Gov. Rick Scott, a Republican, from the Democratic incumbent, Senator Bill Nelson, on Thursday evening, out of more than eight million cast. At just 0.18 percentage points, Mr. Scott's margin had become so narrow that a more thorough manual recount is required.
At a press conference yesterday, Scott accused Florida Democrats of "rampant fraud," though he offered no particular evidence to support this. He promised to file lawsuits against officials in Broward and Palm Beach counties, saying, "No ragtag group of liberal activists or lawyers from D.C. will be allowed to steal this election from the voters of this great state." In a late-Thursday filing in federal court, Scott demanded an immediate hearing.
President Trump (see tweet above) and Marco Rubio also joined in the accusations: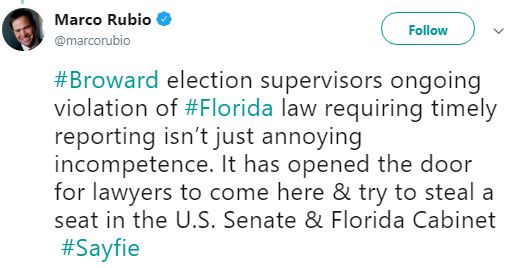 Palm Beach and Broward are the two largest counties in Florida, and officials there are still tallying mail-in and provisional ballots. Like all Florida counties, they have until noon on Saturday to submit unofficial totals and are not violating reporting requirements.
"The goal here is to see that all the votes in Florida are counted and counted accurately," said a statement from the Nelson campaign. "Rick Scott's action appears to be politically motivated and borne out of desperation."
GEORGIA
The winner of Georgia's gubernatorial race is still a puzzle. As of last night, Republican Brian Kemp was beating Democrat Stacey Abrams by around 63,000 votes and "had 50.3 percent of the total, according to an unofficial tally by the Georgia secretary of state's office—which Mr. Kemp headed throughout the campaign," The New York Times reports.
Kemp just resigned as secretary of state, ignoring "calls throughout the campaign to step aside from a post that made him the supervisor of an election in which he was a candidate." Faced with a federal lawsuit, he finally offered his resignation yesterday.
"Abrams's campaign insists that when all the votes are counted, Mr. Kemp's share may yet fall below 50 percent, which under Georgia law would require a runoff in early December," the Times notes. Georgia Democrats are asking courts to extend absentee-ballot voting for a county caught in Hurricane Michael's crosshairs, and "lawyers elsewhere are scrutinizing the methods some counties used to reject absentee ballots." They argue that ballots should be counted as long as they were postmarked by election day and arrive by Friday.
ARIZONA
In Arizona, the U.S. Senate seat vacated by Jeff Flake is still being contested by Democrat Kyrsten Sinema and Republican Martha McSally. As of Thursday, Sinema had a slight lead.
ELSEWHERE
As of Thursday afternoon, news outlets had yet to project winners in 17 House or Senate races, notes FiveThirtyEight:
These races have the potential to meaningfully change the narrative around this election—for example, Democrats could pick up 42 House seats instead of 29, or turn a disappointing showing in the Senate into a draw….

As things stand right now, Republicans have picked up two seats in the Senate, but that net gain could be anywhere from zero to three when the races in Arizona, Florida and Mississippi get resolved.
In Mississippi, "the special U.S. Senate election…will proceed to a runoff on Nov. 27 as none of the candidates secured 50 percent of the vote on Tuesday." Republican Cindy Hyde-Smith is projected to win over Democrat Mike Espy.
Two U.S. House races that were too close to call until later yesterday ultimately went in Democrats' favor. Democrat Lucy McBath beat Republican Rep. Karen Handel—by what's looking like less than 1 percentage point—in Georgia. And Democrat Kim Schrier was projected winner in Washington state's 8th District.
A close House-seat election in North Carolina was called for Republican Mark Harris.
FREE MARKETS
War on vaping. The Food and Drug Administration (FDA) plans to treat e-cigarettes and other vaping devices more strictly than it does actual cigarettes. Under upcoming FDA rules reported by NBC, the agency will ban all flavored e-cigs and vaping products from being sold except in stores specifically devoted to tobacco or vaping.
FOLLOW-UPS
People took to the streets in Seattle, New York City, and elsewhere last night to protest President Donald Trump's firing of Attorney General Jeff Sessions, and to "protect Mueller" and the special counsel's investigation into possible Russian interference in the 2016 election.
They'll show their support for Jeff Sessions by pepper-spraying themselves, beating themselves up with batons, and then zealously overprosecuting themselves. https://t.co/S8MYjrYsWd

— Scott Shackford [Blue Checkmark] (@SShackford) November 9, 2018
Chris Christie is being floated as a possible replacement for Sessions.
Meanwhile, the interim head of the Justice Department, Matthew Whitaker, gets more and more charming the more that comes out about him.
Our new alleged Acting AG on confirming judges:
"I'd like to see…Are they people of faith? Do they have a biblical view of justice?…New Testament…And what I know is as long as they have that worldview, that they'll be a good judge."https://t.co/80Eok17dqM

— Bill Kristol (@BillKristol) November 9, 2018
George Conway—husband wife of counselor to the president Kellyanne Conway—argues in The New York Times today that Whitaker's appointment was unconstitutional.
QUICK HITS
The Trump administration can't start deporting undocumented immigrants brought here as kids and protected under the Deferred Action for Childhood Arrivals policy, the 9th Circuit Court of Appeals ruled yesterday. "The unanimous decision…makes it more likely that the Supreme Court will settle the question," writes Robert Barnes at The Washington Post. "The Trump administration has asked the justices to add it to the docket for this term."
To add to the growing list of immigration-related court battles: Trump's new restrictions on asylum seekers were released yesterday.
And in other federal legal news:
U.S. judge halts construction of Keystone XL oil pipeline https://t.co/2blWGhHrG4

— Reuters Top News (@Reuters) November 9, 2018
New from me at @tabletmag on the blind spots of consent culture, which doesn't seem to leave room for women to want things that aren't good for them. https://t.co/jcnk0s4wF5

— Kat Rosenfield (@katrosenfield) November 8, 2018
View this post on Instagram

A post shared by snoopdogg (@snoopdogg) on Nov 7, 2018 at 1:45pm PST