Space Force: The Real Loser From Yesterday's Election Results?
If the Space Force goes down before it ever got up on its feet, that's probably for the best.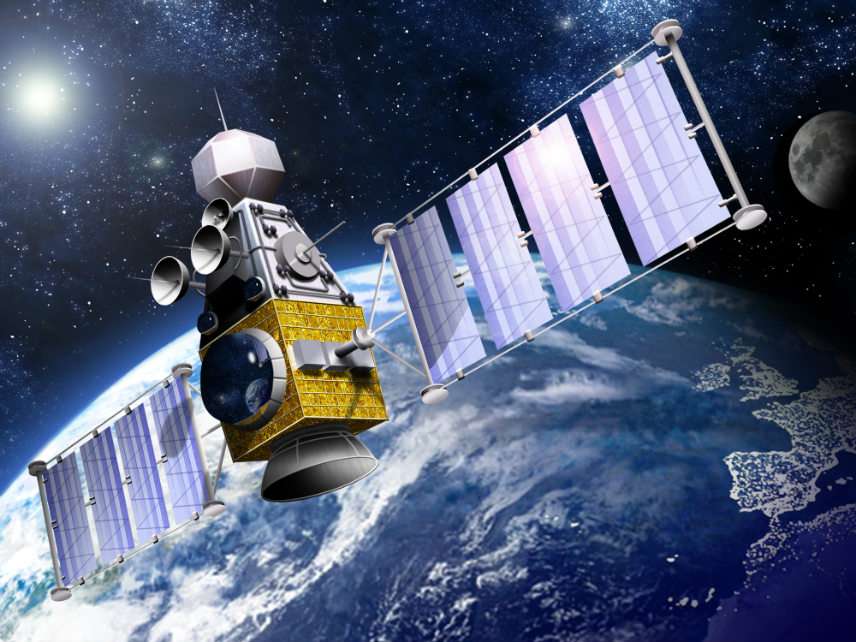 Last night's midterm election results may have been hyped up a great deal, but there actually weren't a whole lot of surprises. Democrats took back control of the House, as most pundits thought they would, while Republicans—again, as predicted—kept the Senate.
Reason's Peter Suderman explained how the "biggest shock" was that things "went more or less as expected," while Eric Boehm argued that "the return of divided government" is actually a good thing. President Donald Trump may have boasted of a "very Big Win," but in reality, neither Republicans nor Democrats can claim total victory.
That said, one of the biggest losers from Election Day could be Trump's proposed Space Force. In case you're not familiar with the idea, Trump announced in June the creation of a Space Force as a co-equal sixth branch of the military meant to project U.S. dominance into, well, space.
In July, I reported on how the Pentagon was moving forward with the idea, even though Congress had yet to approve it. Fast-forward almost four months, and Congress still hasn't authorized a Space Force, though the Defense Department is supposed to send Congress a plan in February for how the new branch would work.
But with Democrats about to hold a majority in the House of Representatives, the Space Force might be put on hold.
"Space Force is the victim of having been an idea advanced by President Trump, so I don't even know that it will get a real hearing on the merits in the House," Thomas Spoehr, the director of the Center for National Defense at the conservative Heritage Foundation, told the Washington Examiner.
As Military.com notes, Rep. Adam Smith (D–Wash.) is likely to take over chairmanship of the House Armed Services Committee from Rep. Mac Thornberry (R–Texas). Thornberry hasn't publicly supported or opposed the Space Force (he wants more information first). Smith, however has been a vocal opponent of the idea.
"I am concerned that [Trump's] proposal would create additional costly military bureaucracy at a time when we have limited resources for defense and critical domestic priorities, and I do not believe it is the best way to advance U.S. national security," Smith said in September. "We must do a better job of dealing with space as a national security priority. I will continue to work toward a smarter, more effective approach."
Smith does support the creation of a Space Corps that's part of the Air Force—a kind of compromise solution that Todd Harrison, a senior fellow at the Center for Strategic and International Studies, thinks Democratic control of the House could mean more of. "We are going to see that more and more when it comes to defense issues with Dem control," Harrison told Investor's Business Daily. "How do you pay for these things, looking at a fiscally constrained budget?"
A separate Space Force, meanwhile, would indeed come at a high price. A September Pentagon memo estimated that it would cost roughly $13 billion its first five years. Deputy Secretary of Defense Patrick Shanahan said it would employ about 20,000 people, including military and civilian workers.
That high cost that could doom the Space Force, at least for the time being. "Even a lot of the people who are advocates for doing a Space Force are concerned that the way the department goes about creating another service could kind of 'gold-plate' the idea and lead to something that is too costly and beyond what is needed," Hunter told the Examiner.
That's probably a good thing. Reason's Christian Britschgi has pointed out that some of Trump's own defense advisers—like Defense Secretary James Mattis and Air Force Secretary Heather Wilson—have previously opposed the idea.
And rightly so. The U.S. military already has plenty of entities that deal with space, including the Air Force Space Command, which employs about 36,000 people. Is there really a need to make the Space Command larger, or to add to the alphabet soup of government agencies?
Plus, even without the Space Force, the Pentagon wastes about $125 billion a year on administrative inefficiencies. That number will likely just go up with the addition of a sixth branch of the military.
That's not all. As Britschgi wrote:
A huge new military bureaucracy dedicated to space would inevitably have to draw from the same talent pools that our burgeoning private space industry does. Every engineer, scientist, or pilot recruited into the Space Force means one fewer civilian figuring out how to send tourists to low earth orbit, to create research bases on Mars, or to set up strip mines on the moon.
There are a host of reasons why the Space Force is a bad idea. If yesterday's election results doom the plan or even just put it on hold, then that's probably for the best.