It's Time for Congress to Acknowledge the Collapse of Pot Prohibition
Two-thirds of the states have now legalized marijuana for medical or recreational use.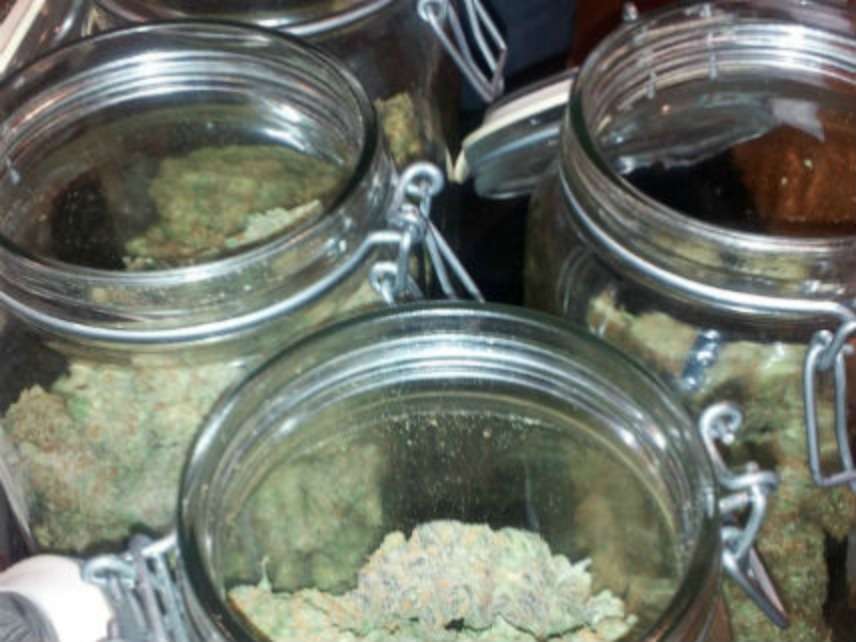 Yesterday's election results show that pot prohibition is continuing to crumble across the country. The number of states that have legalized recreational marijuana rose from nine to 10, and the number allowing medical use rose from 31 to 33. The former group now includes Michigan, the first state in the Midwest to allow recreational use, and the latter group now includes Missouri and Utah. Counting Oklahoma, where voters approved medical marijuana in June, three red states have taken that step this year.
These races were not close. Legalization won in Michigan by nearly 12 points, while the medical marijuana measures won by 14 points in Oklahoma, by more than six points in Utah, and by 31 points in Missouri.
The healthy margins are not surprising given the general popularity of these policies. According to the latest Gallup poll, two-thirds of Americans think marijuana should be legal for recreational use. Support for medical marijuana is considerably higher: A Quinnipiac University poll conducted last April put it at 93 percent. "At this point," Marijuana Policy Project Executive Director Steve Hawkins noted last night, "medical marijuana may enjoy more public support—and more bipartisan support—than virtually any other policy issue still up for debate."
The only defeat for marijuana reform last night came in North Dakota, where voters just two years ago approved medical use by a whopping 28-point margin. They clearly were not ready to take the next step, although two-fifths of them said yes to a sweeping ballot initiative that aimed to legalize all peaceful marijuana-related activities (except for sales to minors) and create a system of automatic expungement for people convicted of such offenses.
Michigan is the third most populous jurisdiction (after California and Canada) to legalize recreational use so far: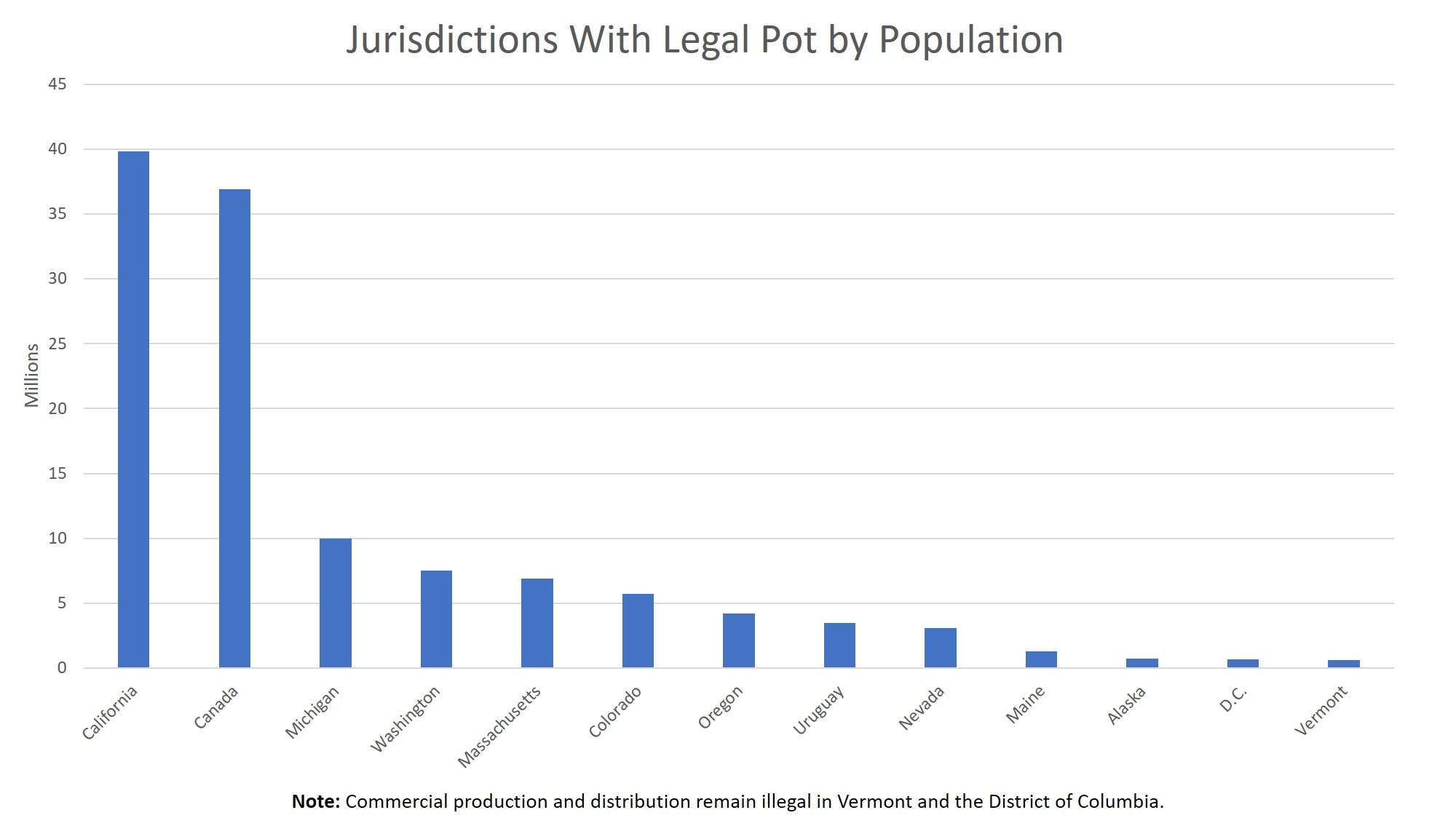 Nearly one-quarter of Americans currently live in a jurisdiction that has legalized recreational use.
This map from Governing magazine shows what marijuana policy looks like in the United States as of today: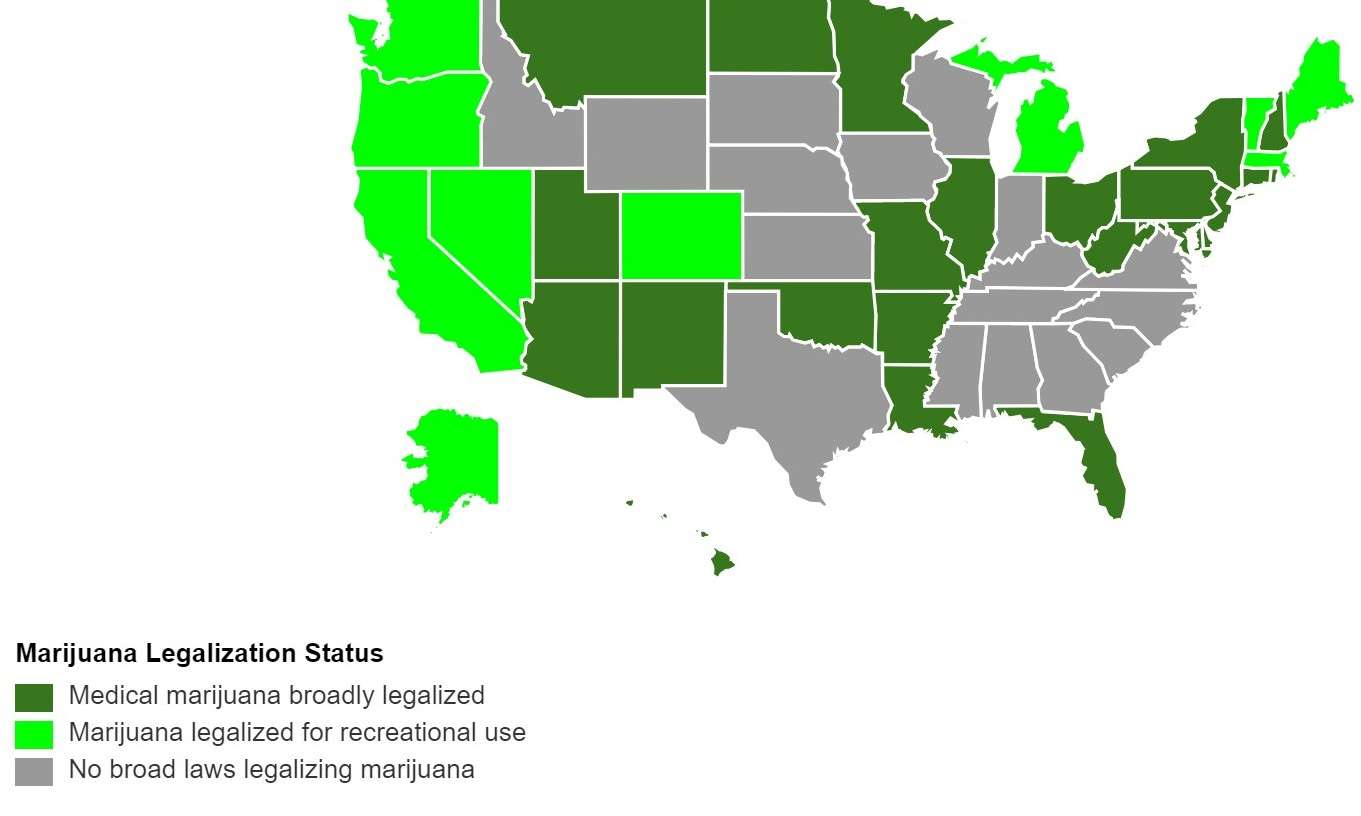 Of the 20 states where voters have the power to pass legislation by initiative, 16 have already legalized marijuana for medical or recreational use. The four that have not are Idaho, Nebraska, South Dakota, and Wyoming. Seven other initiative states have legalized medical but not recreational marijuana: Arizona (where a legalization intiative failed in 2016), Arkansas, Missouri, Montana, North Dakota (where a legalization initiative failed yesterday), Ohio (where a legalization iniative failed in 2015), and Oklahoma.
While there is still considerable room for liberalizing marijuana policy by initiative, the focus increasingly will shift to legislatures in states such as New Jersey, New Hampshire, and New Mexico. So far Vermont is the only state that has legalized recreational use (but not commercial production and distribution) by that route.
At some point, Congress will have to officially recognize what's going on by reconciling federal law, which still prohibits marijuana in any form for any purpose, with state laws that tolerate medical or recreational use. The most straightforward approach I've seen is the Respect State Marijuana Laws Act, a one-sentence bill sponsored by Rep. Dana Rohrabacher (R-Calif.) that makes the federal marijuana ban inapplicable to anyone acting in compliance with state law. I was on a drug policy panel with Rohrabacher last week at Reason's 50th anniversary celebration, and he seemed confident that President Trump, who has repeatedly said states should be free to set their own marijuana policies, is prepared to sign that bill or something similar.
The chances that such a bill will get through the House have improved since yesterday. "This was the first election in our lifetimes where the federal results were more important than the state results, from the perspective of marijuana policy nationally," Marijuana Policy Project co-founder Rob Kampia writes. "The Democratic takeover of the U.S. House was the most important outcome, because the House speaker, committee chairs, and subcommittee chairs will all be Democrats for the first time since 2010, with a majority of Democrats populating literally all House committees and subcommittees. While members of Congress in both major parties have become increasingly supportive of good marijuana legislation, approximately 90% of Democrats—and only 25% of Republicans—support such legislation generally."
Emblematic of this shift was the defeat of House Rules Committee Chairman Pete Sessions (R-Texas), an unreconstructed drug warrior whom Kampia calls "the sphincter who has constipated all marijuana bills and amendments in the House in recent years." Sessions was defeated by Democrat Colin Allred, a medical marijuana supporter who has criticized Sessions' anti-pot prejudices.