Federal Judge Says It's Plausible That Andrew Cuomo Violated the First Amendment by Pressuring Banks and Insurers to Shun the NRA
The organization's lawsuit against New York's governor survives a motion to dismiss.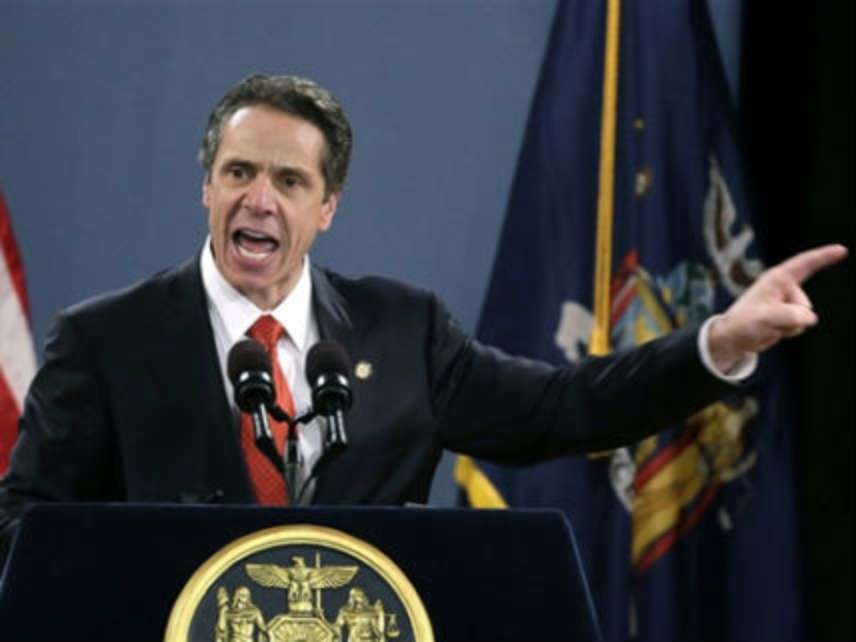 Last night a federal judge said the National Rifle Association may proceed with a lawsuit that claims New York Gov. Andrew Cuomo is violating the First Amendment by pressuring banks and insurers to shun the NRA and "similar gun promotion organizations." U.S. District Judge Thomas McAvoy questioned Cuomo's claim that his messages about the wisdom and propriety of providing financial services to the NRA amount to nothing but legitimate regulatory oversight and protected government speech.
As I explained in my column today, and as McAvoy describes in his decision, there is strong evidence that Cuomo and Maria Vullo, superintendent of the New York State Department of Financial Services (DFS), are in fact threatening banks and insurers that dare to do business with organizations that oppose the governor's gun control agenda.
In a press release last April, Cuomo said he was "directing the Department of Financial Services to urge insurers and bankers statewide to determine whether any relationship they may have with the NRA or similar organizations sends the wrong message to their clients and their communities." Vullo was more explicit, saying "DFS urges all insurance companies and banks doing business in New York to join the companies that have already discontinued their arrangements with the NRA."
Guidance memos that Vullo sent to banks and insurance companies that day communicated the same message, warning that "reputational risks…may arise from their dealings with the NRA or similar gun promotion organizations" and urging "prompt actions to manage these risks." The next day, Cuomo tweeted: "The NRA is an extremist organization. I urge companies in New York State to revisit any ties they have to the NRA and consider their reputations, and responsibility to the public."
The press release, memos, and tweet were quickly followed by consent degrees in which the companies that had managed and underwritten the NRA's Carry Guard insurance program in New York not only agreed to pay fines for violations of state law but promised to stop doing business with the NRA. During this period, according to the NRA, Vullo's department engaged in "backroom exhortations," warning "banks and insurers with known or suspected ties to the NRA that they would face regulatory action" if they failed to cut ties.
"The temporal proximity between the Cuomo Press Release, the Guidance Letters, and the Consent Orders plausibly suggests that the timing was intended to reinforce the message that insurers and financial institutions that do not sever ties with the NRA will be subject to retaliatory action by the state," McAvoy notes. "The allegations in the Amended Complaint are sufficient to create a plausible inference that the Guidance Letters and Cuomo Press Release, when read together and in the context of the alleged backroom exhortations and the public announcements of the Consent Orders, constituted implicit threats of adverse action against financial institutions and insurers that did not disassociate from the NRA."
Those threats had a noticeable impact, causing insurers and banks to either end existing relationships with the NRA or decline new business. One banker from upstate New York told American Banker that the "politically motivated" guidance memos put people like him in a bind: "If a business is a legal entity, how do I know who is going to come in disfavor with either the New York State DFS or a federal regulator, that they may say, 'Reputationally, you shouldn't be doing business with this company'? It's hard to know what the rules are." Other industry sources told the magazine "such regulatory guidelines are frustratingly vague, and can effectively compel institutions to cease catering to legal businesses."
Far from denying this chilling effect, Cuomo crowed about it. "If the @NRA goes bankrupt because of the State of New York," he tweeted in August, "they'll be in my thoughts and prayers. I'll see you in court."
Now that Cuomo has gotten to court, comments like that present a problem if he wants to deny that he is abusing his powers to pursue an unconstitutional vendetta against his political opponents. "The Guidance Letters and the Cuomo Press Release indisputably are directed at the NRA and similar groups based on their 'gun promotion' advocacy," McAvoy writes. "However controversial it may be, 'gun promotion' advocacy is core political speech entitled to constitutional protection. The Guidance Letters and Cuomo Press Release's comments directed to this protected speech provides a sufficient basis to invoke the First Amendment on these claims." Hence "the critical question here is whether Defendants' statements, including the Guidance Letters and Cuomo Press Release, threatened adverse action against banks and insurers that did not disassociate with the NRA." The answer seems pretty clear.
[I misspelled Judge McAvoy's name in the original version of this post.]