Supreme Court Declines Case Challenging New Jersey's Near Elimination of Cash Bail
As more reforms take hold, expect more challenges-especially if states end up detaining more people.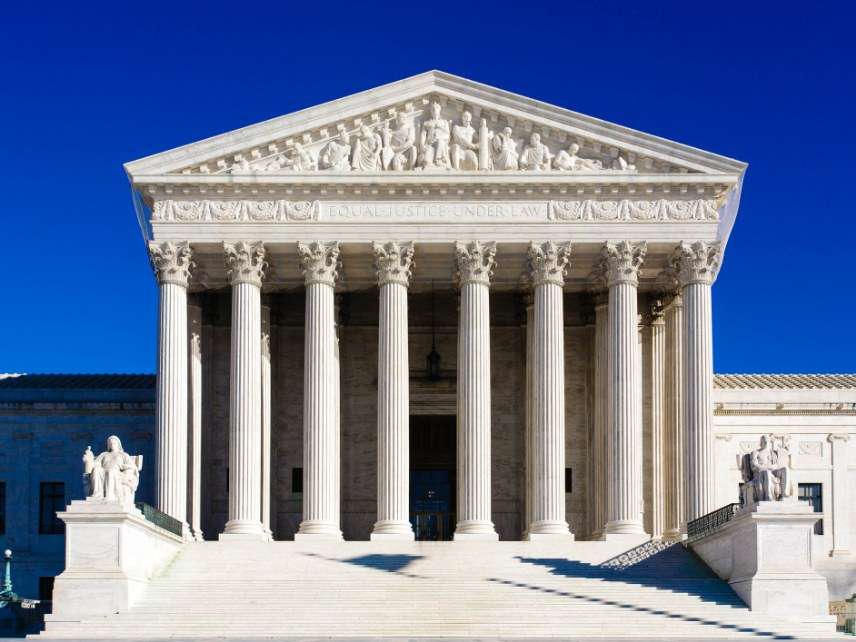 The Supreme Court has declined to get involved in the debate over limiting the use of money bail to control who is freed from jail prior to trial.
The court has turned away a lawsuit challenging New Jersey's nearly two-year-old bail system. New Jersey's system has all but eliminated the use of money bail. Instead, defendants are evaluated via risk assessment tools and freed under various levels of monitoring or detained if prosecutors make a case to a judge that there's no other way to make sure the defendant shows up for court or is a public threat. People are no longer being jailed in New Jersey simply for lack of money.
These reforms represent a huge financial threat to the bail bond industry and the insurance companies that underwrite it. So they've been trying to find ways to block these changes. One insurance underwriter assisted a defendant, a man named Brittan Holland, arrested in 2017 over a bar fight. Holland attempted to fight the reforms because it denied him the opportunity for cash bail and instead forced him into home detention and electronic monitoring as a condition of release. He and the insurance company argued that this violated his Fourth and Eighth Amendment rights. Essentially he was claiming that he should be allowed to pay the money and not be subjected to additional monitoring.
The U.S. Court of Appeals for the Third District rejected these arguments, stating that the Eighth Amendment didn't obligate the use of cash or money bail as a mechanism for prerelease and that his pretrial monitoring was reasonable under the Fourth Amendment. Holland petitioned the Supreme Court to hear his argument, but last week the justices turned him away.
That shouldn't necessarily be taken as a Supreme Court stamp of approval for New Jersey's reforms. These changes to the court system are still very new. There may be future court rulings, from New Jersey or elsewhere, that could push the Supreme Court to weigh in on the issue.
Keep an eye on what's happening in California. The Golden State just passed a bill this fall that eliminates cash bail entirely and will force the implementation of similar pretrial assessments and evaluations for people charged with crimes. There's an important difference between what New Jersey has and what California is building. New Jersey's system operates on the presumption that defendants are going to be released under the least restrictive measures needed to make sure they show up and stay out of trouble. The bill California passed gives the court systems in the state much more discretion in setting up their pretrial mechanisms and doesn't insist on that same presumption of release.
Because of the leeway that California's law grants to judges, civil rights and criminal justice reform groups turned against the bill, though they had previously supported and even helped craft it. They worry that if poorly implemented, California's pretrial reforms could actually lead to more people stuck behind bars while they wait for trial, not fewer.
California's Supreme Court is taking up a case about judges' tendency to use extremely high bails to deliberately keep defendants behind bars. Eliminating money bail doesn't necessarily mean that problem will go away—we could just end up with the same people stuck in jail and not offered any release conditions at all. If that happens, we may see more cases heading to the Supreme Court for consideration.