Facebook Marketplace Has Awesome Food, and Regulators Can't Stand That
Neither can established restaurants.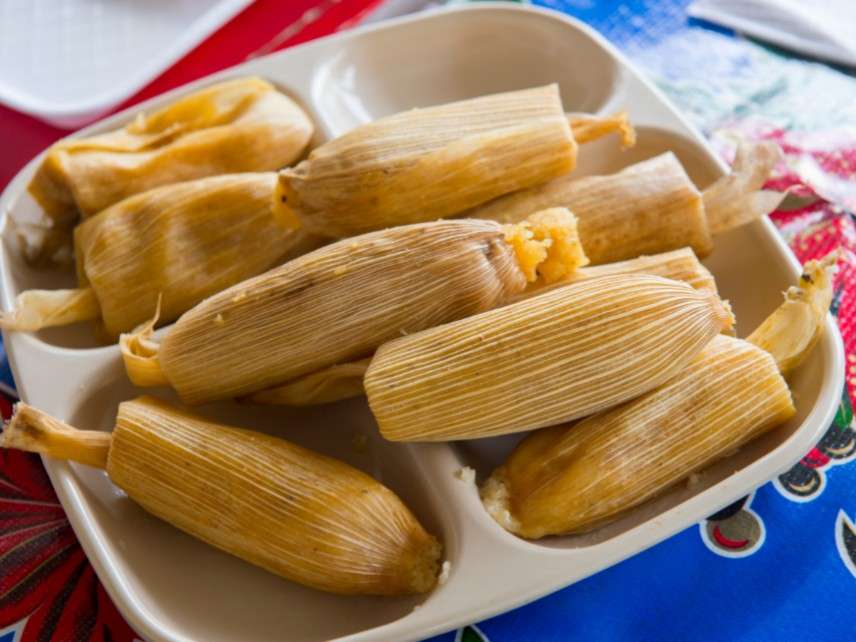 More and more Millennials are dumping Facebook. Maybe they don't realize what they're missing out on. No, I'm not talking about the social-media behemoth's uncanny ability to serve as a forum for the inane political views of relatives. Rather, these young adults are missing out on a host of inexpensive, freshly made tamales and other yummy homemade foods.
While Facebook is largely a waste of time, it turns out that Facebook's Marketplace, the social media giant's hugely popular two-years-old classifieds section, is a great place to buy almost anything, including homemade foods.
Not surprisingly, though, such sales have caught the attention of regulators across the country. Recent news reports suggest some health officials are casting a wary eye at Facebook Marketplace food sales. They join those in other states who, in recent years—including before the Marketplace debut—have targeted food sales facilitated through social media.
A recent piece in the Times-Record, for example, raised the alarm over Facebook Marketplace sales of food in Wichita Falls, Tex., close to the state's border with Oklahoma.
"The Wichita Falls-Wichita County Public Health District said they are experiencing a large influx of calls regarding illegal food sales, including selling of food on social media," the paper reported, in an article that reads a lot like a press release.
Curious about that "large influx of calls" and what the paper also described as "complaints from individuals who have gotten ill after eating these foods," I called the Wichita County Public Health District this week and spoke with Susan Morris, an environmental health administrator with the health department.
When I asked Morris about the paper's claims of "a large influx" of complaints reported by the health department, she told me she was unsure how many calls and emails the department had received. She did tell me the total number of calls and emails numbered at least five.
Morris told me that complaints from those who claimed to have been sickened numbered "two or three." She also told me the health department could not confirm that anyone had been sickened by foods sold via Facebook. In fact, she said the health department could not confirm that anyone who claimed to be sick was in fact suffering from any illness (or, more specifically, from food poisoning), because the health department had not received any report of foodborne illness from a doctor.
"If it's not reported by a physician, it's not a confirmed food poisoning," Morris told me.
Still, Morris did describe to me at least one troubling encounter with an unlicensed food seller.
"We found one example where a person was making tamales in a hotel room," Morris tells me. "There were flies everywhere."
That's gross, and sounds unsanitary. But that example also sounds like an outlier.
In 2015, Reason's J.D. Tuccille discussed the phenomenon of underground food sellers using social media in many states to stay a step or two ahead of regulators. Tuccille described how regulators in Washington State, where I live, were apoplectic over what Tuccille dubbed "the perils of social media snacking."
I was anxious to confront such perils. So I scrolled through the Seattle-area Facebook Marketplace this week. After checking out the options, I narrowed my choices either to a dozen eggs laid by someone's backyard chickens or some homemade tamales made by someone's mom. Since I already had eggs in my fridge, and since tamales made by someone's mom are usually awesome, I went with the tamales.
I contacted C. (not her real name), a woman whose mom makes and sells tamales in a Seattle suburb, through Facebook Marketplace. I placed my order with C. via Facebook earlier this week, then drove to meet her in a local Costco parking lot to pick up my tamales. There, I mentioned to C. that I was writing a column about Facebook food sales and asked why C.'s mom makes and sells tamales. Her response wasn't surprising.
"She's been doing it for years," C. told me. "It helps her with income."
That puts C.'s mom squarely in the mold of most underground online food sellers.
In 2015, a reporter at California's KCRA got a bee in his bonnet over the sale of foods via Facebook. Thankfully, the news station's food-safety drum-beating appears to have been mostly ignored by local regulators. One reason? Homemade food sellers are mostly small entrepreneurs who "are not making a million dollars," I told KCRA. "They are making a little bit here and a little bit there. It's not like they are suddenly becoming this baron of underground food in California."
More recently, California lawmakers took the great step of inviting homemade food sellers in from the cold, passing a law that allows the sale of many homemade foods that weren't covered by the state's overly restrictive cottage food law. (Notably, Texas's cottage food law has its own shortcomings.) While the new California law isn't perfect, its absence caused at least one promising homemade food aggregator startup to close. For that reason alone, reforming the law was worth supporting.
So if little or no evidence points to people having been sickened by foods sold via social media, what's really at work here? It could be public health departments are simply flexing their muscles. Or it could be something else. Morris, the health department official in Texas, told me many of the more than five complaints about Facebook food sellers in Wichita Falls had come from licensed businesses resentful of their underground competitors. Hence, protectionism and rent-seeking, rather than phantom cases of foodborne illness, may be the biggest obstacle to Facebook Marketplace sales of food.
So how were the tamales I bought this week? "Super delicious," my girlfriend insisted after we ate a pair. That they were.
Foods can and do sicken people. But foods are also hardly unique in their ability to do so. Looking through the items for sale on Facebook Marketplace, for example—from used cars and bounce houses to hedgehogs, church pews, and bondage gear—it's clear that many such items could potentially injure, sicken, bite, kill, save, or thrill a person who buys them. But that's not a good reason to crack down on the sale of cars, hedgehogs, handcuffs—or tamales.