The Feds Want To Tackle Causes of Food Waste, Except Their Own
We don't need more government to reduce food waste. Instead, we should be moving to eliminate the regulations that promote it.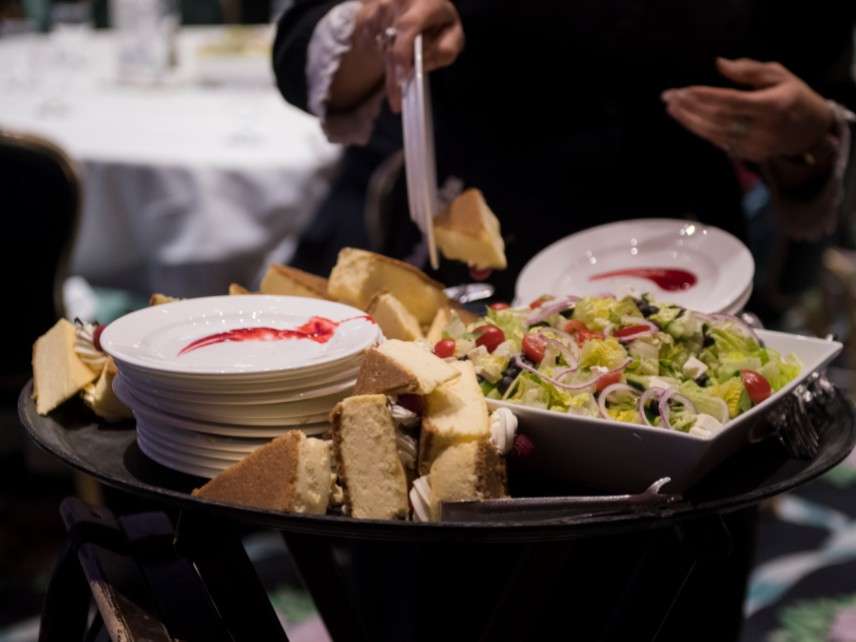 Last week, the U.S. Department of Agriculture, the Environmental Protection Agency, and the Food and Drug Administration announced a joint agreement to reduce the amount of food that ends up in landfills, part of the government's Winning on Reducing Food Waste initiative. The agreement touts the economic advantages to business and consumers of reducing food waste, and pegs consumer education as a key element of the plan.
"The agreement is aimed at improving coordination and communication across federal agencies attempting to better educate Americans on the impacts and importance of reducing food loss and waste," an FDA press release declares.
Food waste is an enormous problem, and one I've discussed in many columns, including this one last year. I also devote a whole chapter to the topic in my recent book, Biting the Hands that Feed Us: How Fewer, Smarter Laws Would Make Our Food System More Sustainable.
Nearly 40 percent of all food goes to waste; Americans wasted 133 billion pounds of food in 2010; and 40 million tons of food ends up in America's landfills every year. Food waste in those landfills breaks down into (among other things) methane, a far more potent greenhouse gas than carbon dioxide. And the production of food that goes to waste used up the same resources as food that is consumed—including water, fertilizer, pesticides, farm acreage, and oil.
The new federal initiative announced last week pins much of the blame for food waste on business and individuals. U.S. Department of Agriculture Secretary Sonny Perdue, discussing the initiative, says "now is the time for action to educate consumers and businesses alike on the need for food waste reduction."
But who's going to educate the educators?
As I detail in my book, longstanding federal government policies are themselves responsible for massive amounts food waste. For example, Perdue's own agency is responsible for causing massive amounts of food waste under its National School Lunch Program, farm subsidy programs, and the USDA's inane system of food grading. Seafood regulations implemented by the Commerce Department cause similar waste on the high seas.
But acknowledging or reassessing these government contributions to food waste doesn't appear to constitute any part of this month's joint USDA, EPA, and FDA agreement. Instead, it puts the onus on us.
While businesses certainly can do more to reduce waste, the business community has long been a leader in combating and reducing food waste. McDonald's use of ugly apple slices in its Happy Meals is a classic example. Rotisserie chickens cooked and sold by grocers (when shoppers don't buy them in raw form) is another example.
But businesses large and small are also busy developing new ideas and plans to reduce food waste. Just this week, for example, Eater Montreal reported that bartenders in the city are increasingly reducing food waste by crafting cocktails that contain food scraps that might otherwise go to waste. Also this week—and closer to home—U.S.-based grocer Kroger is increasing its commitment to sell so-called ugly fruits and vegetables which might otherwise go to waste. I've been buying ugly fruits and vegetables at the Kroger-owned QFC grocer in Seattle's Wallingford neighborhood—featured in the grunge-era film Singles—for a couple years.
Individuals are also empowered to donate food under existing laws. As I describe in my book, the Bill Emerson Good Samaritan Act, signed into law by President Bill Clinton in 1996, protects charitable individuals against liability for most food donations. The law isn't perfect. A recent law-review comment highlights its shortcomings, including particularly that the law itself hasn't convinced everyone that they won't get sued if they donate food. A recent University of Arkansas Law School study reports "many in the retail food industry are not aware of the Bill Emerson Act and the protections that it provides donors; some potential donors even believe it is illegal to donate food and grocery items."
Food waste is an enormous problem, and there are many good reasons to reduce it. The basic message behind last week's federal government announcement—that businesses and consumers should learn about and do more to reduce food waste—is a good one. But the federal government's message also misses the mark, because it fails to address the many ways that the government itself spends billions of dollars promoting policies and programs that promote food waste.
We don't need more government to reduce food waste. Instead, we should be moving to eliminate the regulations that promote it.