11 Dead in Mass Shooting at Pittsburgh Synagogue
Here's what we know so far about the mass shooting at Tree of Life synagogue in Pittsburgh.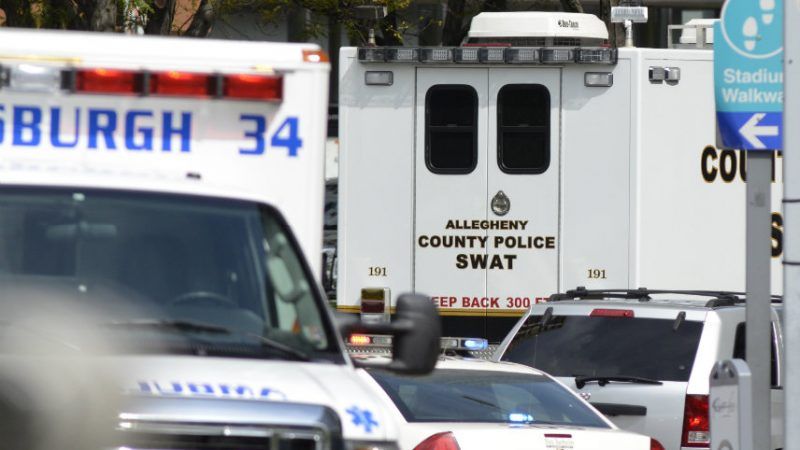 (ARCHIE CARPENTER/UPI/Newscom)
A gunman opened fired in a Pittsburgh synagogue on Saturday morning, killing multiple people.
Police have confirmed that 11 people were killed and a number of other were injured at the Tree of Life synagogue in the city's Squirrel Hill neighborhood. Police exchanged fire with the gunman as they arrived on the scene.
The suspect has been identified as 46-year-old Robert Bowers. He was arrested after surrendering to police. Over police scanners, officers reported that the suspect was shouting about wanting to kill Jewish people. Federal authorities are reportedly investigating the shooting as a hate crime.
A series of anti-Semitic posts on the social media site Gab have been linked to the suspect. In a statement to NBC News, Gab said it "took swift and proactive action to contact law enforcement immediately. We first backed up all user data from the account and then proceeded to suspend the account. We then contacted the FBI and made them aware of this account and the user data in our possession."
A past president of the Tree of Life synagogue told KDKA that there would have been three simultaneous services being held inside the building at the time of the shooting—each with between 15 and 40 people in attendance.
The Tree of Life synagogue was founded more than 150 years ago. Its website describes it as a "a conservative Jewish congregation."
Bari Weiss, a member of The New York Times editorial board, says she was bat mitzvahed at Tree of Life synagogue, which she describes as a "major conservative synagogue" that would have been full for Saturday morning services.
There is an active shooter at Tree of Life in Pittsburgh. Major Conservative synagogue in Squirrel Hill where I was bat mitzvahed. Saturday morning services is the most crowded time of the week. https://t.co/xRSvVxkWtF

— Bari Weiss (@bariweiss) October 27, 2018
President Donald Trump tweeted Saturday morning that he was watching the events unfold.
As always, a word of caution about these early reports of mass casualty incidents. Media, social media, and even law enforcement often get important details wrong, and we continue to await official confirmation of number of victims or any information about the attacker. Still, by all accounts, something awful has happened in Pittsburgh this morning.
This post has been updated throughout.