Trump Is Building a Wall of Bureaucracy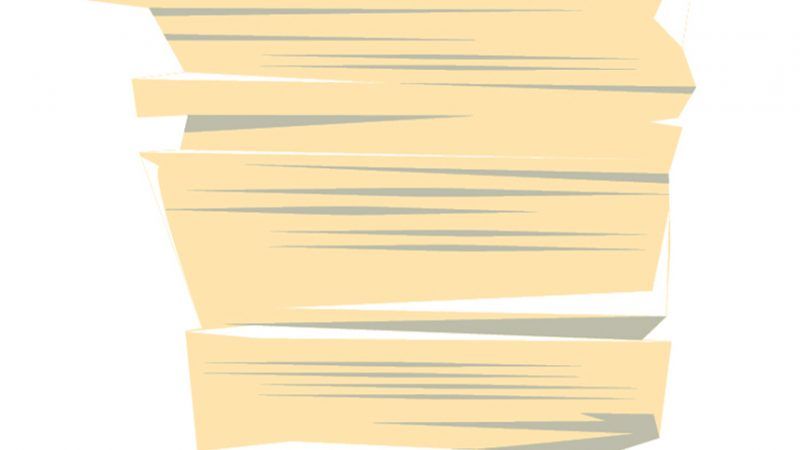 On the heels of a draconian border crackdown and interior deportation raids, President Donald Trump has quietly opened another front in his war on immigration. This time, he's going after authorized immigrants.
After failing to get Congress to institute the 40 percent cut in legal immigration he sought, Trump is trying to achieve administratively what he couldn't legislatively—by wrapping each legal immigration category in red tape and handing his bureaucrats sweeping powers to deny applications for the flimsiest of reasons.
It's working. A recent Washington Post analysis found that the total number of people receiving visas to live in the country is on pace to drop 12 percent in just the first two years of the Trump presidency.
Trump got things rolling by targeting asylum seekers and refugees. To go after the first, he initiated his notorious policy of separating kids from parents fleeing violence in Latin America and holding them in separate detention camps. Widespread outrage forced him to back off, but he has now instructed immigration judges to consider anyone caught before he or she has a chance to surrender and formally request asylum as an illegal immigrant. This will deny many legitimate candidates a fair shot at obtaining asylum.
Meanwhile, thanks to "extreme vetting," refugee admissions are on track to fall by 75 percent from 2016 levels. This means the administration won't even meet its own 45,000 annual refugee cap, which is itself less than half of the Obama administration's 110,000 limit that Trump slashed upon assuming office.
Trump isn't just putting Muslim refugees through the wringer—he's also making life harder for American citizens' foreign family members. His administration is requiring consular officers to subject family-based applications to more aggressive scrutiny, slowing the approval process to a crawl.
The justification offered for slashing family-based immigration is that this category is not "merit-based." But new arrivals under this program are actually better educated on average than their native-born counterparts: More than half of immigrants admitted under this and the diversity visa categories—which Trump has also spoken against—have college degrees, compared to 29 percent of people born in the United States.
Trump has started treating conventional "merit-based" immigrants with suspicion, too. His administration is issuing more "Requests for Evidence" from employers sponsoring foreign workers. This means companies have to submit even more paperwork to prove to the government that they couldn't find a qualified American to do the job. And to advance his "America First" agenda, the departments of Labor and Justice are jointly launching an initiative to crack down on employers that "discriminate" against Americans and hire foreigners instead.
What's more, it used to be the case that once an H-1B was approved, renewing the visa was routine. But employers are now being required to resubmit all paperwork as if they were filing for the first time. This means that H-1Bs can no longer take it for granted that their work authorization will be re-upped. That policy change, combined with the decadeslong backlogs for obtaining green cards, will likely deter many immigrants with skills we badly need from staying or coming in the first place.
And now the administration is rolling out a policy that would allow certain visa renewal candidates to receive the dreaded "Notice to Appear" and be placed in removal proceedings if their legal status happens to expire while they're waiting for an answer on their applications. Currently, when immigrants fall out of status and their renewal petition is denied, they can just leave the country without jeopardy. That preserves their ability to reapply and return at some future date. This notice bars them from departing and requires instead that they appear before a judge to determine if they need to be deported. Why not let them exit voluntarily, especially if they are out of status and can't legally work? Because deporting them makes them ineligible to obtain another visa and return.
Finally, an impending rule change would prevent immigrants from obtaining green cards or citizenship (or otherwise upgrading their status) if their American-born children use any public benefit from an expanded list.
Congress wouldn't give Trump funds to build his physical wall, so instead he is erecting a bureaucratic fortress.
This article originally appeared in print under the headline "Trump Is Building a Wall of Bureaucracy".