Chris Christie on Marijuana: 'States Have the Right to Do What They Want'
If they've lost Christie, prohibitionists have lost the GOP.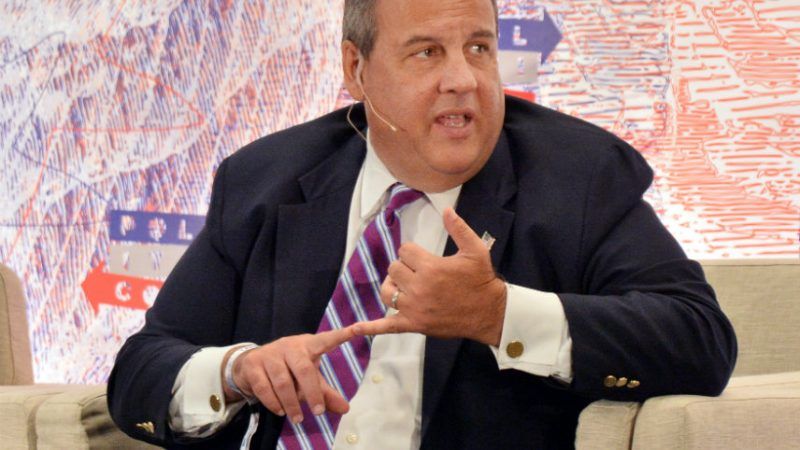 The cause of federal marijuana prohibition has lost one of its greatest champions.
Chris Christie, the former governor of New Jersey and a longtime, outspoken opponent of marijuana legalization, appears to have endorsed the idea that states should be free to set their own policies for weed. In a video posted Monday at Marijuana Moment, a pro-legalization site that covers pot policy developments, Christie can be heard saying that "states have the right to do what they want to do on this," in response to a question about marijuana.
That's a lukewarm endorsement but a major shift for the former federal prosecutor, who promised during the 2016 Republican presidential primaries that he would, if elected, swiftly crack-down on states that had legalized weed in contradiction to federal law.
"If you're getting high in Colorado today, enjoy it," Christie told a New Hampshire crowd in July 2015. A day later, during an appearance on Fox News, Christie said "marijuana is against the law in the states and it should be enforced in all 50 states."
Christie's track record on marijuana also includes claiming that legalization advocates seek to "poison children" in pursuit of "blood money"; vetoing bills that would have given sick children access to medical marijuana; and making illogical arguments straight out of your elementary D.A.R.E program about pot being a "gateway drug."
His apparent change of heart was captured on video while Christie was answering questions at Politicon on Saturday. In the video, Christie is queried by Kyle Kulinski, a YouTube personality, who first asks the former governor to comment on studies showing that states with legal marijuana have lower opioid abuse rates.
After dismissing those studies and disagreeing with the notion that legal weed can help some opioid addicts—spoiler alert: it can—Christie finally conceded that, yes, maybe states should be allowed to do as they please with weed, even though he was quick to add that "broad legalization of marijuana won't, in my view, alleviate or even minimize the opioid crisis."
Christie's opinion doesn't mean much now that he has been soundly defeated in his quest to be president, left the governor's office, and been shunned by the Trump administration—though in his role as head of the administration's opioid crisis committee, he does have some small influence here.
Don't expect Christie to be campaigning for full-fledged marijuana legalization any time soon, but his tepid endorsement of federalism is another blow to the cause of prohibition, which is more unpopular now than it has ever been. A Gallup poll released Monday shows two-thirds of Americans favor legalization, with only 32 percent opposed.
Whether Christie is waking up and smelling the cannabis, or simply started paying attention to poll numbers, makes little difference. Welcome to the party, big guy.