A New Company Helps People Flee San Francisco's Ridiculous Cost of Living
Leaving The Bay Area is a real estate brokerage that helps people decamp for cheaper, greener pastures.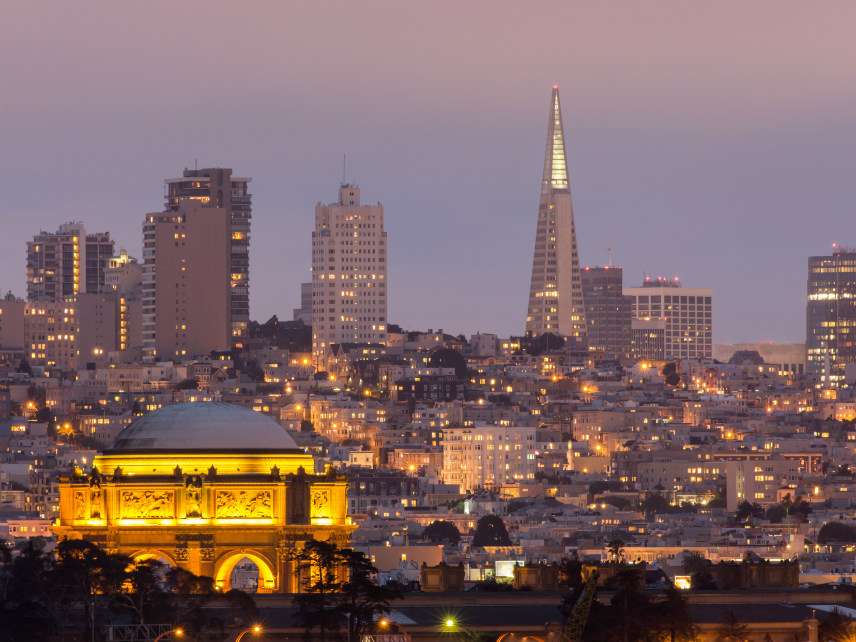 Between high housing costs, endless traffic, and rising anti-straw fanaticism, more and more Bay Area residents are looking for greener, cheaper pastures.
In June, the Bay Area Council—a business-sponsored non-profit—put out a poll finding that some 46 percent of surveyed residents said they would likely be leaving the San Francisco area within the next few years.
Now, thanks to the magic of the marketplace, there is a company dedicated to helping them do just that.
Leaving The Bay Area was founded this year by Scott Fuller, a long-time real estate broker in the San Francisco area who says an increasing number of his clients are looking to pack up and move. His company helps these emigrants sell their home, find a new house in a more fitting location, and manage all the logistics so that they can move from door to door, without having to spend any time in placeholder hotels or rental housing.
Fuller says his clients fall into two categories: retirees looking to stretch their savings, and younger professionals who, thanks to the Bay Area's cost of living, have trouble making ends meet.
"In a lot of cases they might have a good job here, they might be making a good income, but the money just doesn't go very far with the cost of living and how much they're having to pay on their mortgage each month," Fuller tells Reason.
This matches pretty closely with the Bay Area Council's survey, which found 45 percent of those who said they were likely to leave were concerned about the general cost of living. Some 25 percent of respondents specifically cited the cost of housing. Another 9 percent said traffic congestion was pushing them out.
The median home price in the San Francisco metro area is $858,800, making it the second most expensive place to live in the United States, behind only Manhattan, according to the financial forecasting publication Kiplinger. Analytics firm INRIX ranks San Francisco as the third most congested city in the country.
In the few months it's been active, Leave The Bay Area has helped some 20 people leave the region, Fuller says. That number pales in comparison to the roughly 10,000 people the city added last year, but the fact that Fuller's specialized service exists at all suggests something is off with the way San Francisco is managing its spectacular post-recession growth.
The city has added over 100,000 jobs since 2010, many in a thriving tech sector. Coping with that growth—so that new residents can find a place to stay, and old residents don't feel too squeezed—requires building new housing for migrants. This is something the Bay Area has largely failed to do, thanks in part to incredibly restrictive land use regulations and a byzantine approval process for new construction.
In the same period that San Francisco has added those 100,000 jobs, it's also added only 20,000 new units of housing. The situation is even worse in some suburban communities, where—at current rates of home construction—it will take centuries for these cities to meet their housing production goals.
The upshot of keeping a lid on supply is that demand for living in the area will start to fall off as more people decide that the benefits of living in such a high-cost area not worth what they have to shell out for rent or a mortgage.
This is particularly true as cities offering a similar set of amenities, professional opportunities, and cultural attitudes start to see home prices and rents decline. Fuller says that many of his clients are making the move to Seattle and Portland, two cities undergoing their version of a tech boom. These cities have also seen rental prices declining this past year thanks to a wave of new housing construction.
If San Francisco wants to remain a magnet for new people, new companies, and new ideas, it should emulate those cities, and allow the construction of new housing.