Trump Says Suspected Saudi Killers Are Getting the Kavanaugh Treatment: Reason Roundup
Plus: Canada legalizes weed!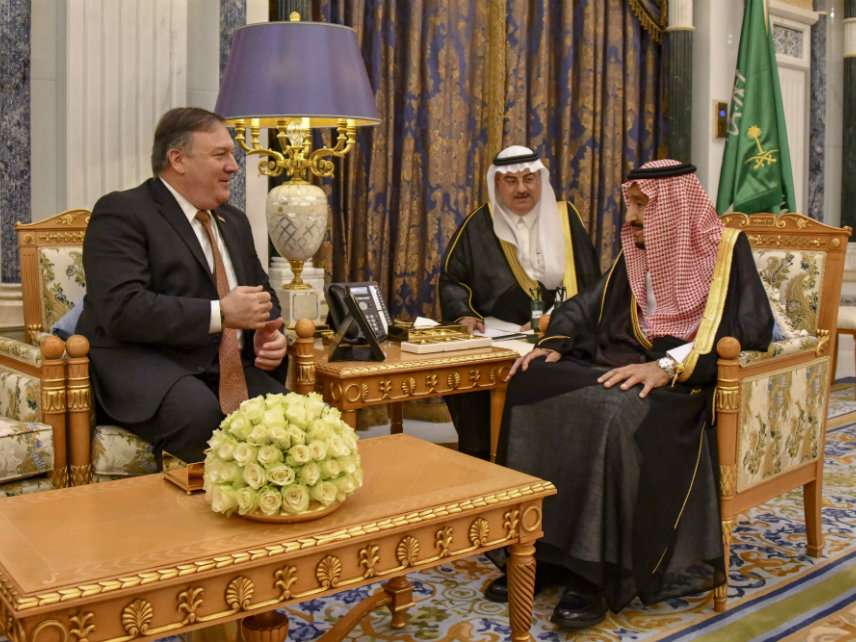 What do Brett Kavanaugh and Saudi leaders have in common? For one, the president would have us think that neither has gotten fair play from U.S. media. On Tuesday, Trump told the Associated Press that the suspected Saudi-sanctioned murder of a regime-critical journalist, Jamal Khashoggi, was just another case of assuming culpability too quickly.
"Here we go again with, you know, you're guilty until proven innocent," said Trump from the White House. "I don't like that. We just went through that with Justice Kavanaugh, and he was innocent all the way."
A mounting body of evidence in the Khashoggi case says otherwise. Earlier this week, Saudi sources had hinted that Khashoggi may have been killed accidentally after entering the embassy in Istanbul on October 2 to pick up paperwork related to his impending marriage.
Crucial to being an honest adult is apologizing when you're wrong.

I said that Trump would drop the pretense about caring about the presumption of innocence and due process after Kavanaugh. I was wrong.https://t.co/tNNxcKjzjw

— VeryHiddenGeniusHat (@Popehat) October 16, 2018
But Turkish authorities announced yesterday that audio from inside the embassy suggests Khashoggi was killed just a few minutes after he arrived, not during the course of an interrogation gone awry. They say that he was beaten up, drugged, and killed before his body was dismembered. In the audio from the consulate, "the voice of a man Turkish authorities identified as Saudi forensic specialist Salah Al Tabiqi can be heard recommending other people present to listen to some music while he dismembered Mr. Khashoggi's body," says The Wall Street Journal.
Turkey has pinpointed five suspects, including one who "was a frequent companion of Crown Prince Mohammed bin Salman—seen disembarking from airplanes with him in Paris and Madrid and photographed standing guard during his visits this year to Houston, Boston and the United Nations," The New York Times reports. Three other suspects "are linked by witnesses and other records to the Saudi crown prince's security detail," while the fifth suspect "is a forensic doctor who holds senior positions in the Saudi Interior Ministry and medical establishment, a figure of such stature that he could be directed only by a high-ranking Saudi authority."
If these suspects were indeed involved, it "would undercut any suggestion that Mr. Khashoggi died in a rogue operation unsanctioned by the crown prince," notes the Times, which also "confirmed independently that at least nine of 15 suspects identified by Turkish authorities worked for the Saudi security services, military or other government ministries."
The Saudi prince and his father, King Salman, have denied having any inside knowledge about Khashoggi's disappearance and alleged death. After meeting with them yesterday, U.S. Secretary of State Mike Pompeo told reporters, "I don't want to talk about any of the facts and they didn't want to either."
At Al Jazeera, Saudi journalist Hana Al-Khamri explains why Khashoggi so triggered and threatened Prince Mohammed:
MBS perceived Jamal Khashoggi as a serious threat to his authority for several reasons. First of all, Khashoggi was not a Western analyst or commentator, so the regime could not dismiss his criticisms as a foreigner's smear attempts. Moreover, he was not only a Saudi citizen but also—unlike many Saudi opposition figures who were forced into exile decades ago and have since been detached from the Saudi society—was a prominent member of the Saudi society and establishment until very recently. He had worked in local newspapers for years, was once a trusted adviser to the monarchy and was even settled in the kingdom until last year. As a result, in the eyes of many Saudi citizens, Khashoggi was one of them—someone who loves and wants the best for his country. His image as an establishment insider who is trying to change things for the better gave him an unprecedented credibility and influence among native Saudis. Furthermore, his close links to the members of the old establishment, who are discontent with the direction MBS is taking the country, has long been a cause for concern for the crown prince, who appears to be very cautious about a possible coup d'etat attempt.
Those who've long been critical of Prince Mohammed, his alleged reform goals, and Saudi atrocities in Yemen, seem bitter but hopeful that Khashoggi's death has "accomplished what 50,000 Yemeni deaths could not"—that is, force U.S. businesses, mainstream media, and politiicans to pay attention to and condemn Saudi government abuses.
"Though long overdue, these condemnations of the Saudi government are welcome," writes Shireen Al-Adeimi, continuing:
Saudi Arabia has been a close U.S. ally for decades, but during that it has engaged in numerous violations of human rights including creating what is currently the world's worst humanitarian crisis. For over three-and-a-half years, Saudi Arabia has been waging a brutal attack on its poorest neighbor, Yemen, causing the killings of as many as 50,000 people and the silent deaths of an estimated 113,000 children who have perished from malnutrition and preventable diseases like cholera. By using starvation as a weapon and causing the collapse of the Yemeni economy, health care and educational systems, Mohammed bin Salman has proven himself to be a ruthless monarch, and not the progressive reformer that many in the Western press have, until very recently, been happy to paint him as.
America's allyship with Saudi Arabia "cannot be casually severed," yet "the White House should have been first to suspend participation in a major investment conference in Riyadh next week until the Saudis provided a credible account of Mr. Khashoggi's fate, rather than leaving it to American media organizations and business executives to take the lead in pulling out," suggests The New York Times editorial board.
If Saudi Arabia is allowed to get away with some lame story about the apparent murder of Mr. Khashoggi, the world's growing gang of autocrats will feel even less constraint. There are plenty of measures at Mr. Trump's disposal that would send the right message, from personal sanctions against those behind the Khashoggi operation to a suspension of arms deliveries to Saudi Arabia. Mr. Trump's aides, members of Congress and allied leaders need to insist that he take the lead in demanding that Saudi Arabia acknowledge what really happened, and why it's terribly wrong.
But Mihir Sharma at Bloomberg suggests that all this anti-Saudi bluster is just for show, and will die down once the spotlight does.
"The Saudi government's flagship investor event—'Davos in the Desert,' as we're apparently supposed to call it—seems under threat after a series of high-profile withdrawals," notes Sharma. "Yes, nobody might want to take the risk, right now, of hanging out with the bad guy of the moment. But the larger idea behind the informal boycott of Davos in the Desert is what—that we are going to somehow isolate Saudi Arabia from the global economy? That's not going to work as long as the country remains is the world's largest oil exporter."
FREE MARKETS
Canadians can toke up legally now. Joining Uruguay, Canada just became the second country worldwide to legalize marijuana for recreational purposes.
QUICK HITS
Two Florida police officers sentenced to prison for false arrests after chief ordered them to frame black teen for burglaries. Notably, the judge thrashed prosecutors for not seeking jail time for the officers, given the flagrance of their abuses. https://t.co/EttnF5smYD pic.twitter.com/820Xjozo0v

— Peter Bonilla (@pebonilla) October 17, 2018