California Adopts a Mixed Bag of Food Laws
The same day he lightly deregulated home cook, Gov. Jerry Brown signed an awful law targeting groups that feed people in need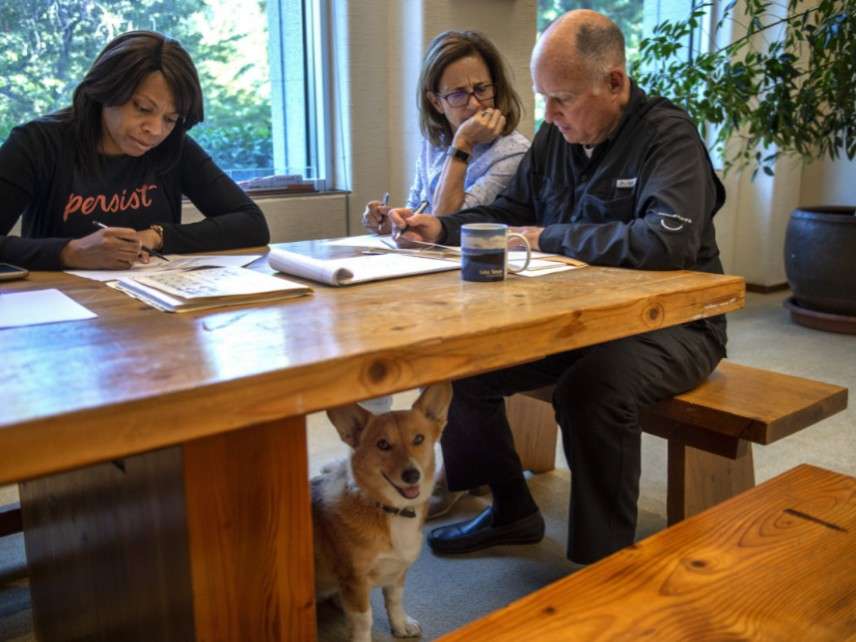 Food laws in California, America's most populous state and a bellwether of change in other states, are changing for the better.
As Steven Greenhut noted in a column last week, a trio of new laws passed in California should make life easier for home food entrepreneurs, street vendors, and craft distillers in the state. That's great news for food freedom and the entrepreneurs and consumers who drive its spread. But as with so many bursts of law-signing, there was some awful with the good. On September 18, the same day he signed the homemade food law, Gov. Jerry Brown also signed a new law that will crack down on people who want to share food with the homeless and others in need.
I strongly supported the home food entrepreneur law. As I wrote in a Sacramento Bee op-ed last year, when the bill that became law was first floated in the California Assembly, the state's existing "food-safety regulations have proved so far to be an insurmountable obstacle" for many home cooks. The bill signed into law last month, I wrote, was "a fair and just proposal" to help cooks overcome these state-erected barriers.
Hopefully, that groundbreaking California law, along with the state's embrace of street food and small distillers, will spread to other states.
But before we start crowing about California's great food laws, a healthy serving of context is appropriate. Many of the state's food laws are still awful. As a reminder, California is home to the nation's only statewide foie gras ban. Let's not forget, too, about the state's awful shark fin ban (which conflicts with the federal government's excellent shark finning ban), the ubiquitous and useless food warnings required under the state's Proposition 65, and the state's handful of ongoing soda taxes (which exist even after a state ban on new food-and-beverage taxes).
Those regulations are terrible, but the new law for feeding the homeless takes the cake.
"The bill would prohibit the operation from providing food service unless it has registered with the local enforcement agency… and would require a limited service charitable feeding operation subject to registration, or a food bank, if applicable, to submit certain information to the agency," the law declares. It will regulate the foodservice activities of nonprofits that share food with those in need under the state's retail food code, which is supposed to regulate (as its name suggests) commercial food activities. One of the obstacles to charitable food sharing under the law is that groups will have to prepare food in commercial kitchens.
Dozens of California chapters of Food Not Bombs, a pacifist group that shares vegan food with people across the country, are up in arms over the new law, reports the Santa Cruz Sentinel. The local chapter, the paper reports, says it will likely ignore the law (and its permitting requirements) once it takes effect in 2019.
Anyone who's followed my writings on the subject over the years—both in my columns and my recent book, Biting the Hands that Feed Us: How Fewer, Smarter Laws Would Make Our Food System More Sustainable—knows this is just the latest awful law of this sort. Las Vegas, Philadelphia, San Antonio, Houston, Dallas, New York City, Ft. Lauderdale, Orlando, and many other large cities have enacted a host of cruel and unconstitutional barriers that restrict or ban sharing food with those in need. California's could be the first such statewide law to take effect.
That's dreadful.
Any state deserves a big pat on the back when it rescinds or amends bad food laws. California is no different. Lawmakers and Gov. Jerry Brown deserve enormous credit for adopting new laws that should make life easier for home food entrepreneurs, street vendors, and craft distillers in the state.
But let's not get ahead of ourselves. California is still home to many of America's worst food laws. Their number is still growing, meaning that—even with a trio of good new laws—real food freedom in California is still an elusive goal.