Philippines President Duterte Playfully 'Jokes' About All His Drug War Murders
"My only sin is the extrajudicial killings."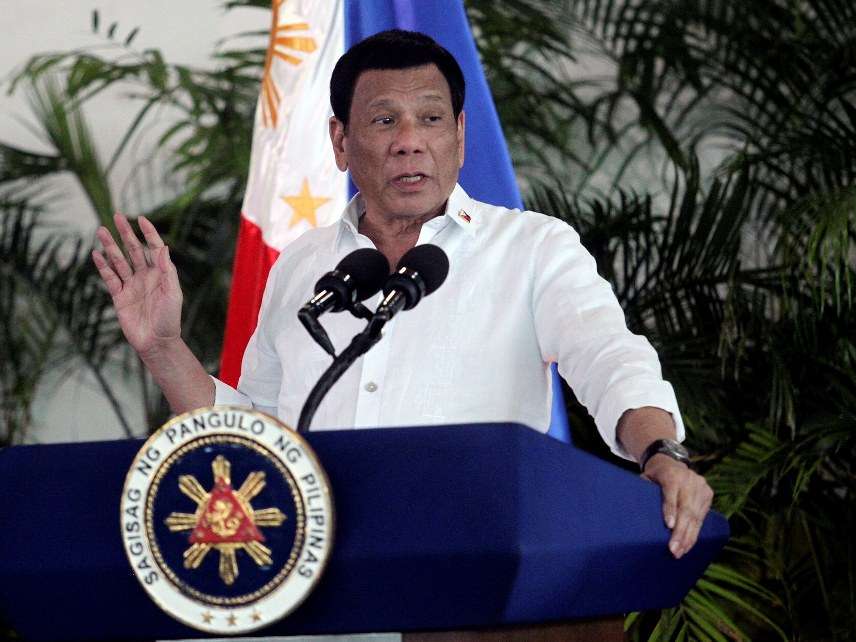 In a speech Thursday, Philllipines President Rodrigo Duterte, infamous for encouraging the summary executions of anybody suspected of involvement in drugs, admitted to his killings, kind of, sort of, maybe. From The New York Times:
He said he had challenged the country's military and police brass to remove him from office if they were not satisfied with the way he was running the country.

"I told the military, what is my fault? Did I steal even one peso?" Mr. Duterte said. "My only sin is the extrajudicial killings."
Well, that's quite a sin. A spokesperson subsequently claimed that Duerte was merely "being himself, being playful, highlighting the point that he isn't corrupt." His foes are treating the quote seriously, though, hoping to use it as an admission that he's responsible for all the deaths.
The police in the Phillipines have killed thousands in their brutal, doomed war on drugs. They acknowledge killing about 4,500 users and dealers, claiming they're all justified uses of force—apparently the suspects all keep resisting arrest. Human rights activists put the death toll much higher, between 8,000 and 12,000. One political opponent believes it's probably more than 20,000.
The International Criminal Court is currently investigating Duterte for "crimes against humanity." He has responded by pulling his country out of the treaty that established the court.
He also promised that his brutal drug war will continue while he's in office, racking up executions every single day. Take that as a reminder that our own drug war could be even worse. President Donald Trump, by way, says he'd like us to follow in Duterte's footsteps.