TSA Will Report Weed at LAX to Cops, Who Can't Do Anything About It
It makes no sense. Then again, neither does prohibition.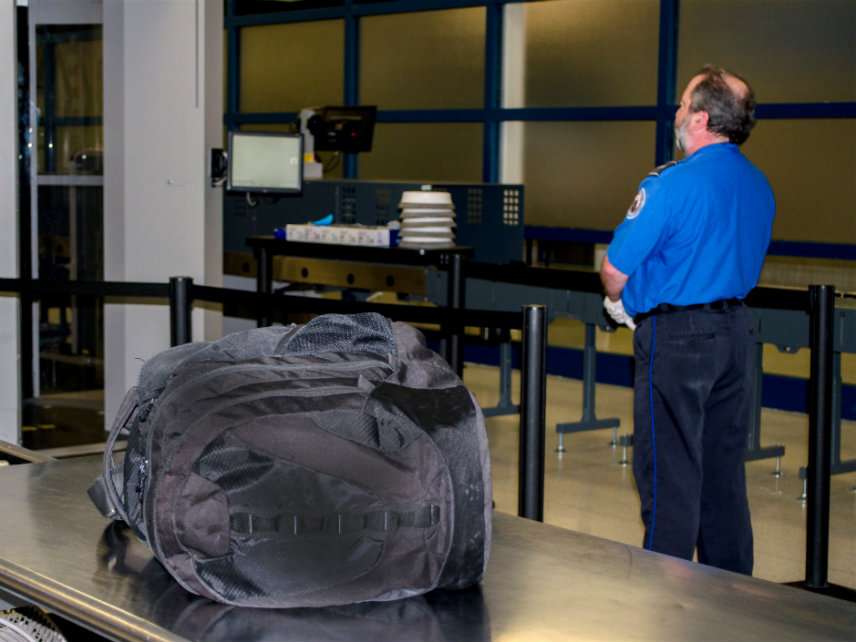 Legalization of recreational marijuana in California means there's very little action airport police can take against travelers caught with small amounts of weed. Leave it to federal law—and the Transportation Security Administration (TSA)—to complicate things.
At Los Angeles International Airport (LAX), anyone 21 and over can "possess up to 28.5 grams of marijuana and 8 grams of concentrated marijuana for personal consumption," according to a "marijuana policy" posted on the airport's website. As Marijuana Moment's Tom Angell pointed out on Twitter, the policy has been up on the website since at least April. Los Angeles Airport Police spokesperson Alicia Hernandez told McClatchy the policy has been in effect since January, when recreational weed officially became legal in the state.
Other California airports don't have stated policies regarding marijuana, but police have essentially said there's nothing they can do if travelers aren't violating California law. "We're really not in a place to do anything," Sgt. Ray Kelly of the Alameda County Sheriff's Office, which has jurisdiction over Oakland International Airport, told CNBC in December. Lieutenant Mark Gonzales of the Orange County Sheriff's Department told USA Today in February the same goes for Orange County's John Wayne Airport.
According to Paul Armentano, deputy director of the National Organization for the Reform of Marijuana Laws (NORML), LAX's marijuana policy is a sign that marijuana use in California isn't a big deal to local authorities. "It exemplifies the widespread cultural shift and acceptance of marijuana that is ongoing in the state of California," Armentano told Leafly.
But while local cops don't seem to care, marijuana is still illegal under federal law. That means TSA agents have to flag fliers in possession of weed, even if that won't accomplish anything. "TSA's response to the discovery of marijuana is the same in every state and at every airport—regardless of whether marijuana has been or is going to be legalized," TSA spokesperson Lorie Dankers tells Reason via email. "Airport law enforcement will be notified if marijuana is discovered by a TSA officer during the security screening process of carry-on and checked baggage." Law enforcement will then decide "whether or not the passenger is allowed to travel with marijuana."
Particularly at LAX, though, airport police have made it clear they're not going to do anything. So what's the point of the TSA making a fuss? In the end, travelers with weed will still be allowed to fly. Whether or not they'll be able to catch their flights is another question, depending on how long they're held by the TSA and local police.
Even though it's easy to blame the TSA here, the oft-maligned agency doesn't even deserve most of the blame. The TSA's job is to enforce federal laws, even the bad ones. And in this case, the federal law is very, very misguided.
Back in 2010, Reason's Nick Gillespie offered three reasons why weed should be legalized. One, because the government could collect billions of dollars in tax revenue and save billions more in law enforcement costs. Two, because Americans increasingly support weed legalization, and three, because pot prohibition infringes on bodily autonomy. Those arguments are just as true today as they were eight years ago.
Since 2010, nine states (plus Washington, D.C.) have legalized weed for recreational use. But the federal ban continues to complicate matters, especially for travelers. There's a simple fix, of course: Remove marijuana from Schedule I, and allow the states to set their own pot policies.
Bonus link: Is the TSA actually chiller about weed than the city of San Francisco? It's possible, wrote Reason's Christian Britschgi in November.