The 3 Biggest Lies Trump Told About Tariffs at His Crazy Press Conference
Trump says tariffs aren't hurting the economy, new steel plants are opening up, and some stuff about Canada. It's all wrong.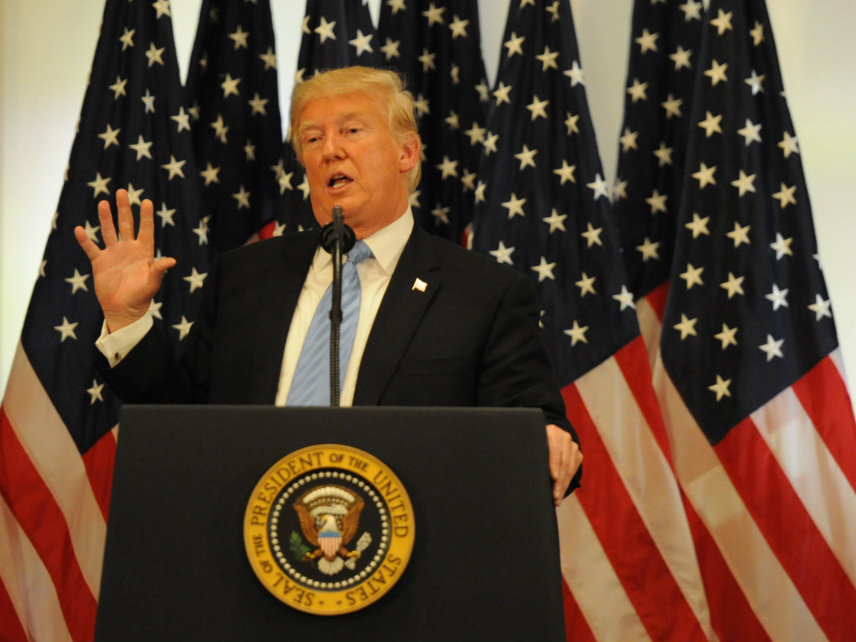 President Donald Trump's freewheeling press conference on Wednesday evening included a number of truly surprising moments, like when the president identified a reporter from a Kurdish news agency as "Mr. Kurd," and when he offered probably the most honest assessment of his own presidency—"I was saying things that nobody in the room even understood," Trump said of a conversation with Secretary of State Mike Pompeo and Japanese officials.
What's not surprising is that the press conference also contained a number of outright lies about the status of the Trump administration's trade policies, and the ways in which tariffs are affecting the domestic economy and America's relationship with key trading partners. It's not surprising because the Trump administration has spent months peddling misleading claims and outright fabrications ("trade wars are good and easy to win!") to defend policies that are economically indefensible.
This is the same man who, according to Bob Woodward's recently released book, couldn't even offer a solid explanation for why he wanted tariffs in the first place. "I just do," Trump reportedly told Gary Cohn, the White House's economic adviser. "I've had these views for 30 years."
Here are the three biggest departures from reality Trump offered on Wednesday.
1. "A lot of money is coming into our coffers, and it's had no impact on our—absolutely, by the way—no impact on our economy, which I said it wouldn't."
Trump is half-right about the first part. Tariffs have brought more than $1.4 billion into the federal goverment, because they are taxes. Those payments are being made by American importers, not by China. In fact, if the current set of tariffs remain in place for a full year, they will suck more money out of the economy than the major taxes included in the Affordable Care Act.
The second clause is the big whopper here. Just hours before Trump's press conference on Wednesday, Ford CEO Jim Hackett said the tariffs were costing his company more than $1 billion in the form of higher prices for steel and aluminum—two things that you need a lot of if you want to build cars. Even though Ford sources most of its steel and aluminum in the United States, Hackett said, the tariffs on imported steel and aluminum were causing domestic producers to hike their prices as well.
This is, well, exactly what everyone knew would happen when Trump slapped a 25 percent tariff on steel and a 10 percent tariff on aluminum earlier this year. But it's not just Ford paying the price. Businesses from coast to coast have announced plans to close, lay off workers, delay expansions, move overseas, or postpone investments because of the tariffs. While the economy as a whole continues to perform well, the tariffs are an undeniable drag on dynamism, and economists warn that the latest round of tariffs on Chinese imports could have a significant impact on consumers and retailers during the upcoming holiday season.
And, of course, tariffs are meant to bend consumer behavior towards politically favored industries and firms. If tariffs truly were having no impact on the economy, they would be failing to achieve their one and only goal.
Absolutely no impact? Absolutely false.
2. "Steel is incredible. U.S. Steel is opening up a minimum of eight plants. NuCor is opening up plants. And these are big plants…What's happening with the steel industry is very exciting to me. It's being rebuilt overnight."
This claim requires significantly less parsing, because Trump helpfully provides us with clear, exact numbers. They are also completely made up. While some American steelmakers have announced plans to increase production at existing plants, there are no plans to build new steel plants—and even if there were, they aren't exactly the sort of thing that can be built overnight (or in the span of a few months).
Trump has previously claimed that U.S. Steel would open six new plants because of the newfound success they are having under his trade policies. That was false. Then he started claiming that U.S. Steel would open seven new plants. Also false. Trump's claims keep inflating, but the number of new steel plants opening continues to remain the same.
What U.S. Steel and Nucor are doing is using their political influence to direct parts of the Trump administration's protectionism. Businesses affected by the steel and aluminum tariffs can appeal to the Commerce Department for waivers from those taxes, but both major American steelmakers seem to be using their influence to block waiver claims.
Rep. Jackie Walorski (R–Ind.), whose office has conducted a review of the waiver applications granted and denied by the Commerce Department, found that not a single application has been accepted if U.S. Steel or another domestic steelmaker had objected to its granting. It's a far cry from the "fair and transparent process" that Commerce Secretary Wilbur Ross promised in March when the steel and aluminum tariffs were unveiled.
To summarize: Trump's trade protectionism isn't causing steelmakers to open new plants, but it is causing them to engage in more cronyism. This, too, should have been expected.
3. "His tariffs are too high and he doesn't seem to want to move, and I told him 'fuhgeddaboutit'…We're very unhappy with the negotiations and the negotiating style of Canada."

Asked whether he had canceled a planned one-on-one meeting with Canadian Prime Minister Justin Trudeau to discuss the renegotiation of the North American Free Trade Agreement—something that is supposedly a priority for Trump—the president admitted in the most casual way possible to standing up Trudeau.
Canada says this whole thing is a lie and there was no plan for a meeting.
Maybe so. But the bigger lie here is that Canada's tariffs "are too high." Trump is fixated on a few Canadian tariffs—a tariff on dairy products is a favorite target—and while those are admittedly not good, the vast majority of trade between the U.S. and Canada is tariff-free.
Sinking the entire negotiation over a single issue seems like an odd way to reach an agreement, but it's no more outlandish than Trump's claim that Canada is negotiating in bad faith. After all, Trump admitted just weeks ago to having deliberately undermined NAFTA negotiations with Canada simply because he could.
If Trump wants foreign leaders to negotiate in good faith with the United States, perhaps he ought to demonstrate an ability to recognize the reality of his trade policies.