Rep. Justin Amash Slams 'Pathetic' Spending Bill, Reminds Trump of His Pledge
Trump will "now be put to the test," Amash says.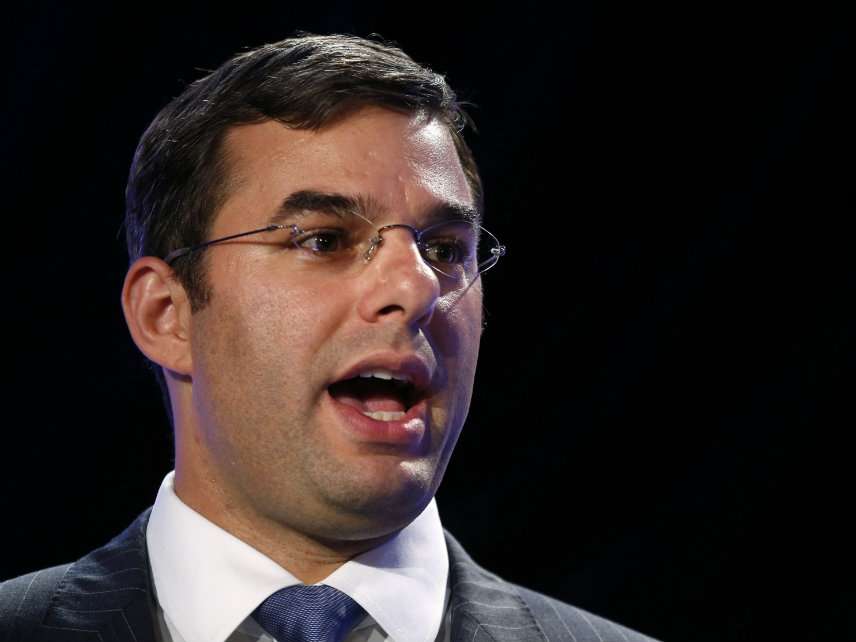 Rep. Justin Amash (R–Mich.) today blasted the "wasteful" and "pathetic" $853 billion spending bill passed by the House yesterday. Amash reminded President Donald Trump of a promise he made in March, when he reluctantly signed another massive appropriations package into law while vowing not to go along with similar legislation in the future.
The Senate voted 93-7 last week to approve the most recent measure, and the House passed it by a vote of 361 to 61 yesterday. The bill is now headed to Trump's desk, and if he doesn't sign it by October 1, much of the federal government will shut down.
On Twitter last week, Trump expressed his displeasure with the spending package, although not because it's wasteful. Rather, he slammed the "ridiculous" bill because it doesn't include enough funds for his proposed wall on the U.S.-Mexico border. Trump indicated he will likely sign the bill anyway, telling reporters yesterday, "We're going to keep the government open."
Trump may have promised to avoid a government shutdown, but he sang a different tune in March, when he signed a 2,232-page, $1.3 trillion omnibus spending bill. He wasn't happy about it, pledging to "never sign another bill like this again."
Amash wants Trump to keep his word. In a tweet today, the libertarian-leaning Republican criticized the bill, which he voted against, and quoted Trump's promise from March. "He'll now be put to the test," Amash said of Trump.
This gigantic, wasteful, pathetic spending bill passed the House and Senate. @POTUS @realDonaldTrump said, "I will never sign another bill like this again," about the last bill like this, the omnibus. He'll now be put to the test. https://t.co/x3FpgmRemD

— Justin Amash (@justinamash) September 27, 2018
The bill in question provides money for the Departments of Defense, Education, Labor, and Health and Human Services, keeping them funded through December 7. The majority of the funds—more than $600 billion—are for the Pentagon. As Reason's Zuri Davis noted last week, it's believed to be the largest military budget since the height of the Iraq war.
Amash didn't just call out Trump. Yesterday, he pointed out on Twitter that "the same Republicans who used to blast" former President George W. Bush's "spendthrift GOP have become far worse than the politicians they once derided."
Amash is absolutely right. According to the Congressional Budget Office, the nation is on track to run a $1 trillion deficit in the next fiscal year. But neither party in Congress seems to care. Whether it's the $1.3 trillion omnibus bill Trump signed in March, the $150 billion spending bill that passed earlier this month, or the $853 billion appropriations package Trump is likely to sign in the coming days, wild spending is something Republicans and Democrats can agree on.
This post originally stated that Rep. Amash referred to the spending bill as "weak," when in fact he called it "wasteful."