Philadelphia Cops Arrested for Detaining a Man Without Cause
An investigation concluded that there was no way the officers could have seen a man using drugs as they said they did.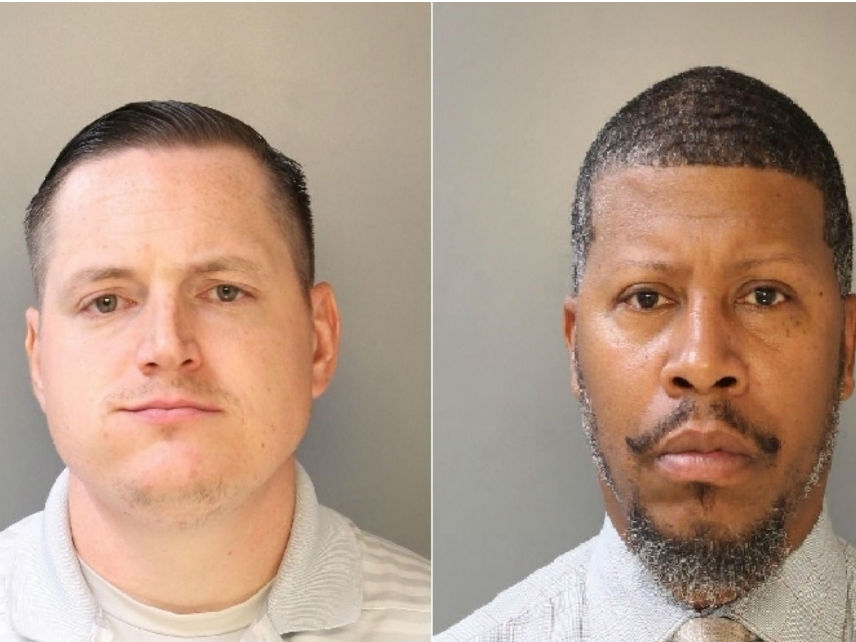 Last April, Philadelphia Police Officers Matthew Walsh, 30, and Marvin Jones, 48, stopped a man, handcuffed him, and searched him and his vehicle. Walsh and Jones detained him for 15 minutes before driving him one block away and releasing him. On Wednesday, the officers were arrested and charged with a felony count of tampering with records and misdemeanor counts of criminal conspiracy, false imprisonment, obstructing administration of law, and official oppression.
According to a statement given to Reason by the Philadelphia Police Department, Walsh and Jones reported that they stopped the man for "apparently using narcotics." They said they searched him because he kept his hands in his pockets. The man, whom the department did not name, was not charged following the interaction and later filed a complaint against the officers.
An investigation was subsequently conducted by the Internal Affairs Bureau. After combing through surveillance footage and police records, investigators concluded there was no way that Jones and Walsh could have witnessed the suspected drug use. They also found that the man was compliant during the stop and search, which turned up nothing but prescription medication. The officers allegedly falsified their report following the stop and failed to disclose the search.
Walsh and Jones, who have worked for the department for four and 10 years, respectively, were arrested on Wednesday. Philadelphia Police Commissioner Richard Ross suspended the officers for 30 days. They will be dismissed at the end of their suspension.