Rod Rosenstein Out as Deputy Attorney General, Russia Probe Overseer?
Solicitor General Noel Francisco could be the one to oversee the Russia probe.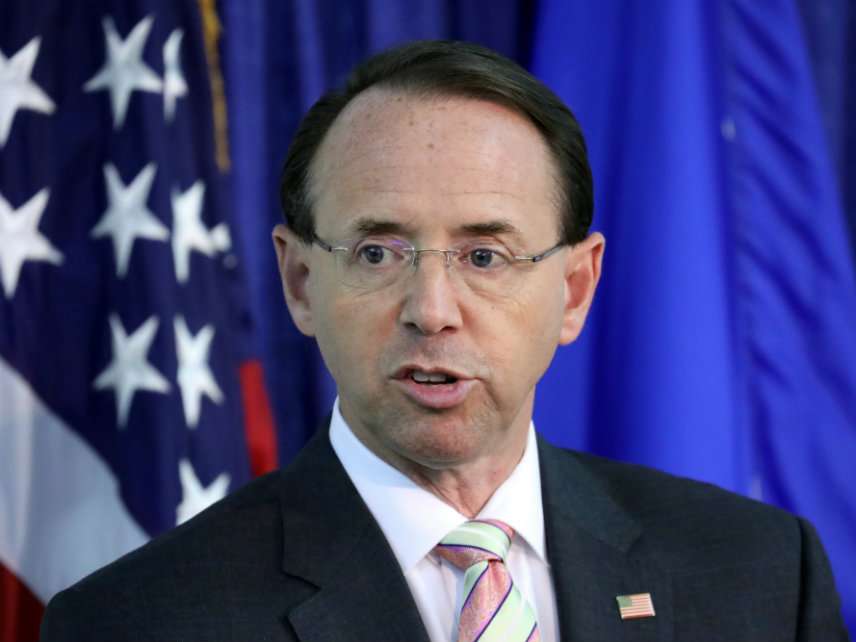 Deputy Attorney General Rod Rosenstein is reportedly out as the Justice Department's number-two man.
Axios' Jonathan Swan was the first to report the news, citing a source with direct knowledge of the situation. The source said Rosenstein believed he would soon be fired by President Donald Trump, so he "verbally resigned" to White House Chief of Staff John Kelly. According to CNN and the Associated Press, Rosenstein anticipated being fired today. Bloomberg also reports that had "verbally" resigned. But NBC News says that Rosenstein had no intention of stepping down of his own accord and wanted to force Trump to fire him instead.
Rosenstein has been a controversial figure in the Trump administration for some time. Last March, Attorney General Jeff Sessions recused himself from the investigation of Russian activities in the 2016 presidential campaign, leaving Rosenstein in charge of the probe. In May, Rosenstein appointed special counsel Robert Mueller to look into Russian interference.
If Rosenstein is out, Solicitor General Noel Francisco, the third-highest-ranking Justice Department official to be confirmed by the Senate, could oversee the probe. But whether Rosenstein resigned or gets fired matters. As The Washington Post's Aaron Blake notes, Trump can appoint a temporary replacement if Rosenstein did indeed step down voluntarily. But the Federal Vacancies Reform Act isn't clear on whether or not the president has that same authority if Rosenstein is fired.
Rosenstein's ousting comes three days after The New York Times reported that last year he spoke with Justice Department officials about invoking the 25th Amendment to remove Trump from office. According to the Times, he also suggested that he or other officials wear a wire and secretly record Trump. These claims prompted vigorous pushback from Rosenstein and others.
Rumors have abounded for months that Trump has been thinking about firing Rosenstein, though the president claimed last month that they have a "great relationship."
Responding to reports of Rosenstein's imminent departure, White House Press Secretary Sarah Sanders said in a statement that Trump will meet with Rosenstein on Thursday, after the president returns from the United Nations General Assembly in New York.
This post has been updated.