More Accusers, More Denials Ahead of Thursday Kavanaugh Hearing: Reason Roundup
Plus: The Trump administration plans to make China our new "bogeyman."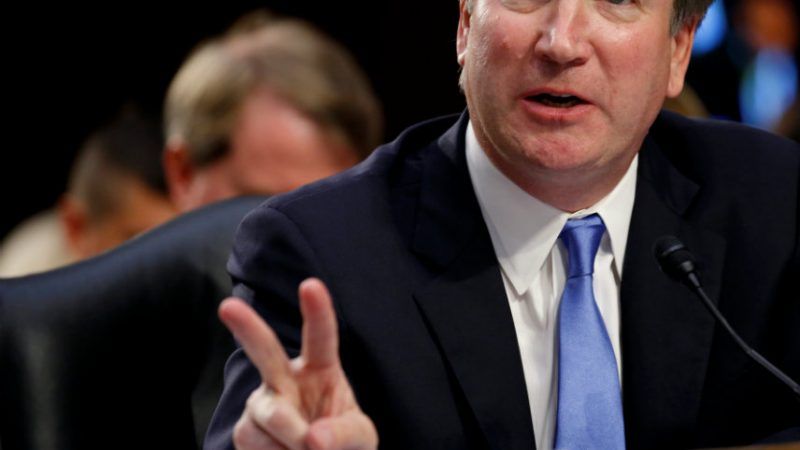 (Joshua Roberts/REUTERS/Newscom )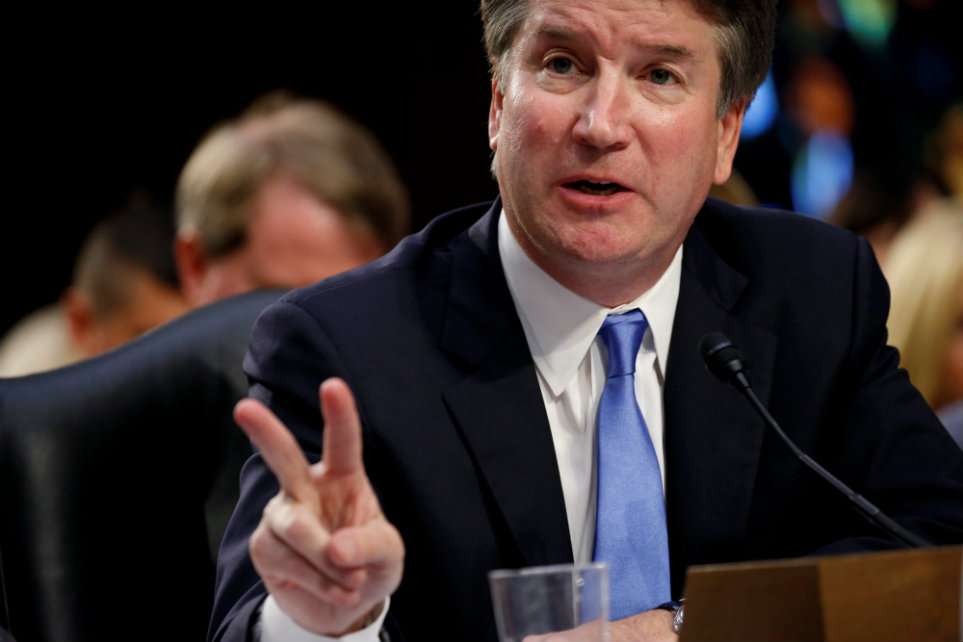 The New Yorker details alleged flashing from the Supreme Court nominee. It's only Monday and this week's news cycle is already promising to be a hot and enraging one.
Christine Blasey Ford has agreed to testify before the Senate Judiciary Committee on Thursday regarding her sexual assault allegation against Supreme Court nominee Brett Kavanaugh. (Kavanaugh will also testify on Thursday.) But since yesterday, Ford's story has taken a back seat to new allegations against the nominee, some reported by The New Yorker and some tweeted by lawyer Michael Avenatti.
The New Yorker story, penned in part by celebrity journalist Ronan Farrow, details an alleged 1983 incident in which Kavanaugh supposedly exposed himself to a Yale classmate named Deborah Ramirez. The story drew swift praise from the expected corners and became potent fuel in the fight from Democrats against Kavanaugh's nomination. But it's also full of doubt-inducing details. For instance:
Ramirez admits to "significant gaps in her memories" of the night in question.
Ramirez herself said she was reluctant to definitively name Kavanaugh as one of several men who flashed her and others at this party. Ramirez decided she was certain it was Kavanaugh only after consulting with an attorney last week and supposedly recovering hidden memories.
The New Yorker contacted six Kavanaugh and Ramirez classmates who were allegedly around for the incident in question or may have known about it (according to Ramirez) and none said they remembered it happening.
Meanwhile, The New York Times says it contacted "several dozen" people "in an attempt to corroborate her story, and could find no one with firsthand knowledge." The Times also notes that "Ramirez herself contacted former Yale classmates asking if they recalled the incident and told some of them that she could not be certain Mr. Kavanaugh was the one who exposed himself."
Unlike Ford's story—in which Kavanaugh and his friend Mark Judge allegedly attacked her after pushing her into a bedroom alone—the penis incident Ramirez has described supposedly took place in a crowded dorm-room party and involved people yelling up and down the halls about Kavanaugh's antics. So a lack of corroborating witnesses poses a bigger problem to its credibility.
As some Republicans claim that all the accusations against Kavanaugh are politically motivated, the New Yorker piece is also attracting criticism for helping people conflate Ford's more believable and serious claims with charges that could be more easily discounted.
I mean, is this a joke. 35 years later she wasn't sure but 35 years plus 6 days later she was? pic.twitter.com/N0ZKKT1PNp

— Karol Markowicz (@karol) September 24, 2018
Others are defending its publication, no matter how flimsy the underlying story may be, because Senate Democrats and Republicans allegedly knew of the claim and are looking into it, making it newsworthy regardless of its veracity.
Meanwhile, Michael Avenatti—most well-known recently for serving as Stormy Daniels' lawyer in her dealings with Michael Cohen and Donald Trump—claims that there is a third person who claims Kavanaugh sexually assaulted her. Avenatti has not yet revealed the person's identity or details of the story, but he has tweeted an email suggesting (without evidence) that Kavanaugh and his friends regularly accosted drunk girls at parties and gang-raped them.
"I represent a woman with credible information regarding Judge Kavanaugh and Mark Judge," said Avenatti on Twitter last night. (Judge is the person accused of assaulting Ford with Kavanaugh 36 years ago.) "We will be demanding the opportunity to present testimony to the committee and will likewise be demanding that Judge and others be subpoenaed to testify. The nomination must be withdrawn." Avenatti specified that his client is not Ramirez.
In other Kavanaugh-related news: Ed Whelan, the author of last week's crazy mistaken-identity theory that accused a random man of attempted rape, offered to resigned as president of the Ethics and Public Policy Center, but the board did not accept his resignation and has instead placed him on indefinite leave.
FREE MARKETS
Trump plots to turn Americans against China. Perhaps in order to help sell the president's terrible trade war, the Trump administration plans to launch a brand new anti-Chinese propaganda effort, according to Axios. Two administration sources have told the outlet that an "administration wide" campaign against China would be broad and substantial.
"We're not just going to let Russia be the bogeyman," said one, using a term for bad guys who are by definition mythical.
"Neither administration official explained why the administration is pursing this now," writes Jonathan Swan.
QUICK HITS