Walmart Shoppers Could Be Next Victims of Trump's Trade War
Walmart warns the Trump administration it may be forced to raise prices in response to tariffs.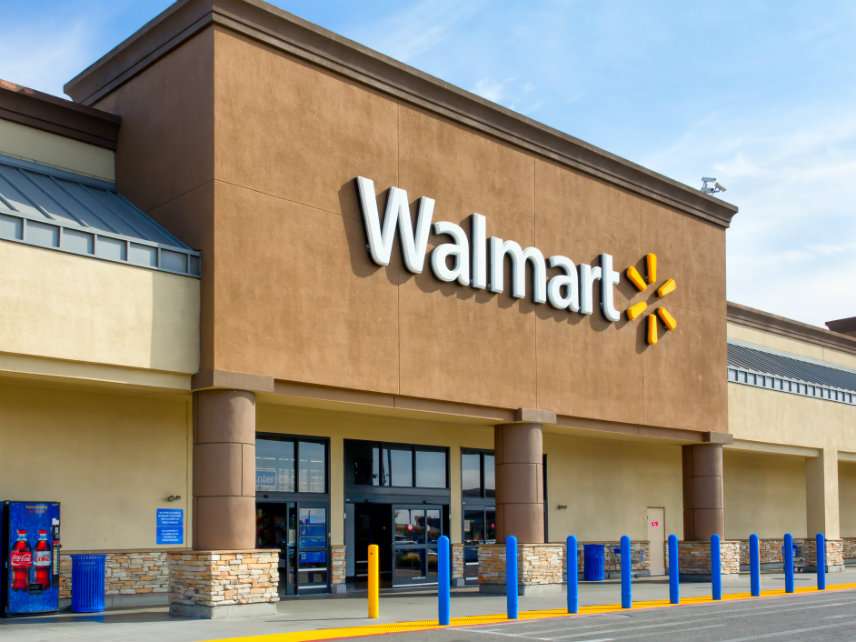 While President Donald Trump's previous rounds of tariffs mainly targeted industrial imports, his latest duties will directly affect consumer goods. Walmart, the world's largest retailer, has warned the administration it may be forced to raise prices as a result.
On Monday, the Trump administration escalated its trade war with China, announcing tariffs on $200 billion worth of Chinese imports. The 10 percent tariffs take effect on September 24 and rise to 25 percent on January 1. As Reason's Eric Boehm noted, these new tariffs will likely mean price increases for computers, tablets, video games, vacuum cleaners, furniture, children's toys, and many other household goods sold by major retailers such as Walmart.
More than a week before the White House announced the new tariffs, Walmart warned the administration it was a bad idea. "The immediate impact will be to raise prices on consumers and tax American business and manufacturers," the company wrote in a letter to U.S. Trade Representative Robert Lighthizer, according to CNN. "Either consumers will pay more, suppliers will receive less, retail margins will be lower, or consumers will buy fewer products or forgo purchases altogether."
The Wall Street Journal reports that tariffs, including the latest round, now affect 11 percent of all U.S. imports and roughly half of the country's trade with China. "Given that Walmart was such a huge source of cheap products for low-income customers over the years, this really hurts the very people that Trump professes to help," Sucharita Kodali, a retail analyst at the research firm Forrester, told CNN. About 95 percent of U.S. consumers shopped at Walmart in 2016.
Appearing Tuesday morning on CNBC's Squalk Box, Commerce Secretary Wilbur Ross claimed that since the new tariffs are "spread over thousands and thousands of products," consumers won't "actually notice it at the end of the day." Former White House strategist Steve Bannon said today on The Economist Asks, a podcast produced by the magazine, that the tariffs mean "you may end up paying 5 percent more or 10 percent more for the junk you buy at Walmart."
If tariffs are supposed to encourage the purchase of American-made goods, it hardly makes sense to argue that consumers will barely notice them, as Boehm pointed out:
So which is it? Will consumers see higher prices and therefore behave as the Trump administration wants? Or will the tariffs have no effect on consumers, in which case they're disrupting international trade for nothing? Ross can't have it both ways.
Walmart's letter to Lighthizer shows that it's American companies and consumers who will pay for the trade war. And with the U.S. and China going tit for tat on tariffs, it's not likely to end anytime soon.
Bonus link: Writing for Reason, Scott Lincicome of Republicans Fighting Tariffs highlighted more than 200 U.S. businesses hurt by Trump's tariffs.