Twitter Should Punish Marco Rubio for Doxing a Miami Steakhouse Owner
Inviting followers to harass this man violates the platform's terms of service.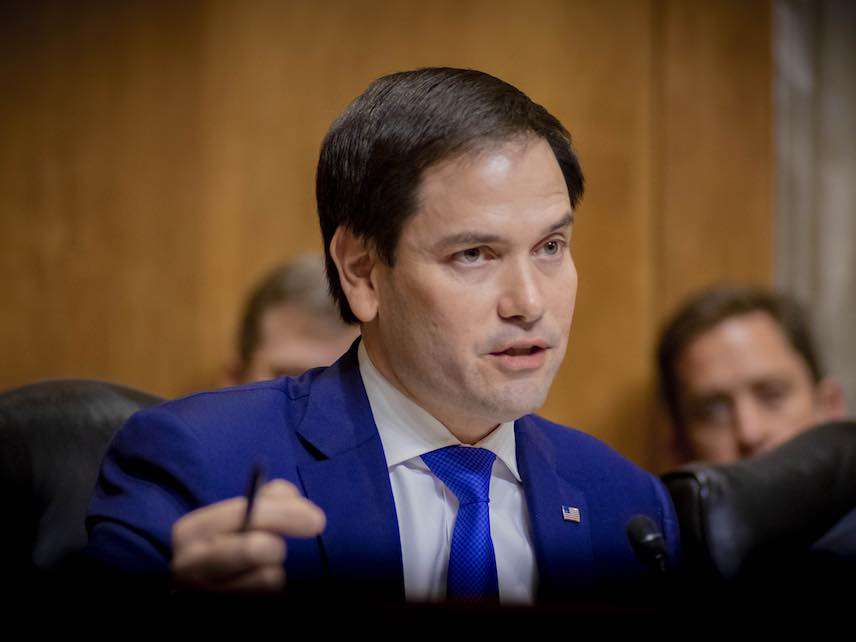 Sen. Marco Rubio (R–Fla.) tweeted the address and phone number of a Miami restaurant and invited his followers to harass the owner. This is a violation of Twitter's terms of service, and the platform should take action.
Rubio was responding to a now deleted tweet from the restaurant's owner, who is apparently a defender of the Venezeulan regime. Rubio, irked by the man's political beliefs, reacted like this:
This guy @nusr_ett who admires dictator @NicolasMaduro so much actually owns a steakhouse in, of all places, #Miami. It's called NUSR-ET STEAKHOUSE MIAMI located at 999 Brickell Avenue, Miami, FL 33131
The phone number is 1 305 415 9990 in case anyone wanted to call. https://t.co/7CDkgHVZWh

— Marco Rubio (@marcorubio) September 18, 2018
I have previously opined that social media platforms should not actively police offensive content and fake news, and that attempts to do so will be influenced by unconscious bias. The more heavy-handed the approach, the more likely it is that perfectly benign legitimate content will be targeted simply because someone is bothered.
One obvious exception is doxing: publishing personal information with malicious intent. Revealing a person's phone number or physical address without that person's permission is a violation of Twitter's terms of service, and rightly so. Inviting social media lynch mobs to harass people at their homes, or to fill up their voicemail boxes with threatening messages, is reckless and terrible behavior. It is also a fairly objectively defined form of harassment—the information you can't post is fairly specific—and thus less likely to be wrongly enforced.
Twitter's policy only forbids the posting of a private address or phone number; the restaurant is a place of business. But the policy also states that if "publicly available information is being shared to harass or incite harassment, then we may take enforcement action under our abusive behavior policy." Rubio's sarcastic "in case anyone wants to call" line seems like a relatively straightforward invitation to harass.
Assuming this is Rubio's first violation, Twitter should force him to take down the tweet. If he does it again, his account should be suspended.