Brett Kavanaugh and His Accuser Will Face the Senate Judiciary Committee on Monday: Reason Roundup
Plus: Henry Winkler takes home an Emmy.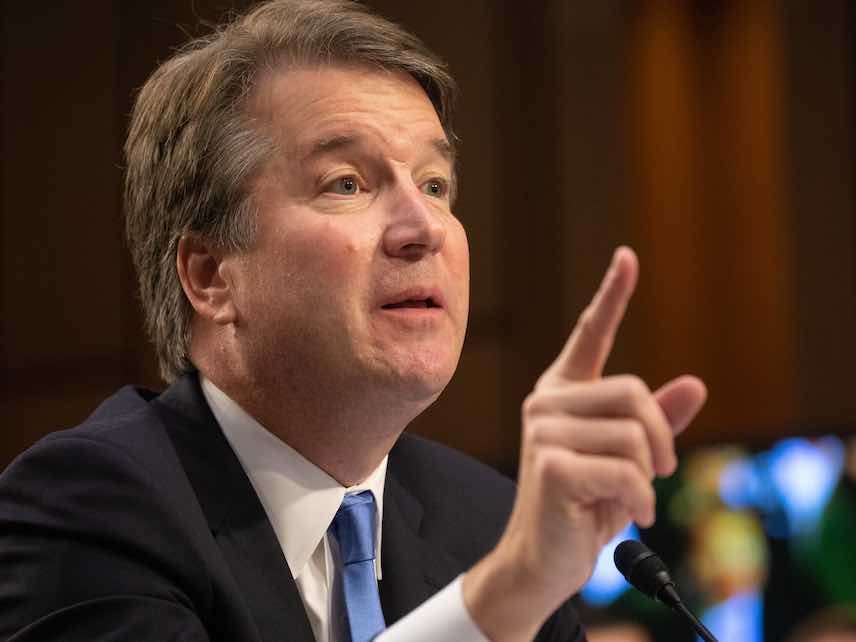 Kavanaugh and Ford. Sen. Charles Grassley (R–Iowa), chairman of the Senate Judiciary Committee, has called for Brett Kavanaugh and Christine Blasey Ford to answer questions at a public hearing on Monday.
Kavanaugh is President Donald Trump's nominee to the Supreme Court, and Christine Blasey Ford is a college professor who has accused Kavanaugh of sexually assaulting her 35 years ago, when they were in high school.
Trump was uncharacteristically muted about the news. "We want to go through a process, we want to make sure everything is perfect, everything is just right," he said during a press conference on Friday. "If it takes a little delay, it will take a little delay—it shouldn't certainly be very much."
According to The New York Times:
It will be up to Judge Kavanaugh to convince wavering senators of his innocence. Both Senators Susan Collins, Republican of Maine, and Jeff Flake, Republican of Arizona, said Monday that if true, Dr. Blasey's accusations would disqualify the nominee from the Supreme Court.

"Obviously, if Judge Kavanaugh has lied about what happened, that would be disqualifying," Ms. Collins told reporters, adding, "For my part, I believe that it's very important that both Professor Ford and Judge Kavanaugh testify under oath about these allegations. I need to see them and listen to their answers to the questions in order to make an assessment."

Mr. Flake told reporters that he is "presupposing nothing with this hearing," but added, "If you believe the charges are true, you vote no."
Meanwhile, two former girlfriends who dated Kavanaugh in high school have come forward to testify to his outstanding moral character.
"I never saw him out of control drunk," former girlfriend Maura Kane told Fox News. "He always retained his composure. He was a responsible guy. He was someone who did have a beer, but he was never out of control. He never became someone different after drinking."
Kavanaugh has plenty of defenders; on the other hand, his accuser's account can't be easily dismissed. This is a frustrating, incredibly difficult situation. It's just impossible, at this point, to state definitively that Kavanaugh's nomination should be derailed because of an uncorroborated 35-year-old allegation. But the temptation to automatically dismiss Ford as a lying opportunist should be opposed as well. Here's hoping some evidence emerges to tip the scales one way or another.
FREE MINDS
New York magazine published a lengthy interview with Soon-Yi Previn, Woody Allen's wife and staunchest defender. Previn's perspective on the infamous dispute between Allen and ex-girlfriend Mia Farrow—who accused Allen of molesting their adopted daughter, Dylan Farrow, in 1992—is completely at odds with Farrow's. (Previn is Farrow's adopted daughter. Her adoptive father is Farrow's ex-husband, Andre Previn, and she claims that Allen was never a father figure to her.) Soon-Yi says Farrow was an abusive mother who manipulated Dylan into accusing Allen as an act of revenge.
Farrow's biological son, Ronan Farrow, has become one of the most important journalists in American—he exposed Harvey Weinstein—and the foremost chronicler of the #MeToo movement. He released a statement condemning New York magazine's decision to publish the piece on Soon-Yi—written by Daphne Merkin, a friend of Allen's—as "shameful." Dylan Farrow released a statement as well, saying she had been "revictimized" by the piece. Ronan's partner, the writer and podcaster Jon Lovett, pulled out of New York magazine's festival in protest of the story.
The uncomfortable truth is this: We are often told that we must always believe women who come forward with stories of abuse. But Soon-Yi Farrow has a story of abuse too, and it conflicts with her mother's.
"Believe women! Except the ones I don't personally like."

— Katie Herzog (@kittypurrzog) September 17, 2018
FREE MARKETS
School districts in Arizona spend far too much money on K–12 administrators, and those funds would be better spent on teacher salaries, according to a new report by the Goldwater Institute:
For example, the superintendent of Sunnyside Unified School District makes more than six times what the average teacher in the district earns. In Tucson, it's more than five times the average teacher pay. The numbers are similar for many other districts, from Paradise Valley to Buckeye.

Yuma Union High School District spent approximately 20 percent more on administrative expenses than similar districts because of the number of school-level and central office positions. In Piñon Unified, the district's administrative expenses were nearly 60 percent higher than districts similar in size. Had the district brought costs down to the average for comparable districts, teachers could have seen pay increases of nearly $12,000.

In Eloy Elementary School District, between Phoenix and Tucson, the district produced some 21,000 more meals than were needed for students. In 2015, the district wasted $73,000 on this food—money that could have added $1,600 to each teacher's salary. The district could have provided even larger raises if it chose to reward the most effective teachers in district schools.
QUICK HITS