In 2012 Analysts Warned Australian Light Rail Line Would Be a Huge Boondoggle. The Government Buried the Report. Now Taxpayers Are Paying the Price.
Sydney's new light rail line is over budget, overdue, and the target of multiple lawsuits.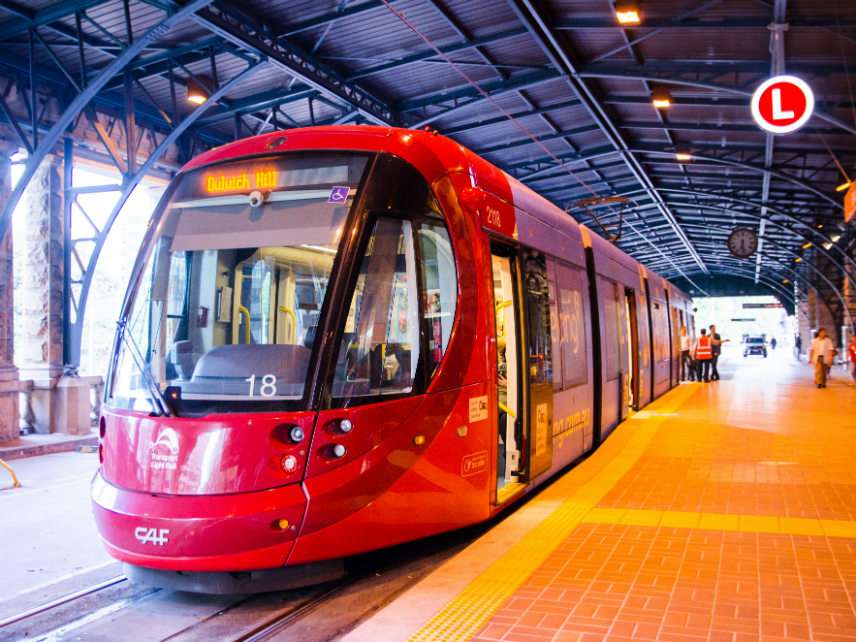 Politicians' fetishization of light rail is not just an American phenomenon. In Sydney, Australia, for instance, the state government is stuck building an over-budget, overdue light rail line that officials knew was not worth the cost well before construction started.
Back in 2012, consultants for the New South Wales transportation ministry ran the numbers on a light rail line politicians were considering building from downtown Sydney to its southeastern suburbs. They found that none of the 26 proposed route options would add value above what it would cost to build the line. At best, analysts predicted that the AU$1.1 billion light rail line would add about $880 million in value, while doing nothing to reduce traffic congestion.
Those findings, the Australian Broadcasting Corporation reports, were given to New South Wales Transportation Minister Gladys Berejiklian in late 2012. Undeterred, Berejiklian announced in December 2012 that the state government was proceeding with a AU$1.6 billion light rail line, which she claimed, contra the report of her own analysts, was needed to alleviate traffic congestion. "Congestion on roads in the Sydney CBD [Central Business District] and surrounding areas will only get worse as the number of jobs in the city grows and the population increases—we have to act and in a significant way," Berejiklian said in a December 2012 press release.
The 2012 report was buried, and a new one released in early 2013 concluded that the benefits of light rail did exceed the costs once "non-conventional benefits" (such as the joy people will get from knowing future generations will have access to light rail) were included. As the project has unfolded, the 2012 report has proven to be more accurate.
The project's estimated cost is now AU$2.1 billion, half a billion more than Berejiklian projected. Acciona, the Spanish firm hired to build the line, is suing the government for AU$1.1 billion, arguing that key information about how much underground utility work would be needed was kept from it during contract negotiations. Some project opponents have suggested the cost could rise as high as AU$3 billion.
Although Berejiklian's government has maintained that the line will be finished by the promised 2019 delivery date, ALTRAC, the consortium that is building and operating the line, says it won't be ready until 2020. The delays have spawned another lawsuit against the NSW government by some 60 Sydney retailers who claim light rail construction has cost them millions in lost revenue. They're demanding AU$40 million in damages.
Local press has been filled with anecdotal evidence of small business pain. Owners of one restaurant along the future line told the Sydney Morning Herald they'd seen monthly revenue fall by about half and have had to lay off about 10 employees. Other businesses have reported similar losses to the Herald.
Light rail is often pitched to the public as an efficient, environmentally friendly transportation option that will cut down on traffic and spur economic growth. Often these promises are made in bad faith. In Sydney, they were made with the knowledge that they were probably not true at all. Now it's left for Sydney's taxpayers and small businesses to pick up the tab for these illusory goals.