FEMA May Not be Prepared for Hurricane Florence, but Waffle House Is
The "Waffle House Index" shows some differences between the private and public sector when it comes to emergency preparedness.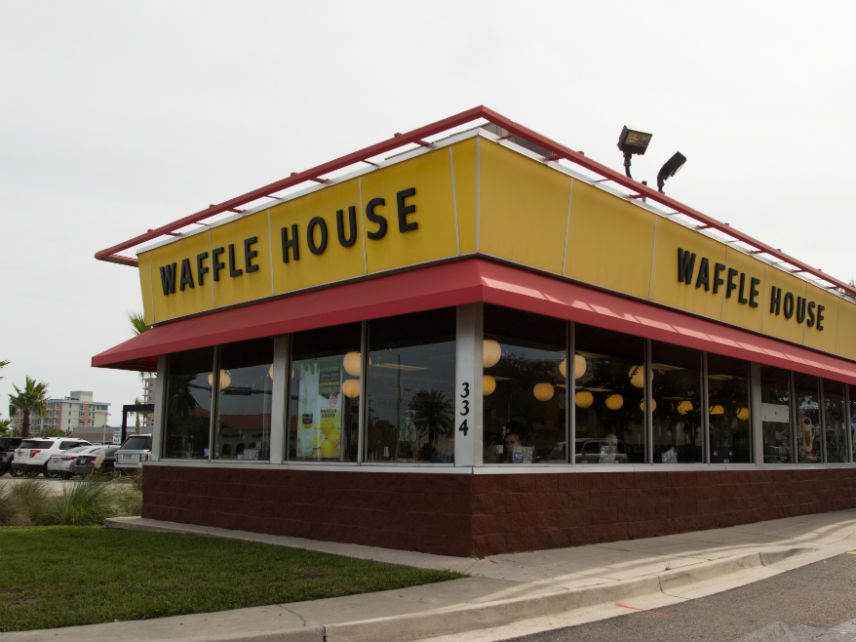 The "Waffle House Index" has become a key part of storm preparedness: When a Waffle House closes in the face of an impending storm, that's when you really need to be worried.
On Tuesday, the breakfast chain posted a picture of the Waffle House Storm Center monitoring Hurricane Florence, which has been upgraded to a Category 4 and could make landfall as a Category 5. (If so, it will be the first storm of that strength in the southeastern coastal region.) A state of emergency has already been declared in the Carolinas and southern Virginia, and a million people have already evacuated their homes.
But those who chose to stay and prepare for the worst can rely on Waffle House, not just for cheap eggs but for important information about the storm:
The ?@WaffleHouse? Storm Center is activated and monitoring #Florence. Plan ahead and be safe. pic.twitter.com/UOBi5oZRRi

— Waffle House News (@WaffleHouseNews) September 11, 2018
As FiveThirtyEight reported in 2016, Waffle House takes its commitment to being open every single hour of the day, every day, very seriously. When a storm is particularly bad, Waffle House provides its employees with a storm manual, which includes instructions on keeping personnel safe and serving up a limited menu of items that can be cooked without power, gas, or water. When a storm is completely devastating, Waffle House will close, usually because the building has been destroyed.
Waffle House's decision to close or remain open also indicates the complexity and length of supply chains for food, fuel, and power. The chain also uses practices like staying close to food depots and having volunteers help keep the restaurants running.
During 2004's Hurricane Charley, the Federal Emergency Management Agency (FEMA) established the color-coordinated Waffle House index: green for operating, yellow for affected, red for destroyed. Disaster responders still use this index to this day.
The Waffle House Index also highlights a stark contrast between the private and public sectors. Even as FEMA takes the index into account, it's highly probable that FEMA itself is not fully prepared for Hurricane Florence. As Reason's Joe Setyon pointed out yesterday, the agency has a long history of giving money to the wrong people, operating with outdated IT systems, and wasting billions on "duplicate payments, unsupported costs, improper contract costs, and unauthorized expenditures." FEMA's own "After-Action Report" concluded that it was unprepared to deal with Hurricane Maria in Puerto Rico, which took the lives of nearly 3,000 people.