Republican Members of Congress Just Sent Jeff Sessions Yet Another Letter Asking Him To Stop Holding Up Marijuana Research
Two years after the DEA announced it would approve new manufacturers of research cannabis, Sessions refuses to explain why he's sitting on the applications.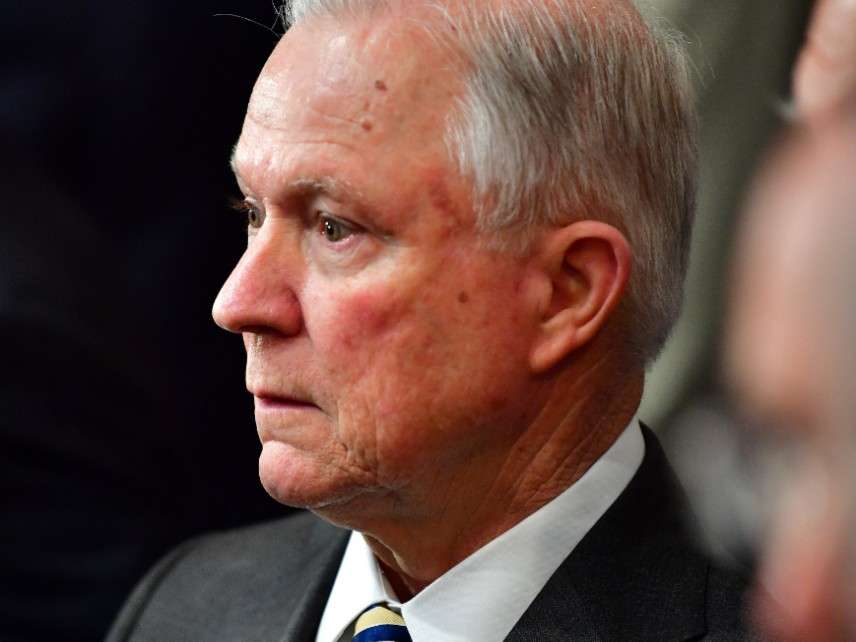 A private letter obtained by Reason shows that members of Congress—both Republicans and Democrats—are still pleading with Attorney General Jeff Sessions to review 26 outstanding applications from potential new manufacturers of research cannabis.
"In light of the fact that August 11, 2018 marked two years since the Drug Enforcement Administration (DEA) stated that they would accept registrations for manufacturers of marijuana for research usage, we write to encourage you to finalize your review of the submitted applications," reads the letter [PDF], which a bipartisan group of House members sent to Sessions on August 31.
The person who provided the document to Reason says it is the latest of at least 15 letters members of both the House and the Senate have sent to Sessions regarding the delayed approval of research cannabis applications. Seven of these letters have been publicly posted or shared by the legislators who signed them; Sessions has also received eight private letters asking for an explanation for the delayed review.
"No one has been answered," the source told Reason.
Fourteen House members signed the Aug. 31 letter, including Reps. Carlos Curbelo (R–Fla.), Matt Gaetz (R–Fla.), Dana Rohrabacher (R–Calif.), Don Young (R–Alaska), Tom Garrett (R–Va.), and Ryan Costello (R–Pa.), along with eight Democrats.
Sens. Orrin Hatch (R–Utah) and Kamala Harris (D–Calif.) also sent a letter to Sessions on August 31 to follow up on a letter they sent April 12, 2018. The April letter, which Reason previously covered, asked Sessions to answer congressional queries about applications to manufacture research cannabis by May 15, 2018. Sessions ignored that deadline, along with another deadline set by Hatch: that the Justice Department resolve 26 pending applications by August 11, 2018, the two-year anniversary of the DEA's announcement.
In short, Sessions has refused not only to allow the DEA to process these applications, but also to explain to Congress, applicants, or the public why he's interfering in regulatory actions that are routine for companies seeking to manufacture schedule I and II substances other than cannabis.
At an April Senate hearing, Sessions said approving new research cannabis manufacturers could violate the United Nations Single Convention on Narcotics. This is almost certainly not true, and several other signatory countries—the United Kingdom and Israel among them—have managed to reconcile their cannabis research policies with the U.N. agreement without stifling innovation or research. To date, this remains the only argument Sessions has publicly offered for interfering in the application review process.
The DEA announced in August 2016 that it planned to approve new producers of research-grade cannabis for use in pharmaceutical development and human studies. Currently, and for the last several decades, the federal government has allowed only one person in the U.S. to produce cannabis for research purposes. That person is Mahmoud ElSohly, a researcher at the University of Mississippi, who grows cannabis under a contract with the National Institutes for Drug Abuse (NIDA). Researchers who are licensed by the federal government to study marijuana in the U.S. must use material obtained only from NIDA, despite credible concerns about quality control and about the agency's ability to provide material that reflects the diversity of products available to consumers in state-legal markets.
ElSohly's monopoly, sustained only by the Justice Department's refusal to approve new applicants, poses an insurmountable obstacle for American academics and drug companies. The Food and Drug Administration will not approve clinical trials using ElSohly's product, which means American companies cannot develop cannabis-based prescription drugs; federal law, meanwhile, prohibits academics from conducting human studies using the cannabis products that are commonly available in retail settings across the country. (Epidiolex, the first cannabis-derived prescription product to gain FDA approval, was developed using cannabis grown legally in the United Kingdom.)
That Americans know so little about a drug as widely consumed as cannabis is almost beyond belief; that Sessions bears some responsibility for the anemic state of U.S. cannabis research is not. But his fellow Republicans seem to be growing tired of whatever game Sessions is playing. To the House members who wrote him on Aug. 31, approving new manufacturers of research cannabis is a no-brainer: "It is good policy, it is simply the right thing to do, and it falls within our national controlled substances regulatory framework."