Ignore the Anthem Outrage Mob, It's Going To Be a Great Year for Football
There are many reasons to be excited about the NFL's return. The national anthem controversy isn't one of them.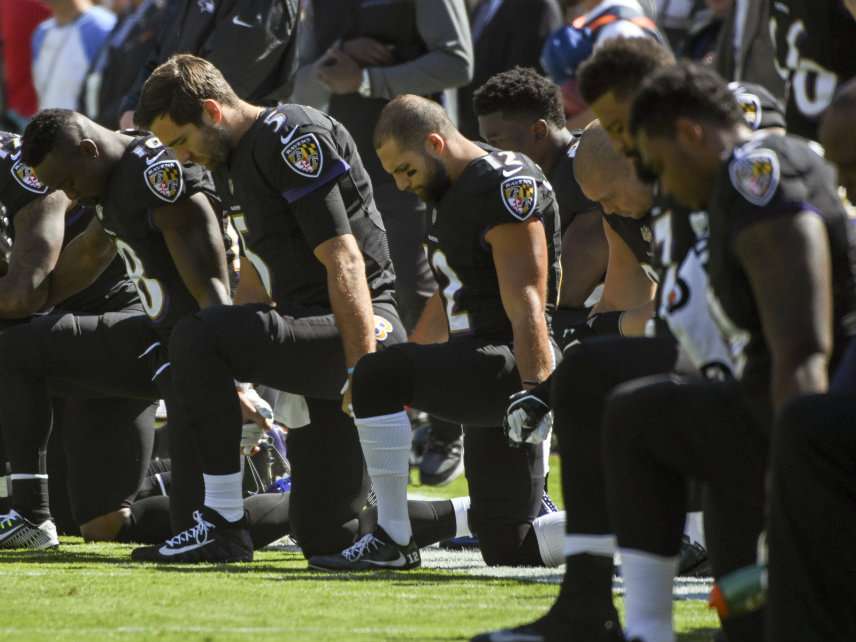 Football fans rejoice: The NFL is finally back.
Well, it technically returned more than a month ago if you count the preseason. (You shouldn't). And we did finally get a taste of the real action on Thursday night, when the Eagles defeated the Falcons 18–12.
But if you—like me—have been counting down the days since February 4, when Tom Brady's last-second heave fell to the ground and the Eagles won their first Super Bowl championship, you're probably excited for Sunday when the season gets underway in earnest.
Unfortunately, the return of football brings with it the return of the national anthem controversy, now entering its third season. It all started prior to a 2016 preseason game, when then-49ers quarterback Colin Kaepernick knelt for the playing of The Star-Spangled Banner. Kaepernick, who was kneeling to protest police brutality against African Americans, kept at it throughout the regular season, and many players around the league joined him.
Many conservatives were, and still are, outraged. Kneeling during the anthem shows blatant disrespect for the American flag and military veterans, they say. Others think differently, and in some circles Kaepernick has been hailed as a hero. The fight has long since ceased to be about the legitimate debate over policing practices, however; it is now the province of partisans and culture warriors.
Still, the controversy likely would have died a lot sooner if not for President Donald Trump. At a rally one year ago for Alabama senatorial candidate Luther Strange, Trump denounced the players who kneel, suggesting they ought to be "fired." Trump continued to insert himself into the debate over the next year, firing off periodic tweets on the issue to remind supporters of his great respect for the military.
Kaepernick, for his part, opted out of his contract with the 49ers (he didn't really have a choice) and hasn't played in the NFL since. He's filed a collusion grievance against the NFL, claiming he's being blackballed, though his detractors say he just isn't good. (In reality, it's probably a little bit of both.)
The NFL, meanwhile, has consistently shown it has no idea how to deal with being at the center of a high-volume, low-content political death match. The league approved then later suspended a policy requiring all players on the field to stand during anthem. This week, the league said in a statement that the "social justice issues" raised by Kaepernick and other kneelers "deserve our attention and action."
That latest statement was prompted by a new Nike ad campaign headlined by Kaepernick. The campaign's motto? "Believe in something. Even if it means sacrificing everything."
As one might expect, Trump has been all over Nike for effectively endorsing Kaepernick. "I don't like what Nike did. I don't think it's appropriate," he told Fox & Friends at a rally Thursday night in Montana. "I honor the flag. I honor our national anthem," he added. Early Friday morning, Trump reiterated those sentiments, tweeting, "What was Nike thinking?"
And Trump's response to the Nike ad campaign was far from the most extreme. Across the country, people decided the best way to stick it to the multibillion-dollar apparel company was to burn their Nike gear—nevermind that Nike already had their money.
And so the controversy rages on. Though it's worth noting that on Thursday night, anthem protests were a non-issue. Two Eagles players, defensive end Michael Bennett and running back Jay Ajayi, sat down right before the song ended, but there was no kneeling.
Though it's not terribly surprising that the outrage continues; fomenting outrage is good politics. Maybe that's why Wisconsin Gov. Scott Walker (R) has taken to tweeting what Reason's Peter Suderman correctly referred to as "inane pablum" about the kneeling players. Walker is facing a tough re-election battle against Democrat Tony Evers, so what better way to rile up the base than by scoring easy political points with some showy rhetoric about being "honorable" and showing "respect?"
Police brutality is a very real problem and football players are right to use their platforms to call attention to it. It's also possible to make a good-faith argument in favor of a league policy that requires players to stand for the anthem. But this entire controversy has come to be defined by unresolvable partisan bickering.
It's a shame really, because there are so many reasons we should be excited for the NFL's return.
All around the league, there are great storylines. Will Andrew Luck return to form after missing all of last season with a devastating shoulder injury? Are the new-look Browns going to build off a disastrous 0–16 season? Can Kirk Cousins turn the Vikings from a playoff contender to the team to beat in the NFC? Will Sam Darnold turn out to be the quarterback the Jets have been searching for since Joe Namath?
Storylines aren't the only thing to get hyped about. There's fantasy football, and gambling too. Plus, thanks to a May Supreme Court ruling, some of those bets might even be legal (though only in certain parts of the country).
While all of those things are great, for many fans, it's simple: After a very long offseason, there's finally something good to watch on Sunday afternoons. And Sunday nights. And Monday nights. And Thursday nights. Baseball is great, but there's only so many times a man can watch the Mets embarrass themselves.
When the NFL games kick off on Sunday afternoon, why not skip the politics and focus on football?