Elon Musk Tokes and Tesla Stock Tumbles
There's not much to say beyond that.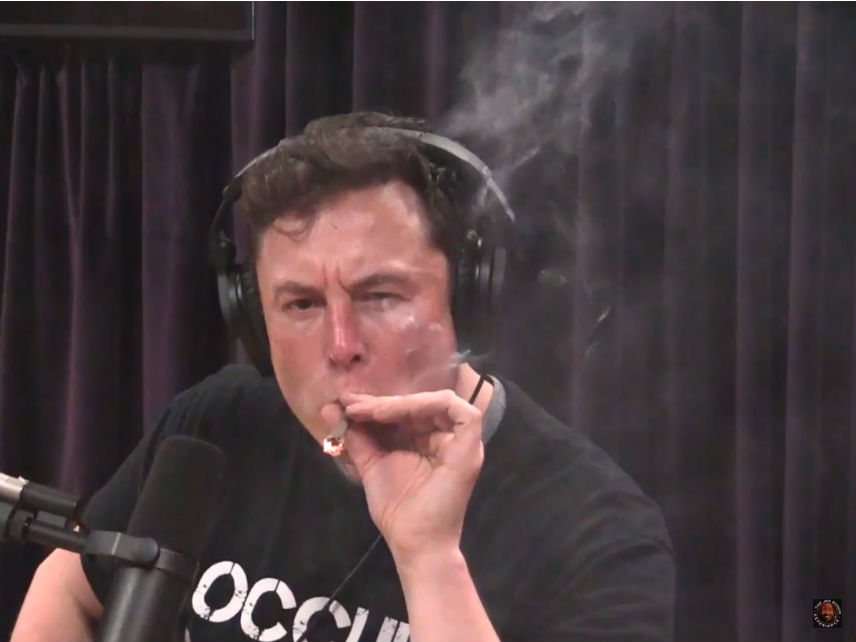 Real-life Tony Stark figure Elon Musk, the CEO of Tesla, followed his free spirit last night by getting a little high on comedian Joe Rogan's podcast.
Rogan pulled out a joint in the middle of the interview, leading Musk to wonder if it was a tobacco cigar or cannabis. Rogan confirmed it was the latter. At one point, Musk inhaled, exhaled, and shrugged the experience off before picking up a glass of whiskey and observing that alcohol is a drug that's "been grandfathered in."
Following Musk's interview with Rogan, as well as the recent resignation of a chief accounting officer, Tesla stock dropped 9 percent.
The moment was rather interesting considering some comments Musk made about marijuana and productivity just a few weeks prior. As noted, Musk once tweeted that he was considering selling shares of his company for $420. As you probably know, the number 420 is popularly associated with smoking pot.
Am considering taking Tesla private at $420. Funding secured.

— Elon Musk (@elonmusk) August 7, 2018
When The New York Times asked Musk if he was smoking when he made the tweet, Musk replied, "Weed is not helpful for productivity. There's a reason for the word 'stoned.' You just sit there like a stone on weed." As for the figure, Musk said that $420 "seemed like better karma" than $419.
OK, then.
Those with over two and a half hours to spare can watch the full interview below. The hotbox begins at 2:09:05.