Trump Cries 'Treason!' Over Anonymous Times Op-Ed: Reason Roundup
Plus: tech stocks fall as government gets grabby and Brett Kavanaugh's weird exchange with Kamala Harris.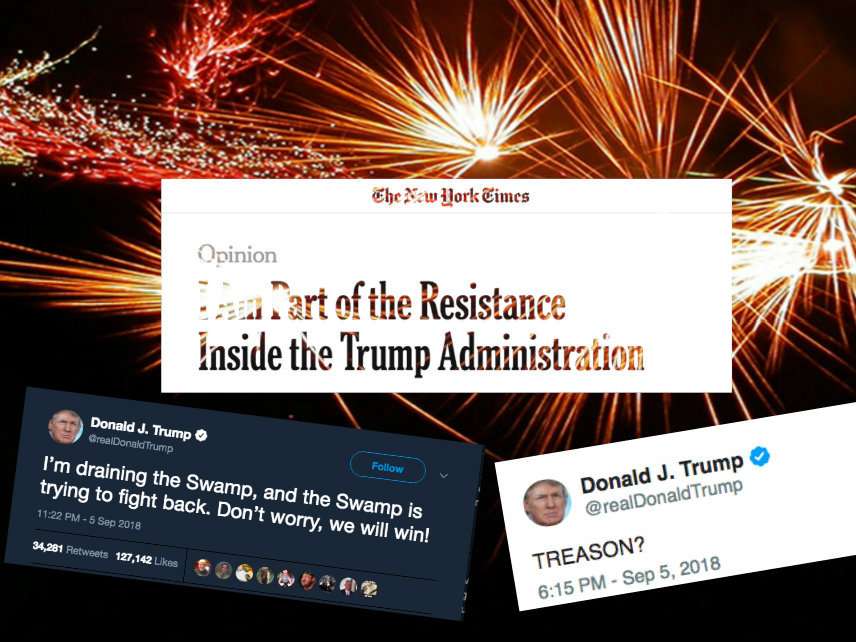 Welcome to the #Resistance, Mike Pence? The vice president is one of many White House higher-ups who have been floated as the likely author of an anonymous op-ed challenging President Trump's competency and authority. Published by The New York Times yesterday, "I Am Part of the Resistance Inside the Trump Administration" has politics-watchers speculating. The op-ed's use of one of Pence's signature words ("lodestar") could be an unintended tell, or an intentional misdirection. Pence is now the leading candidate for "White House mole behind the anonymous bombshell" on betting site MyBookie (markets in everything!).
Within a few hours of the piece's publication, Trump responded, telling a sheriff's conference "someday when I'm not president… The New York Times and CNN and all of these phony media outlets will be out of business. … They don't like Donald Trump and I don't like them because they're very dishonest people." He tweeted a clip from the speech with the caption "The Failing New York Times!" and followed it up with, simply:
TREASON?

— Donald J. Trump (@realDonaldTrump) September 5, 2018
A bit later, Trump was back, asking "Does the so-called 'Senior Administration Official' really exist, or is it just the Failing New York Times with another phony source? If the GUTLESS anonymous person does indeed exist, the Times must, for National Security purposes, turn him/her over to government at once!"
I'm draining the Swamp, and the Swamp is trying to fight back. Don't worry, we will win!

— Donald J. Trump (@realDonaldTrump) September 6, 2018
This morning, Trump blamed the "Deep State and the Left, and their vehicle, the Fake News Media," for slandering him out of anger because he was doing so awesome at being president ("The economy is booming… soon TWO Supreme Court Justices & maybe Declassification to find Additional Corruption. Wow!). This seems, like so many of the president's tweets, to have been inspired by him watching Fox News. Trump's next weet cited Fox host Maria Bartiromo staing that the amazing "economic success" story of the Trump administration was "unnerving his detractors."
Outside Trump's safe space, the anonymous op-ed helped those making the case for his impeachment. "If the president's closest advisers believe that he is morally and intellectually unfit for his high office, they have a duty to do their utmost to remove him from it, by the lawful means at hand," writes David Frum at The Atlantic.
Others kept cooler heads. "It's becoming hard to get excited about every anonymous White House official who regales a reporter with tales of how they're nobly fighting to keep President Trump from destroying the country," writes Margaret Hartmann at New York. But at least the latest one had spawned "a new parlor game not unlike the decades-long quest to identify Deep Throat." Alas, "working in the Trump administration is an unrelenting nightmare, so everyone is a suspect."
(Or, as Jesse Walker quipped: "It's cool that the rest of us get to play our own who-is-Q game too.")
Highest-ranking person who meets the criteria — regulatory expertise, think tank background, libertarian exposure, likely anger at Trump's violations of norms — is Trump's "regulatory czar" Neomi Rao, appointed in April 2017.

Just speculation. But she checks several boxes. /3

— Radley Balko (@radleybalko) September 6, 2018
Other speculation has focused on the motive: Is the person about to be ousted, and thus looking to put some ideological distance between them and their odious boss? Pleading with Congressional Republicans for more serious impeachment considerations? A double-cross designed to confirm pro-Trump tales of a Deep State conspiracy against him?
I've gotta say, if you were really concerned about protecting the country from an erratic Trump—rather than, say, trying to pre-salvage your post-administration reputation—you probably wouldn't write something like this given its predictable consequences. https://t.co/ScTtp4oyiC

— Julian Sanchez (@normative) September 5, 2018
Read Nick Gillespie's take here. In short: "The anonymity of the author will only work to harden Trump loyalists and members of the so-called resistance."
We did like the anonymous author's invocation of free minds and free markets, however…
But the classical-liberal-saving-democracy pose is a little questionable in light of the author's stated position. "The irony in the op-ed from the NYT's anonymous WH coward is glaring and massive," tweeted Glenn Greenwald. The writer "accuses Trump of being 'anti-democratic' while boasting of membership in an unelected cabal that covertly imposes their own ideology with zero democratic accountability, mandate or transparency."
And as writers such as Michael Tracey and Rania Khalek have pointed out, the more "grown-up" conservatism championed in this op-ed and by other traditional Republicans is very often wrapped up in a desire for more interventionist foreign policy.
The "adults in the room" have been consistently guiding Trump toward more aggressive foreign policy, and when they're successful at this the media cheers

— Michael Tracey (@mtracey) September 5, 2018
FREE MINDS
Kavanaugh confirmation hearings enter day three. An exchange between Supreme Court nominee Brett Kavanaugh and Sen. Kamala Harris (D-Calif.) became one of the biggest moments from day two of Kavanaugh's confirmation hearings yesterday. Harris asked whether Kavanaugh, while a judge, had ever talked about the Mueller investigation with a lawyer from the law firm that has long represented President Trump. From Politico:
"Be sure about your answer, sir," Harris asked Kavanaugh. Trump's high court pick appeared nonplussed, responding that "I'm not sure I know everyone who works at that law firm," but the California Democrat…would not let up.

"How can you not remember whether you've had a conversation about Robert Mueller or his investigation with anyone at that law firm?" Harris asked, suggesting that Kavanaugh was "thinking of someone and you don't want to tell us."…

Harris offered no further context for her line of questioning with Kavanaugh, which suggested that he may have discussed an investigation affecting Trump with Trump-connected lawyers but lacked any solid proof.
The exchange went on for nearly eight minutes, notes Chris Geidner at Buzzfeed. "Is there a person you're talking about?" Kavanaugh asked. Harris demanded a yes or no answer.
"I'm not sure I know everyone who works at that law firm," Kavanaugh replied, later adding "I'm not remembering, but I'm happy to be refreshed, or if you want to tell me who you're thinking about." Harris asked him how that was possible, since Mueller's "investigation has only been going on for so long." From Buzzfeed:
At one point, Sen. Mike Lee objected, saying that "there are a lot of people who work at a law office" and questioning whether Kavanaugh could be presumed to know everyone who works at a given law firm.

During his objection—as has happened throughout the proceedings—a pair of protesters stood up in the audience to object to the Senate's consideration of Kavanaugh's nomination until they were arrested and removed from the room by US Capitol Police.

After the hearing concluded for the night, a Democratic aide said that they "have reason to believe" that a conversation happened and they "are continuing to pursue it."
FREE MARKETS
Tech stocks fell as Facebook COO Sheryl Sandberg and Twitter CEO Jack Dorsey testified before Congress about election interference and government regulation https://t.co/sTJu9nNDSI pic.twitter.com/jxQruhFmTD

— CNNMoney (@CNNMoney) September 5, 2018
QUICK HITS
"In some ways, social media platforms have become a victim of their own claimed ability to find and remove speech," writes Faiza Patel.
"Normally, democratic governments that wish to prevent speech must publicly identify the speech and speaker they wish to censor and convince a neutral decision-maker that they have met the applicable legal standard — a tough sell under free speech principles. But governments are now incentivizing tech companies to remove certain speech, either directly through regulation or indirectly through political bullying. Government attempts to influence the information the public sees are being moved into mostly secret corporate processes. Equally important, the check provided by judicial review is eliminated. These moves exacerbate already serious concerns about the control that social media platforms and search engines already exercise over information and communication."