The Senate's Driverless Car Bill Is Broadly Deregulatory and Promisingly Bipartisan. Naturally, It's Going Nowhere.
Tepid attempts at loosening federal regulations have crashed into senatorial intransigence.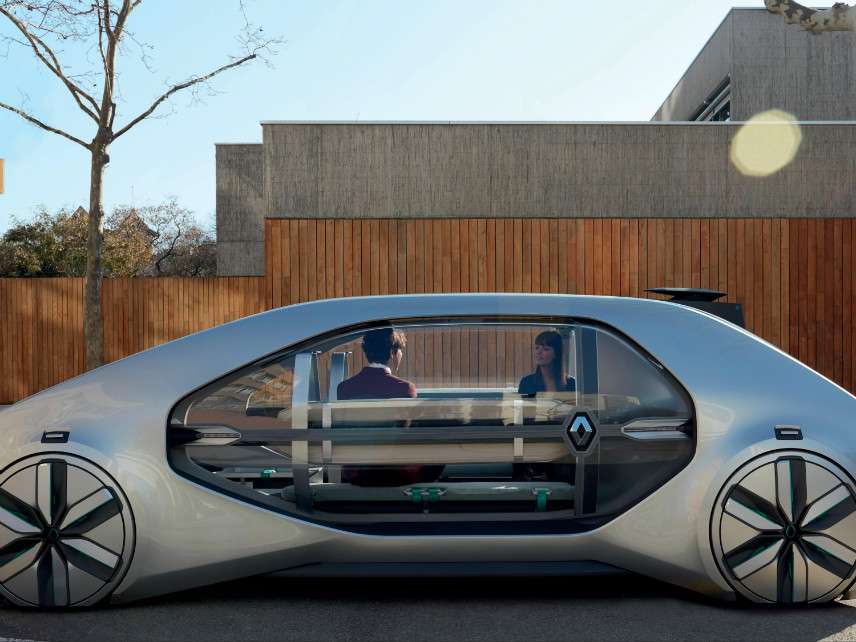 Congress was trying to remove roadblocks to the rollout of driverless cars. But the effort has stalled, as a once strong bipartisan consensus in favor of the technology has given way to hyperactive safety fears.
Back in September 2017, Sen. John Thune (R–S.D.) introduced the America Vision for Safer Transportation through Advancement of Revolutionary Technologies (AV START) Act. In brief, the bill would preempt state-level vehicle design standards in favor of federal regulation, instruct federal bureaucrats to identify and repeal existing vehicle standards that are inapplicable or needlessly burdensome on the development of self-driving cars, and let the Department of Transportation grant exemptions to federal vehicle safety standards for up to 100,000 vehicles per manufacturer.
All things considered, this was a pretty sensible approach. It would allow manufacturers to bypass regulations that make no sense for driverless cars (like where steering wheels and rearview mirrors have to go) while also preventing a patchwork of state regs for vehicle design.
"If you had 50 different requirements, what would carmakers do? How would you build a car?" asks transportation analyst Baruch Feigenbaum of the Reason Foundation (the nonprofit that publishes this website).
It was a pretty popular approach—at first. Thune secured the co-sponsorship of two Senate Democrats, and he had the support of major auto and tech companies. A companion House bill even managed to pass by voice vote with heavy bipartisan support.
All this made the AV START Act a pretty rare gem: a broadly deregulatory bill with bipartisan and industry support and a high chance of passing.
Naturally, it's gone nowhere.
Primed to oppose the bill were groups like National Governors Association and the League of Cities, which fretted that it would do too much to limit their traditional abilities to regulate traffic and road safety.
Also opposed was Sen. Diane Feinstein (D-Calif.), whose state already has regulations that would be preempted under the AV START Act. "I'm strongly opposed to it," Feinstein told Bloomberg in December 2017. "I do not want untested autonomous vehicles on the freeways which are complicated, move fast and are loaded with huge trucks."
Then came the now infamous incident in Tempe, Arizona, where an Uber vehicle hit and killed a pedestrian. The car had a human driver but was operating in autonomous mode. The crash made already risk-adverse senators weary of pressing forward with the bill, and it amplified the safety concerns of its critics.
Since March, a small clutch of senators—including Feinstein, Kirsten Gillibrand (D–N.Y.), Richard Blumenthal (D-Conn.), Ed Markey (D-Mass.), and Tom Udall (D–N.M.)—have managed to keep the legislation from coming to the Senate floor for a vote. (If it gets to the floor, it almost certainly will pass.) Meanwhile, Ralph Nader has savaged the bill in a Wall Street Journal op-ed, writing that it would "increase risk and recklessness and destroy the trust of the motoring public."
Feigenbaum says that Nader and other safety advocates are "trying to solve a problem that doesn't exist"—literally. They want to craft regulations for potential future safety and cybersecurity issues, rather than the problems that exist now. Trying to regulate away these potential harms risks strangling the industry in its crib, Feigenbaum says.
Nevertheless, the bill looks increasingly likely to wither on the vine. An attempt earlier this year to fold the AV START Act into a reauthorization of the Federal Aviation Administration came to naught, as did a July letter from more than 100 organizations—everyone from General Motors and Intel to Mothers Against Drunk Driving—urging Congress to prioritize the bill.
If something like this is too deregulatory for our current Congress, it's fair to wonder what wouldn't be.