Kavanaugh Hysteria Enters Day Two: Reason Roundup
Plus: Twitter bias on trial today and China doesn't need our soybeans.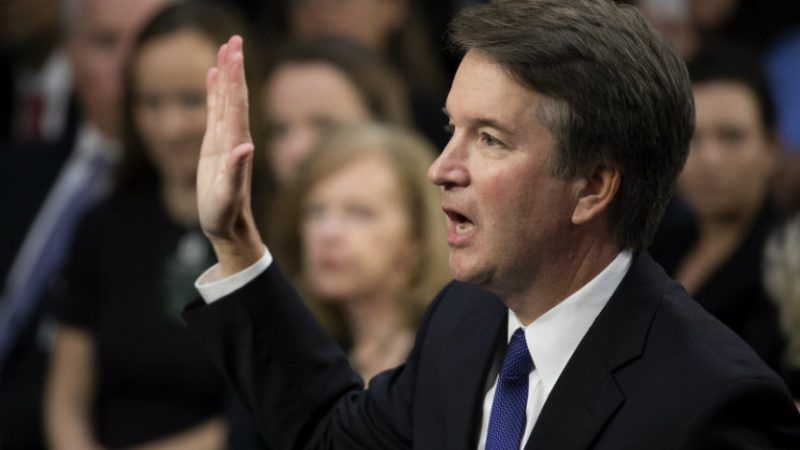 (Alex Edelman - CNP/Sipa USA/Newscom)
Brett Kavanaugh confirmation hearings enter their second day. If they're anything like the first, we can expect some substantive material mixed in with a lot of weirdness, theatrics, and projection.
Sen. Ben Sasse gave the best speech of the day yesterday, decrying the "fundamental misunderstanding of the role of the Supreme Court in American life now." Sasse lamented that our "political commentary talks about the Supreme Court like they are people wearing red and blue jerseys. That's a really dangerous thing." He was of course pilloried by progressives for using the word hysteria in his speech. (Watch the whole thing here.) But hysteria is exactly the right word.
The hearings were flanked by protesters, including some dressed in the (now de riguer for the fashionable female demonstrator) red Handmaid's Tale cloaks. Josh Nelson—head of the group CREDO Action, which has also been driving anti-Kavanaugh billboard trucks around Capitol Hill for eight hours a day—was allegedly "dragged" out after shouting that the public questioning of a Supreme Court nominee by elected officials was "an attack on democracy" that needed to be shut down.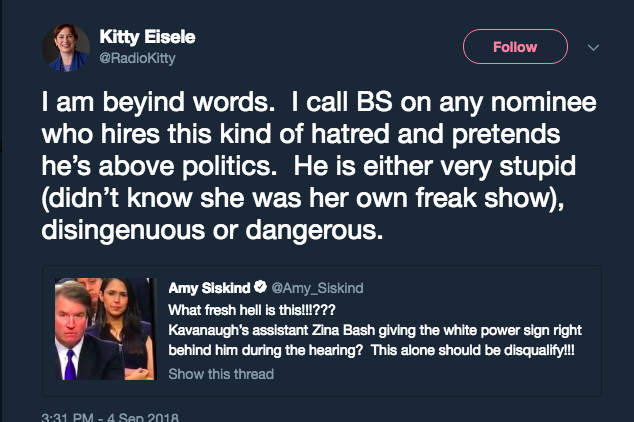 He was far from the only one to interrupt the hearings with shouty and often incoherent complaints. (Actress Piper Perabo was also among those ushered out.)
Meanwhile, the way the woman behind Kavanaugh was resting her hand became fodder for some truly ridiculous fearmongering. The woman—Kavanaugh assistant Zina Bash, who is half Mexican and whose Polish grandparents survived the Holocaust—was accused by prominent activists, academics, and media of secretly signaling that she stood for white supremacy, by making what was once perceived as an "OK" hand gesture until 4chan trolls convinced certain folks that it was really code for white nationalism.
Whether Bash was secretly signalling Kavanaugh's true colors (she wasn't) became a major focus of coverage and conversation around the first day of the confirmation hearings.
The attacks today on my wife are repulsive. Everyone tweeting this vicious conspiracy theory should be ashamed of themselves. We weren't even familiar with the hateful symbol being attributed to her for the random way she rested her hand during a long hearing. 1/3

— US Attorney John Bash (@USAttyBash) September 4, 2018
Read more about the meat of yesterday's hearings in recent Reason posts from Damon Root ("Jeff Flake Says He'll Ask Brett Kavanaugh About Donald Trump's Constitutional Flaws" and "Brett Kavanaugh Praises Anthony Kennedy's 'Legacy of Liberty'"), John Stossel ("Libertarians should be happy about Trump's SCOTUS pick"), and Volokh Conspiracy bloggers Ilya Somin ("Kavanaugh Is Well Within the 'Mainstream'—but 'Mainstream' Isn't Always Good") and Gail Heriot ("Sen. Durbin's Attack on the Federalist Society at the Kavanaugh Hearing Is Silly").
FREE MINDS
Twitter and Facebook executives are being summoned before Congress, this time to testify on foreign election ads and influence (again) and alleged bias by Twitter against conservatives.
Sen. Mark Warner (D-Va.)—the one recently circulating inane internet regulation proposals—said that it "will be a successful hearing [before the committee] if coming out of this are three or four notions on how we're going to be better prepared. What are the guardrails that should or could be put in place to make sure that Americans may think twice before they believe the validity of a post?"
FREE MARKETS
"China doesn't need U.S. soybeans." That is Beijing's message for us as Trump's trade war rages, and U.S. farmers starting to freak out, reports Time.
"If the trade tensions cannot be resolved quickly, the decrease in purchasing volumes of American soybeans will continue," said Mu Yan Kui, a grain-company exec and vice chairman of China National Association of Grain Economy. "Many people have underestimated the Chinese people."
QUICK HITS
-Wolff wrote a gossipy and salacious book full of unsourced information.
-Omarosa is a savvy publicity-hound & disgruntled employee who says anything to get attention.
-Woodward is a respected, ethical and serious journalist w/decades of credibility. Therein lies Trump's problem.

— Ana Navarro (@ananavarro) September 5, 2018
"Prosecuting homeless people for sleeping on public property when they have no access to shelter violates the Constitution's ban on cruel and unusual punishment," the Los Angeles Times reports of a new federal appeals court decision.
A sexual assault charge against Kevin Spacey has been dropped.
There is a myth out there that the country is evenly divided on the question of abortion. That's a lie. https://t.co/nuGVxgbU4g

— Ryan Grim (@ryangrim) September 4, 2018