Huge North Carolina Fentanyl Bust Turns Out To Be 13 Pounds of Sugar
The New Hanover County Sheriff's Office made a mistake.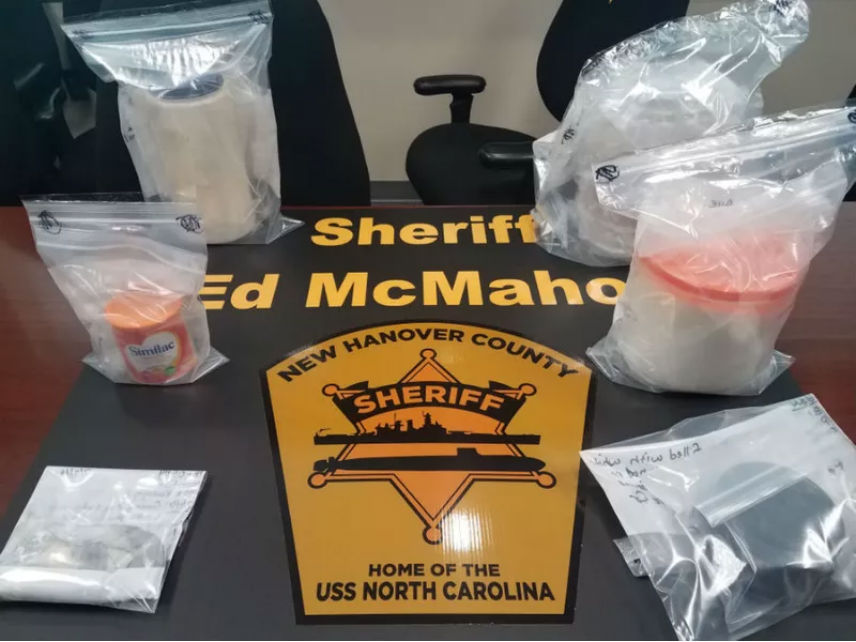 In July, New Hanover County Sheriff's Office (NHCSO) made a big fuss about a huge fentanyl bust.
Sheriff Ed McMahon proudly boasted "one of the largest seizures in the state" after the NHCSO's Gang Task Force seized an estimated $2 million worth of 'the deadly opioid fentanyl' during a raid. Three Wilmington residents were arrested as a result. "When you think about this poison—this fentanyl—one grain can kill you," McMahon said. "Our detectives are having to gear up with all this safety equipment before we go in. Once they get in, if we find something—any kind of drugs that we think may be fentanyl—we stop, we have to get our CSI team to come in and we test that in a lab now under special conditions. So we do all that, it makes it that much more dangerous for our local law enforcement officers."
Months after McMahon made his alarming statements, Lt. Jerry Brewer announced that a private lab found the "fentanyl" was actually "a combination of simple and complex carbohydrates." In other words: sugar.
The false positive came from a field test kit used by CSI in the bust. The field test kit was invented and administered by Scott Company Drug Testing, which was founded by a retired DEA agent and forensic chemist. According to its website, the field test kit uses "reagents that have held up in court since 1978." The company also assures the integrity of officers and their investigations. Despite this promise, Brewer confirmed that it was in fact possible for the field test kit to make false identifications of fentanyl, as it had in this case.
In a four-page release to WECT, the company said, "Under certain circumstances, sugar substances can mimic a false positive result." The company also stated that it would be providing more training about the nature of "presumptive tests," on which the kit relies, and confirmatory tests, which uses additional measures to make conclusions about a substance.
This is not the first time a false positive in a field test kit led to a drug arrest. A 65-year-old retiree, Daniel Rushing, was awarded $37,500 from the city of Orlando, Florida, after being pulled over in a traffic stop by police. An officer used a field test kit to test the white substance present in his vehicle. After officers first tried to identify the substance as crack cocaine, they eventually arrested Rushing for the possession of methamphetamine "with a weapon," despite the fact he legally possessed a concealed carry in his vehicle. A lab test later revealed that the suspicious white substance was glaze from the doughnuts Rushing ate in his vehicle.