5 Cops Were 'Justified' in Brutal Beating of Unarmed Black Man, Investigators Say
His crime? Refusing to sit down.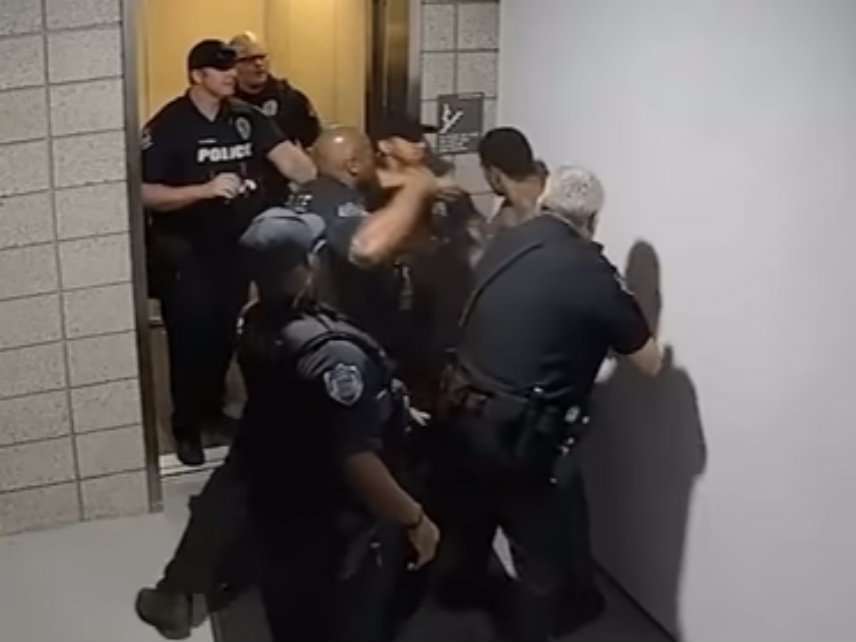 Five Phoenix-area cops won't be charged for beating an unarmed black man in a May incident that was captured on video. According to an outside police investigation, "the use of force was legally authorized and justified under Arizona State Law."
On May 23, Mesa Police Department officers responded to a call from a woman who claimed her ex-boyfriend, Erick Reyes, was trying to break into her apartment. When police arrived at her apartment complex, they found Reyes and his friend, 33-year-old Robert Johnson.
Surveillance footage shows Johnson, who lives in the complex, talking on his cellphone before being approached by several officers. The cops searched his pockets (they had heard there could be a weapon on the scene), while Johnson continued his phone call. Then, they motion for him to sit down. In police body camera videos, the officers can be heard repeating this request, CNN reports. While Johnson leaned his back against the wall, he didn't completely sit down.
At that point, four of the officers (later joined by one of their colleagues) attempted to take him down. They punched him in the face, kneed him, and tackled him to the ground. "Sit your ass down, motherfucker," one officer can be heard saying during the altercation, according to The Arizona Republic. "See what happens," one of the officers says.
Surveillance footage of the incident can be seen below:
Why did five cops feel the need to beat an unarmed man? One of the officers claimed Johnson was being confrontational. "Johnson's body language was projecting he was preparing for a physical altercation," the officer wrote in his police report.
Johnson was later charged with disorderly conduct and hindering police, but the charges were dropped in mid-June.
Following the incident, Mesa Police Chief Ramon Batista said he was disturbed by this case and another in which officers roughed up a 15-year-old armed robbery suspect after he was already in handcuffs. That incident was also caught on video.
"Let me be crystal clear, I'm angry and I'm deeply disappointed by what I saw in those videos. It's unacceptable and it needs to stop immediately," Batista said. "It's essential when this community interacts with our officers they are treated with the utmost professionalism, no matter the situation. Quite honestly, that's not what I saw in those videos and that will change."
The five officers accused of beating Johnson were placed on administrative leave, and Batista asked the Scottsdale Police Department to investigate their conduct. In a statement released yesterday, investigators said they "thoroughly reviewed eight On Body Camera videos which consisted of just over two hours of footage as well as the apartment complex surveillance video." But they could find no criminal wrongdoing. Scottsdale police shared the results of their investigation with the Maricopa County Attorney's Office, who agreed that the incident doesn't warrant criminal charges.
Benjamin Taylor, an attorney for Johnson, blasted the results of the investigation. "When officers can get away with assaulting citizens, people in our community will lose trust in them and our justice system," Taylor said in a statement. "The whole world saw the beating Mr. Johnson took at the hands of these Mesa Police Officers."
Another of Johnson's lawyers, Joel Robbins, says "the only justice" his client will receive "is from a civil jury."
The officers involved in the beating, meanwhile, are still on administrative leave.