Asia Argento's Time Is Up
A tale of fame, fallacy, and the perils of good intentions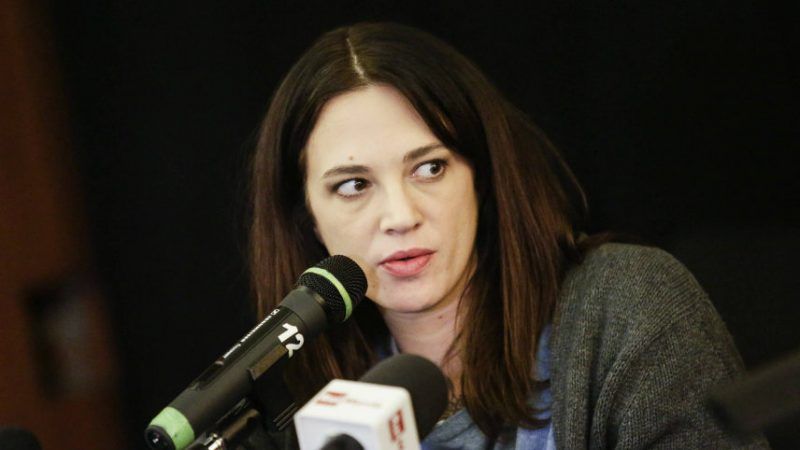 (Lapone/Fotogramma/Ropi/ZUMA Press/Newscom)
It is 2003, and I am at a penthouse at Chateau Marmont, covering the wrap party for The Heart is Deceitful Above All Things. Based on a book of stories by JT LeRoy, the film is directed by and stars Italian actress Asia Argento, as a truck-stop hooker. She dresses her young son, played by 7-year-old Jimmy Bennett, as a girl, rouges and lipsticks him, and, as these things go, is complicit in the boy being raped by a character Argento is sleeping with.
Tonight at the Marmont, Bennett lies entangled on the bed with Marilyn Manson. They are a passive centerpiece to those on the room's periphery—Jerry Harrison from Talking Heads, Sharon Osbourne cursing in the doorway, Sonic Youth's Kim Gordon—who have for years have turned out to support LeRoy, the teenage transgender drug-addicted hooker whose literary star rose so improbably in the early '00s. He is a survivor, a fragile one; Lou Reed and Winona Ryder do readings on his behalf. JT at this moment, dressed per usual in Andy Warhol white wig, sits drunk and crumpled in the corner of the room, until a woman with flame-red hair and kabuki make-up orders him to stand up and have his picture taken, after which he slumps back down.
The woman is Laura Albert, who will soon be exposed as a literary hoaxer, the person who wrote the books and spoke on the phone to the famous in the voice of JT, who drafted her young sister-in-law as his body double, who confected the damaged, outré, beautiful victim that proved irresistible to the cognoscenti. When they find out, they will be angry.
But not tonight. Tonight, Laura holds my hands and says she wants me to write about JT. Argento sneers when I ask whether she can prove JT is real. No grown up that I can see is watching out for Bennett, who looks as unmoored as your average 8-year-old would at 10 p.m., with a man with one blue eye and one black rearranging your limbs just so.
It is 2007, and Laura Albert is telling me "the whole JT thing" was just a bit of fun, how when "we went to the New York Post and we told them Asia Argento was pregnant with JT LeRoy's baby, we did that with Asia on the phone." Albert laughs when she says this. Less fun is the betrayal people tell Albert they now feel, for having offered sympathy and support to JT, someone they saw as a victim. Albert dismisses their concerns, saying she felt just as deserving of love as the character she created, and, while she was never able to substantiate the abuse she said she endured at the hands of various people as a child, she did at the time she created JT weigh 320 pounds and feel suicidal and as far as she is concerned, it should not matter if the person you're helping is not the person you think he is.
It is July 2016, and Argento tells The Guardian that she had been completely tricked by Laura Albert. "I'm a fool! How could I not see it? It made me feel worthless to be honest….I was fucking manipulated."
It is September 2016, and Argento tells The New York Times, in regard to Albert having secretly taped their phone conversations about the hoax and used them in the documentary Author: The JT LeRoy Story, "This is downright evil and disturbing….I am very angry."
It is October 2017, and Argento tells Ronan Farrow, writing for The New Yorker, that when she was 21, a producer brought her to what she thought would be a party in the French hotel room of Harvey Weinstein. There was no party and, after the producer left, she was alone with Weinstein. He was wearing a bathrobe and asked her to give him a massage. She did, after which she reluctantly let Weinstein perform oral sex on her.
"The thing with being a victim is I felt responsible," she tells Farrow. She also tells Farrow that for years she continued to have consensual sex with Weinstein because, well, victimology is complicated. Still, she can say today that the whole thing created "horrible trauma….I've been damaged." Farrow will go on to win a Pulitzer for his reporting, and Argento and others, notably actress Rose McGowan, who alleged that Weinstein raped her in 1997, will be celebrated for speaking out. Both women explain they did not come forth sooner because they feared, with cause, professional sabotage and personal retaliation from Weinstein. Both become figureheads of the burgeoning #MeToo movement.
Argento is celebrated not least by her boyfriend Anthony Bourdain, who had fallen in love with her on-air during the filming of a 2016 episode of Anthony Bourdain: Parts Unknown. Bourdain heralds Argento's bravery; he has her direct an episode of his show, and tells the Hollywood Reporter in May 2018, "As you might have guessed, I already have an Asia Argento tattoo."
It is June 8, and Anthony Bourdain is found dead in a hotel room in France; he had hanged himself with the belt of his bathrobe. Argento tweets later that day, in part, "He was my love, my rock, my protector. I am beyond devastated." On June 11, Rose McGowan speaks for her friend, a letter posted in The Hollywood Reporter that begins, "Sitting across from me is the remarkable human and brave survivor, Asia Argento, who has been through more than most could stand, and yet stand she does. She stood up to her monster rapist and now she has to stand up to yet another monster, suicide. The suicide of her beloved lover and ally, Anthony Bourdain. I write these truths because I have been asked to." Perhaps as a way to preemptively stave off criticism of Argento seen in more-than-chummy photos with another man several days earlier, McGowan adds, "Anthony and Asia had a free relationship, they loved without borders of traditional relationships."
Argento receives an outpouring of sympathy and support. But not from Leah McSweeney, who, writing for Penthouse on June 27, calls what "unfolded in the wake of Bourdain's death a display of chronic, predatory narcissism from Argento and McGowan. These two women have used and abused the #MeToo movement—which they have been at the front lines of since the beginning—for their own personal gain."
It is Sunday, August 19, and the Times publishes an article claiming that Argento had sex with Jimmy Bennett in 2013, when the boy was 17. (The age of consent in California is 18.) Argento was 37 when she had Bennett meet her in a hotel room, sent away the relative who had driven him, gave the boy alcohol, and performed oral sex on him. Afterwards they had intercourse. She then had him take some photos. The piece includes the information that in November 2017 Bennett demanded from Argento $3.5 million "in damages for the intentional infliction of emotional distress, lost wages, assault and battery."
On Tuesday Argento releases a statement in which she maintains she said "I have never had any sexual relationship with Bennett" and that an arranged $380,000 in payments to Bennett, whose acting prospects had dried up, was something, "Anthony [Bourdain] personally undertook to help Bennett economically, upon the condition that we would no longer suffer any further intrusions in our life." There is online hypothesizing that perhaps this was what Argento meant when she called Bourdain her rock and protector; also, some revulsion at Argento shunting responsibility to her dead boyfriend.
On Wednesday, TMZ releases texts between Argento and a friend from two days earlier, in which Argento wrote, "I had sex with him it felt weird. I didn't know he was a minor until the shakedown letter." There is a selfie purportedly taken at the time of the encounter, showing Argento and Bennett unclothed, in bed, looking decidedly post-coital.
Argento's situation causes cultural handwringing and confusion and think pieces aplenty. Two editors at New York magazine's The Cut have an anguished tête-à-tête about Argento and #MeToo. ("I feel like screaming, THIS DOESN'T MEAN ALL RAPE ACCUSATIONS ARE FAKE!'") Bari Weiss at The New York Times opens an essay about women and agency, "Women are hypocrites. Women are opportunists. Women are liars. They are abusers and bullies and manipulators. They are capable of cruelty, callousness and evil. Just like men." S.E. Cupp writes in the NY Daily News: "#MeToo must not flinch in face of allegations against Asia Argento: Abuses of power are wrong no matter who commits them."
On Twitter, Rose McGowan defends her friend: "I got to know Asia Argento ten months ago. Our commonality is the shared pain of being assaulted by Harvey Weinstein. My heart is broken…" And, in a separate tweet, "None of us know the truth of the situation and I'm sure more will be revealed. Be gentle." Perhaps she got some pushback. "Oh for fuck's sake I'm not defending," was her next (and thus far final) tweet on the situation.
Bennett, through his attorney, says that he had been "afraid and ashamed" to speak out prior to November 2017; prior, also, to Argento receiving a lot of sunshine as a leading figure in the #MeToo movement and having a rich boyfriend.
As of Tuesday night, Argento goes to ground.
Also on Tuesday, Laura Albert noses back on the stage, tweeting and posting on Facebook, in part, "I claim BS on you Argento! I might be the one person not scared of you. I know, as do many others, what went down on The Heart is Deceitful set and in Italy, etc. I might have been slamming gelato, but you were slamming something else… I also remember the line from my books you loved, 'Everybody needs someone to know who they really are.' I KNOW who you REALLY are. You have no business trying to co-opt a movement that you participated in with glee…Your time is up."