Are Schumer and Trump Teaming Up To Give an Obama NLRB Nominee Another Term?
Free market groups urge Trump to reject a possible deal with Senate Dems to keep Mark Pearce on the board.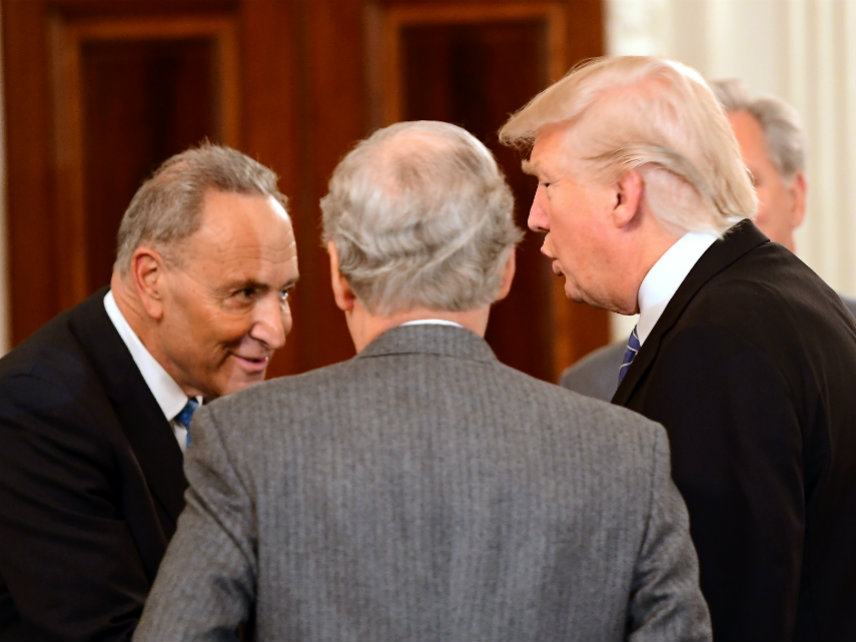 When a contract between the Hyatt Regency Waikiki, a Honolulu hotel, and a local labor union lapsed in January 2010, some workers took the opportunity to jump ship. They stopped paying union dues—as federal labor law say all unionized workers have the right to do during a contract hiatus—and did not resume paying dues until August 2013, when Unite Here Local 5 secured a new exclusive contract with the hotel.
Then, the union sent each of those employees a bill for more than $1,200 in unpaid dues. When they didn't pay up, the union convinced the hotel to garnish the workers paychecks and direct $62.50 each week to the union's coffers.
The matter eventually ended up in front of the National Labor Relations Board (NLRB), which concluded that the union had done nothing wrong.
But when that matter ended up in an actual courtroom—in front a three-judge panel at the U.S. Court of Appeals for the District of Columbia—the NLRB's thumbs-up to union intimidation was torn to shreds. The letter demanding unpaid dues was clearly intended "to coerce or restrain the objecting Hyatt employees in the exercise of their statutory right to limit their association with the union," wrote Judge Patricia Millett, who ruled in June of this year that the NLRB's decision in the union's favor "is legally unsupportable."
One of the authors that legally unsupportable NLRB decision was Mark Pearce, a New York labor attorney appointed to the NLRB by President Barack Obama in 2010. Pearce, who chaired the NLRB from 2011 through 2017, also drew conservatives' ire over high profile NLRB rulings that allow unions to accelerate the timeframe for workplace elections and that forced employers to turn over employees' personal information, including addresses and phone numbers, to union organizers.
Pearce's second term on the board will expire next week, providing Pres. Donald Trump with what seems to be an easy opportunity to remove him, strike another aspect of Obama's legacy from the books, and appoint a more worker-friendly candidate. But, surprisingly, there are indications that Trump might re-up Pearce for another five-year term on the board—as a favor to Senate Minority Leader Chuck Schumer (D-N.Y.).
The deal that seems to be emerging is a sort of quid pro quo agreement that would see Democrats agree not to block Trump's nominees to a handful of Department of Labor posts in exchange for giving Pearce another term at the NLRB. Neither the White House nor Schumer's office has confirmed that the deal is in the works, but business lobbyists tell Bloomberg Law that the horse trading is underway.
While the NLRB has a 3-2 Republican majority right now, business groups and free market organizations are raising red flags about Trump's apparent plan to keep Pearce on the NLRB. In a letter sent Thursday to the White House, groups including the Competitive Enterprise Institite, the Club For Growth, and FreedomWorks say "all stakeholders governed by the NLRB—workers, employers, and unions—deserve better than an NLRB member who ignores facts and issues decisions that are legally unsupportable."
"President Trump should resist cutting a deal with Senate Democrats that involves renominating Mark Pearce. He has demonstrated an unwillingness to put aside his personal pro-union views and acted in a manner that conflicts with the role of an NLRB member, which is to represent the public interest in labor disputes," the letter argues.
The Wall Street Journal has editorialized against giving Pearce another term, calling him "Big Labor's Obama holdover" and warning that Trump is making a bad deal by linking Pearce's re-nomination to the confirmation of several Labor Department appointments. At the quasi-judicial NLRB, the Journal's editorial board warns, "Pearce would do far more mischief" than whatever good could be done by Trump's appointees at the department. Is President Deals about to get out-manuevered again?
A backroom negotiation over who gets to set and adjudicate labor policy is not going to attract much attention in Washington right now, but these relatively small policy matters do matter. Indeed, a significant part of the de-regulatory agenda that Trump has quietly pursued involves loosening labor regulations imposed by his predessor. Keeping someone like Pearce on the NLRB seems to fly in the face of that agenda.