Is Everyone in Washington Lying? Cohen, Manafort, Trump, and More: Reason Roundup
Plus: a rare win against civil asset forfeiture and a reminder that prosecutors lie, too.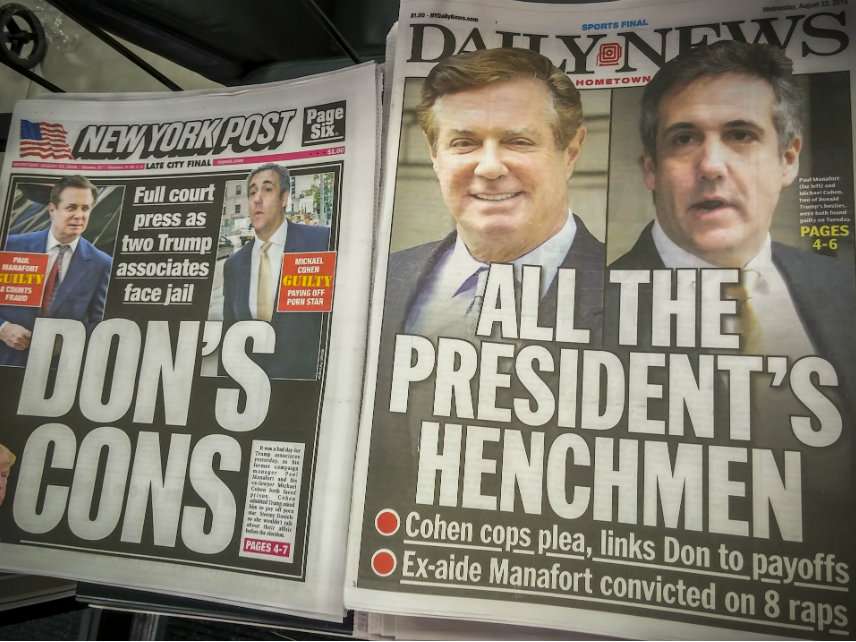 How will Cohen's admissions affect President Trump? "Trump will emerge from the Michael Cohen kerfuffle more powerful, more energized, and more electable than he was going in. And it's going to drive his opponents insane," suggests Clark Neily, vice president of the Cato Institute.
Ken "Popehat" White, writing in The New York Times, takes a different view:
The president's personal lawyer pleaded guilty to a federal crime and testified under oath that the president told him to do it.

[…] Mr. Trump's involvement wasn't a necessary element to Mr. Cohen's plea, but he supplied it anyway. That implicates the president directly in what might be called "collusion": a conspiracy to commit a series of federal crimes, albeit not, in this case anyway, with Russians.

What next for Mr. Cohen? Based on the calculations in his plea agreement, he's facing a probable sentence of between three and five years in federal prison. He undoubtedly wants to shorten that. His plea agreement is not a "cooperation" agreement. It does not require him to help the government's investigations, and the government does not promise sentencing credit for any such help.

But judges can, and often do, give credit for cooperation, and the government can always decide to recommend a lighter sentence later. And federal prosecutors clearly hope that Mr. Cohen will cooperate — his testimony that Mr. Trump directed his crimes was gratuitous unless prosecutors intended to lock him into that story for possible future use.
Trump has been on Fox News defending himself by saying that the money Cohen brokered for Stormy Daniels and Karen McDougal did not come from his campaign.
"Like many of us, he seemed to misunderstand the relevant provision of campaign finance law," writes Peter Overby at NPR. "In fact, the president might be better off if his campaign had supplied the hush money." The illegal part here comes from the fact that "Cohen arranged for a friendly tabloid publisher to give McDougal a $150,000 contract (not that it would publish what she wrote)" and "set up a shell company to pay Daniels $130,000." But "the publisher's contract amounted to a corporate campaign contribution, but corporations cannot contribute to campaigns. Cohen's payment to Daniels amounts to a personal contribution from him to the campaign. But it was for $130,000; the legal limit is $2,700."
If Trump had just made the payments through his campaign, suggests Overby, he and Cohen would be much better off:
Campaign finance reports are rife with vague disclosures of expenditures. The campaign probably could have tucked the hush money into a disbursement marked "legal fees," and no one would have noticed. Or Trump could have just paid those bills himself. A candidate can spend without limit on their own campaign.
At The Washington Post, Fact Checker Glenn Kessler looks back on Trump's earliest statements about the hush money: "four days before he was elected president, when his spokeswoman Hope Hicks said, without hedging, 'we have no knowledge of any of this.'" This past April, Trump himself—asked outright about whether he knew Cohen had given money to Stormy Daniels—said "no."
The Post rates Trump's statements "not just misleading. Not merely false. A lie."
For the first time, The Fact Checker is labeling statement by a politician to be "a lie" –> https://t.co/F58jXb9Glf

— Glenn Kessler (@GlennKesslerWP) August 23, 2018
Of course, many people are speculating about how this will effect this November's elections. A midterm focused on impeaching Trump is what Republicans want, not Democrats, suggests Margaret Hartmann at New York. And, right on cue…

Meanwhile, in Manafort world, Trump has been tweeting out his support.
"To me, one of the most chilling things that came out of yesterday is the President of the United States praising a convicted felon who was chairman of his campaign for not breaking by giving information to prosecutors," says @JohnAvlon of President Trump's tweet on Paul Manafort pic.twitter.com/X6CbL0Rpvi

— New Day (@NewDay) August 23, 2018
Ben Judah, a journalist who moved from Russia to the U.S. a few years ago, writes that Washington is increasingly starting to resemble Moscow, where "power had long ago slipped out of formal institutions" and "what mattered most was an unspoken fact: The president's friends' financial interests shaped almost everything."
"Looking back on it, I realize that every story I ever filed from Russia was not just a politics story, or a crime story, or a spy story—but almost always, on some level, also a corruption story," writes Judah. "That's one final, spooky way that Washington now feels just like Moscow."
FREE MINDS
Sigh.
Prosecutors would not have accepted Cohen's plea if they didn't believe his information was truthful. https://t.co/1Xn6too3It

— Maggie Haberman (@maggieNYT) August 22, 2018
Prosecutors lie, too. Prosecutors pressure people into accepting plea deals and spinning stories all sorts of ways, by threatening ridiculous and draconian sentences and fines, among other things. In Michael Cohen's case, there's a ton of corroborating evidence for at least the payment part of the charges and no reason to suspect some sinister deep-state plot. But let's not feign naiveity about how prosecutors work, how much power they wield, and how often they wield it unjustly.
FREE MARKETS
BREAKING: Utah Supreme Court unanimously decides in favor of property owner challenging a civil asset forfeiture case in which the government violated state law property protections by improperly giving his ~$500k to the federal government.

More to come… #utpol

— Libertas Institute (@LibertasUtah) August 22, 2018
QUICK HITS
Here is the letter we received from Asia's lawyers demanding we remove the article and apologize to her. The same lawyers who helped silence Jimmy Bennet. Didn't you learn about the constitution in law school? Freedom of Speech isn't only for when people agree with you. pic.twitter.com/yUsjxLhtsm

— Leah McSweeney (@LeahMcSweeney) August 22, 2018